Contact * Donate * Jokes * LMNOP aka dONW7 * Poetry * Recipes * Store * T-Shirts * Review Policies
January 2013 Comics, Poems, Recipes, and Reviews from


aka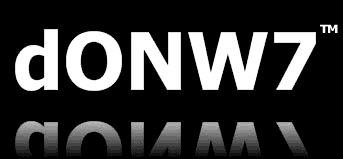 *Top Picks =

A Fragile Tomorrow - Be Nice Be Careful (CD, Piewillie, Pop)
The fourth full-length release from Charleston, South Carolina's A Fragile Tomorrow...the four piece band comprised of identical twin brothers Sean Kelly and Dominic Kelly along with their younger brother Brendan Kelly and the only non-brother, Shaun Rhoades. Produced by Mitch Easter and Ted Comerford, Be Nice Be Careful is a pure slice of nice comfortable upbeat pop with catchy melodies and friendly lyrics. These guys have already played with some well-known acts in the United States and some notable friends offered their support during the recording of this album. We found it interesting that Susan Cowsill sings on one track (?!). The songs on this album are smart, memorable, and geared toward a large cross section of fans. Groovy upbeat cuts include "Don't Need Saving," "Loyalty Lies," "Count On Both Hands," and "Daylight."
The Bias - Break The Light (CD, Ruska, Rock)
Cool hard rock with balls...and a vocalist whose voice immediately reminded us of John Kay. The Bias is the trio comprised of Ville Vilpponen (guitars, vocals, keys), Jaakko Vilpponen (drums, percussion), and Mina Eliott (bass). Recorded at San Francisco's Tiny Telephone recording studio, Break The Light is one big solid blast of pure rock energy. These folks have a sound that seems particularly influenced by classic hard rockers from the 1970s. The rhythms are thick and ballsy...the guitars fuzzy and funky...and the vocals have that great gravelly sound that made Steppenwolf such a success. The band formed in 2010 in the Bay Area but they have now relocated to Finland. This is easily one of the the best hard rock albums we've heard in months. Gripping loud cuts include "In Time," "Nine Lives," "Patience Please," "Embers," and "Little Girl." Highly recommended...WE LOVE IT. Top pick.


Aimee Bobruk - /ba.'brook/ (Independently released CD, Pop)
Intriguing and decidedly unconventional modern pop from Austin, Texas-based artist Aimee Bobruk. But if you're thinking unconventional means unlistenable, think again. Although Ms. Bobruk's music is ultimately creative and unique, it is also extremely accessible and easy on the mind and ears. On the curiously titled /ba.'brook/, Aimee collaborates with producer/bass player Brian Beattie and drummer Dony Wynn...and the resulting sound is...spectacular. Brobruk's songs are smart, melodic, slightly whimsical, and they have magical staying powers that will keep spinning in your head for weeks. It's difficult coming up with possible influences and/or comparisons here...but we can hear slight traces that remind us of other artists like Georgia Fields, Butterfly Bouche, Kate Bush, Lisa Germano, and even Mary Hopkin at times. This is a brilliant album that will immediately be embraced by pop fans around the world. Twelve totally incredible tracks including "A Day In The Life," "Do You Remember" (an incredibly beautiful tune), "Secret," and "Desert Bloom." The disc is housed in a great cardboard foldout sleeve complete with foldout poster/lyric sheet. Very cool in every way possible... Highly recommended. TOP PICK.


Kevin Bowe - Natchez Trace (Independently released CD, Pop)
For the past few years Kevin Bowe has mainly been acting in a supporting role for other major players in the music business. His songs have been covered by some real heavyweights including Jonny Lang and Etta James and his music has often been featured on television shows and channels including The Tonight Show, Boston Public, Austin City Limits, ESPN, VH1, CMT, and MTV. But now he's out making his own mark on the world with Natchez Trace. This album was about ten years in the making...and our guess is that the listening public will immediately embrace this talented fellow's friendly and accessible sound. Bowe pulled out all the stops here...inviting a wealth of incredible talents to lend their support. Appearing on the album are Nels Cline, Scarlett Rivera, Chris and Curt Kirkwood, Freedy Johnston, Chuck Prophet, and Tim O'Reagan...and he even collaborated with Paul Westerberg on the tune "Everybody Lies." In addition to original tunes, the album also presents some surprising covers. Before hearing it, we would never have believed anyone could do a decent cover of John Lennon's "I Found Out"...but Kevin's take on this one is really amazing. We were also impressed as heck with the cover of Randy California's "Nature's Way." Bowe is on the short path to success...as this album is certain to be greeted with welcome arms.

Co-Pilgrim - A Fairer Sea (CD, Battle Worldwide Recordings, Pop)
Really nice smooth melodic pop with heavenly harmonies and clean simple arrangements. Although we've only just recently been introduced to bands on the Battle Worldwide Recordings label, we already know to expect the unexpected. Unlike some labels who sign bands who all sound the same, mainman Darren Smallman seems more interested in releasing cool credible music...no matter what the sound or style. Co-Pilgrim is the band created by Mike Gale who was previously in the band Black Nielson. This is the second full-length release from Co-Pilgrim...and it's bound to hit the bull's eye with pop fans. Gale has a nice smooth voice and his songs seem heavily influenced by 1960s pop icons like The Beach Boys. Joining Mike on this album are Joe Bennett (guitars, keyboards, strings, BVs, bass), Andy Reaney (bass), Tom Wenzel (drums, percussion)...and a smattering of other pals adding some additional flavors. The songs on A Fairer Sea have a cool classic sound that is instantly warm, friendly, and familiar...and yet...the songs are strikingly unique and genuine in their own strange ways. The more we play this one...the more impressed we are. Ten kickass cuts here including "22," "A Fairer Sea," "Roslindale," and "No Guiding Light." A resilient album full of smart credible tunes. TOP PICK.


An ounce
Of prevention is
Crummy.
Dimensions - Works For String Orchestra (CD, Navona, Classical)
On this CD the folks at Navona present a collection of string orchestra works by seven composers: Gregory Hutter, Louis Babin, Reynard Burns, Andrew March, Claude Debussy, Rudy Kronfuss, and Daniel Burwasser. Playing on the recordings are the Czech Philharmonic Orchestra, the Moravian Philharmonic Orchestra, the Slovak Radio Symphony Orchestra, and the Concordia Orchestra...so you get a nice slice of players from all over the globe. String fans will no doubt be delighted by all twelve tracks on this precisely conceived compilation. These tracks are smooth, emotional, and ultimately quite heavenly. And we particularly like the fact that the selections are not the same string compositions that have been played into the ground by the masters. In addition to the music (over 53 minutes' worth), the disc also includes study scores, extended liner notes, and more. Beautiful music that makes it perfectly clear that on this planet strings are indeed alive and well in 2013... Top pick.


---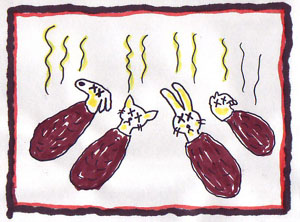 DOUBLE BATTERED REFRIED UGLIES
Ingredients:
12 Dogs
12 Cats
12 Bunnies
12 Chipmunks
4 Gallons Worm Medicine
4 Tubs Batter
4 Doubling Machine Parts
A sprig of leaves

Throw the DOGS into a big mixing thing and make them stop moving. Throw in a TUB OF BATTER and stir vigorously. While things are getting mixed up, quickly fold in a GALLON OF WORM MEDICINE. Continue mixing until there is twice of everything and it is all worm-free. Now dump the CATS into the mixture and add a second TUB OF BATTER. Mix everything up real good while adding the second GALLON OF WORM MEDICINE. Now throw in all the BUNNIES and CHIPMUNKS real quick all at once. Mix with feverish intensity until you can't tell one animal from the other. Throw in the remaining BATTER and WORM MEDICINE. Get inside the bowl and stomp around like the big spoiled fatass baby that you are. Now reach up above your head and grab the DOUBLING MACHINE PARTS that are dangling from something. Dump them down as hard as you can while yelling about somethin' you can't do nuthin' about. Now make a pouty face as you realize how UGLY all this dumb crap looks. Refry everything until dirty brown. Then run around within a five mile radius worming everything and everyone in sight. When you can't find anything else to worm you're almost done. Now pour all the junk into a bunch of little bowls, top with a tightly wound SPRIG OF LEAVES and serve immediately. Serves five hungry imbeciles.
---
Elim Bolt - Nude South (CD EP, Hearts and Plugs, Pop)
Our guess is that word is going to spread fast about Charleston, South Carolina's Elim Bolt. Why? Because the vocals on Nude South are...AMAZING. Johnnie Edward Matthews III is no newcomer to the world of music. He played in the bands Sequoyah Prep School and Company in the past. But this is the first time Matthews has been the front man in a band...and that is no doubt where this fellow belongs. He has an amazingly expressive voice that immediately recalls the spirit of Roy Orbison. His voice soars with emotion and really drives these tunes home. Joining Johnnie in the band are Jordan Hicks (lead guitar), Christian Chedester (bass), Dan McCurry (organ, percussion), and Amber Joyner (vocals, organ). Listeners should note that Dan also plays in Charleston's Run Dan Run...a way groovy band that we totally dig. This EP features seven cool tracks played with passion and style. And the songs have that cool classic sound that listeners want. Our favorite cuts include "Only You," "Myers Farm," "Batshit," and "Blue Jays." TOP PICK.


---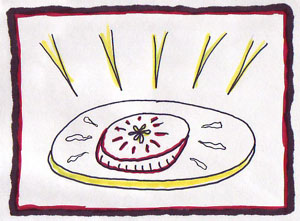 FILET OF REGRETS
Ingredients:
3 Failed Attempts at Success
5 Crying Fits About Past Romances That Never Were Meant To Be
1 dozen bags of Guilt About The Way You Treated Friends Who Have Now Passed Away
1 large truckload of Sadness About Life In General
15 dollops of Sadness About What A Miserable Failure You Turned Out To Be


Cheer UP there, boys and girls...a Filet Of Regret will fill you up more than you ever thought you could be filled up! So just how do you make a goddamn filet that you'll never EVER forget? Well hell dumb fuckers...it's easy as one, two, THREE...so get ready...cuz here we GO. Grab the largest mixing bowl you can locate and slam it on the counter. Wipe it around with a dirty rag to make sure it isn't quite clean enough. Without giving it too much thought dump in the FAILED ATTEMPTS AT SUCCESS and mush them around real good. While they're beginning to get tough, generously toss in the CRYING FITS ABOUT PAST ROMANCES THAT NEVER WERE MEANT TO BE. While the romances begin to dissolve, lay on the floor and stare at the ceiling with a meaningless look of loss on your face. Life just hasn't turned out the way you thought it would, has it? Oh, the regrets...regrets, regrets, and MORE regrets... Okay, get back up now you worthless sissy. Now grab those bags full of GUILT ABOUT THE WAY YOU TREATED FRIENDS WHO HAVE NOW PASSED AWAY. Toss them into the mixture and make sure that everything binds correctly. Have a happy little smile as you drive the TRUCKLOAD OF SADNESS ABOUT LIFE IN GENERAL right up near the mixing bowl. As the sadness pours down, cascading in torrents like the most gentle tears of a lovely baby antelope...flip the DOLLOPS OF SADNESS ABOUT WHAT A MISERABLE FAILURE YOU TURNED OUT TO BE. Slop everything into a square metal pan and pop it into the refrigerator for two months. Then serve to a group of shitty people you never ever wanted to see again under any circumstances. Watch as the sad blue faces turn happy, red, and all lit up. Eat every ounce of the filet with a glimmer of hope in your eye. Things will never get any better...but you can always live in a phony dream believing that there's still a slight chance your life won't be a big pathetic and crappy waste of energy. Mmmmm-mmm...sure tastes GROOVY!
---
Fluoxetine - Sleepless Nights Water Rights (Independently released CD, Pop)
Our first reaction to Austin, Texas based-band Fluoxetine was...Hey, these guys kinda sound like The Rutles...! Being big fans of Neil Innes from way back, this immediately helped us to warm up to this band's ultimately friendly sound. Fluoxetine is comprised of Ryan Morris (vocals, guitar), Landis Armstrong (electric guitar), Amy Hawthorne (bass), and John Bush (drums). Some of these melodies...and certainly the vocals...will remind many listeners of Innes' warm inviting voice. But these folks aren't copying anyone, although their simple guitar-driven tunes recall a great many classic artists from the past. Songs are what matters most with any artist..and songs are what make Sleepless Nights Water Rights such a rewarding spin. By keeping their tunes simple, these folks force listeners to concentrate on the basics. And when the songs are this good, that's really all you need. This twelve track album is resilient, pleasant, and the songs are likely to remain in the listener's head long after the CD ends. Our favorite tracks include "This Is The Man," "Dream Song," "Strange Disease," "Voices In My Head," and "There's No End."
Fonda - Sell Your Memories (CD, Minty Fresh, Pop)
A while back we received an EP from the folks in Fonda...and we instantly fell in love with their cool groovy sound. So when we opened up this package (courtesy of the fine folks at Louisville, Kentucky's Crash Avenue) and saw the contents within, we felt an instant urge of excitement. The folks in Los Angeles, California's Fonda make groovy modern melodic pop reminiscent of some of the great classic underground bands treading around the United States in the mid to late 1990s. Fonda is the duo of Emily Cook and David Klotz. In addition to playing music, Cook is a screenwriter for film and Klotz is a music editor for television. But we can pretty much guess that Emily and David's true passion is for making music...because their love for what they do is obvious on all ten of the kickass tracks on Sell Your Memories. Pop fans are bound to go apeshit over heavenly tracks like "Seeing Stars," "You've Got A Life Of Your Own," "Summer's Gone," "Moving Forward," and "Let The Sunlight Lead Us Home." Totally infectious modern pop with cerebral overtones. TOP PICK.



Lisa Germano - No Elephants (CD, Badman, Progressive)
Lisa Germano is our favorite female recording artist of the twenty-first century. She doesn't sound like anyone else and she's comes from a completely intriguing mental space. Her songs are uniquely her own and we never ever get the feeling she is trying to impress anyone. This lady's cool songs are created out of pure artistic integrity...and pure sincere music like this just doesn't get any better. No Elephants reminds us very much of Germano's previous album In The Maybe World. The songs are soft and gentle...and the lyrics come from a personal space that few musicians could ever even hope to embrace. If you're thinking you've never heard Lisa's music before...think again. Over the years she has contributed her talents to recordings by such well-known artists as Eels, David Bowie, Crowded House, John Mellencamp, and more. But her own recordings are where she really shines. No Elephants is a curiously stark album featuring those classic fragile vocals...and this time around the songs are peppered with some unusual sounds (including a variety of animals). A word of warning. These songs are probably too deep and lyrically complex for casual listeners. If you're looking for simple easy fluffy tunes to dance to, you won't find anything of the sort here. Germano is a complex personality type who seems constantly driven to bare her soul to her listeners. As much as we've listened to Lisa's music over the years...we just can never ever get enough. No Elephants is yet another stunning success...with multiple levels of consciousness happening simultaneously. It's a lot to take in. But those brave enough to venture where Germano goes...will be genuinely rewarded for years and years to come. Intense cerebral cuts include "Ruminants," "No Elephants," "A Feast," "...And So On," and "Strange Bird." Highly recommended... TOP PICK.


---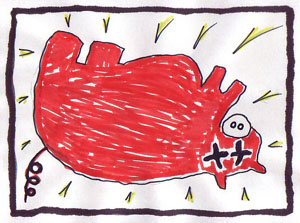 GLUTEN-FREE PIGLUMP
Ingredients:
1 extremely large oversized Piglump
1 wheelbarrow of Lump Extract
1 Instant Gluten Remover
5 rows of Corn
3 pints Ceiling Wax
1 bed of Oak Leaves

There's a mighty tasty lump just waiting to be devoured. Who in their right mind wouldn't be dreaming of chomping down on some good ol' Gluten-Free Piglump for dinner this evening? This handy dandy dinner can be whupped up in just a few hours, even by the tiniest of chefs. To begin, reach real low down there and grab yourself the LARGE OVERSIZED PIGLUMP and cram it onto a big metal platter. Now grab a big antique glass syringe and suck up the LUMP EXTRACT in single doses and inject it into the lump. Pump each dose hard so it gets real tight into the muscle tissue. Next lay the INSTANT GLUTEN REMOVER on top and leave it for three hours so that all of that horrible bad sinful gluten that all them big movie stars hates is all gone away. Now run up and down the ROWS OF CORN while melting CEILING WAX all over your pretty feet. When you get past the final row of corn, slop the Piglump in the middle of the table on a BED OF OAK LEAVES and ask everyone to eat as fast and hard as they can. Serves five million starving croutons.
---
Hatfields & McCoys - Original Soundtrack by John Debney & Tony Morales (CD, Silva Screen, Soundtrack)
The soundtrack from the series based upon the most famous feuding families of all time. The three part series starred Kevin Costner and Bill Paxton in the main roles and received five Emmy Awards. This is a different sort of a soundtrack with a different sound and feel. John Debney and Tony Morales have done an outstanding job here, creating music that is organic and has echoes of the past...while simultaneously merging those sounds with a modern day orchestra. No small feat...and the results are seamless and impressive. There's a lot to take in here...39 tracks (!) in all that clock in at over 77 minutes...so you get some major BANG for your bucks here. Plenty of cool compositions that ought to please even the most discerning listeners. Our favorite cuts include "Blood Ride," "Love Theme," "Vengeance Train," "Long Cloaked Riders," and "Hatfields and McCoys Theme." Interestingly, it states in the liner notes that "Due to licensing restrictions, we are unable to include any stills from the production." Seems strange...hmmmmm....
Gilbert Isbin & Scott Walton - Recall (CD, pfMENTUM, Progressive/instrumental)
We can't recall having ever received a submission from a duo playing lute and contrabass...so this album immediately made an impression on us. Gilbert Isbin is a composer, improviser, guitarist, and lutenist. Scott Walton is a bassist and pianist who plays jazz, free improvisation, and classical avant-garde. Recall joins the worlds of both artists...and the resulting tracks are much more smooth and listenable than you might expect. This fifteen tracks on Recall are unorthodox and contain plenty of unsupervised spontaneity...but because of the stark nature of the recordings these compositions have strange inviting qualities that make them sound like the soundtrack to an underground art film. This could probably best be described as modern classical music...but it should actually appeal to a broad range of listeners. Just over 42 minutes worth of cool music here. Our favorites include "Solace," "Oblique," "Werving," and "Recall."
John 3:16 - Visions Of The Hereafter: Visions of Heaven, Hell and Purgatory (CD, Alrealon, Industrial/progressive/experimental)
Up to this point in time Philippe Gerber is probably best known as a member of the band Heat From A Deadstar, the first non-U.S. band signed to Boston's Ace of Hearts label. Gerber began John 3:16 in 2007 while he was still in HFADS. But when the group disbanded in 2010 his new creation became the central focus of his attention. As you might guess from the title, Visions Of The Hereafter: Visions of Heaven, Hell and Purgatory is one mighty strange spin. The album combines instruments, electronics, atmospheric effects, and sound into a strange and often times spooky universe. Gerber is playing to a very specific and select audience...those folks out there brave enough to tread into territories where music doesn't usually go. Philippe seems to be continually driven by the pure drive to create and, as such, his compositions are sometimes difficult but always perplexing and intriguing. Nine bizarre cuts here including "The Ninth Circle," "God's Holy Fire," and "Fall of the Damned (Into Hell)." This album features way cool artwork by William Schaff. TOP PICK.


Johnny Society - Free Society (CD, Old Soul, Pop/rock)
If you're the kinda person who likes knowing about cool things before others start following along like mindless sheep...you owe it to yourself to pick up everything ever recorded by Johnny Society. The band hasn't achieved major success...yet...but you can bet your booties that it's only a matter of time before the rest of the world catches up and realizes this is one of the best American bands...EVER. Although the folks in Johnny Society have been recording and releasing music since the 1990s, they're still mainly appreciated by other musicians and a continually growing legion of fans around the globe. The band is comprised of Kenny Siegal (guitar, lead vocals, keyboards, percussion), Brian Gelter (drums, backing vocals, keyboards, percussion), Gwen Snyder Siegal (bass, backing vocals), Ed Pastorini (piano), and Sam Kulik (trombone). Free Society ranks right up there with the band's best releases. The album features thirteen tracks of solid, gripping, inventive pop/rock tunes played with passion and intensity. Kenny Siegal's vocals have never sounded better...and he remains one of the most underrated singers of all time. The guy has a voice that simply blows folks away...and yes, he really is that good. There's not a bad track on this album. We love the re-recording of "Well Well Well"...as well as "So Quick To Turn," "Save It For Another Day," "Up The Stairs," and "Free Society." One day everyone in the world will know Johnny Society. Until then...you can be one of the lucky ones who got in on one of the ground floors. Highly recommended... TOP PICK.


Aaron Lewis - The Road (CD, Blaster, Country/pop)
If you enjoyed the first few albums from Toby Keith but gave up on him long ago (talk about success totally ruining a good thing...), there's a mighty good chance you'll get a major charge out of up-and-coming country popster Aaron Lewis. As the lead singer of the band Staind, Lewis built up a large and dedicated fan base around the world. But in 2011 he took an abrupt U-turn, surprising many folks by releasing the pure country/pop EP Town Line. The EP was an instant success...reaching the #1 slot on Billboard's Country Album chart. In addition, Aaron received nominations from the Academy of Country Music for Vocal Event of the Year as well as two CMT nominations for Breakthrough Video of the Year and Collaborative Video of the Year. With those kinds of reactions, it isn't surprising that Lewis made the decision to continue making country music. Although Staind fans probably aren't too happy about the transition, we can't help but feel that Aaron's voice is more appropriately suited for country music. It could be because this was the type of music he listened to while growing up and, as such, he seems to be simply returning to his roots. Whatever the case, The Road is a strong album full of masculine country pop tunes that ought to please all the fans and bring in legions more. Ten instantly familiar potential hits here including "75," "Endless Summer," "State Lines," and "Party In Hell."
Lincoln - Original Motion Picture Soundtrack: Music by John Williams (CD, Sony Classical, Soundtrack)
As much as we love Steven Spielberg and John Williams...we're having a difficult time trying to garner some enthusiasm to see this film. We're not big fans of history (boring...) and we're certainly not big fans of Abraham Lincoln (all presidents are uninteresting dull losers). But we weren't initially impressed by what we read about War Horse either and we ended up loving that film. So we're trying to keep our minds open here, although this just might be the first Spielberg film we'll pass over. So it just might be that we're better off appreciating the beautiful soundtrack created by mastermind John Williams. Williams and Danny Elfman are probably the two most accomplished and well-known film composers of our time and for good reason. They both consistently come up with astounding riveting music that provides the perfect accompaniment for the films of their choosing. Lincoln presents seventeen tracks performed by the Chicago Symphony Orchestra and the Chicago Symphony Chorus. These tracks are, for the most part, somber and serious...and they seem to effectively capture melodies reminiscent of a time gone by. So while we won't be quickly trotting off to see the film...you can bet your booties we'll be enjoying the totally credible and effective soundtrack. Totally slick and classy stuff.
The March Divide - Music For Film (CD, Dead Letter, Pop)
The debut full-length release from The March Divide, the new band created by Jared Putnam who was previously in the San Antonio, Texas-based band The Conversation. Music For Film features tracks with a full band as well as cuts driven mainly by acoustic guitar. These songs are all about lyrics and melodies, both of which are the central focus throughout the album. Putnam has a sound that should appeal to a wide range of listeners. His observations are about everyday situations and he comes across like a nice sincere guy who truly loves making music. Ten hummable tracks here including "Still Analog," "I'm Unconvinced," "Flake," and "It's All Been Sung."

McCormick Percussion Group - Concerti For Piano With Percussion Orchestra (CD, Ravello, Classical)
This album is divided into four sections as the members of the McCormick Percussion Group present their interpretations of compositions by Igor Santos, Mel Mobley, David Gillingham, and David Noon. The McCormick Percussion Group is headed by Robert McCormick who is a Professor of Music at the University of South Florida in Tampa. The group was formed "to explore and record new and unusual works in the percussion ensemble idiom." On this album, the group is joined by Ji Hyun Kim, an accomplished pianist with multiple degrees and a broad range of experience. The music on this album is probably best described as modern classical. There are plenty of unusual rhythms and strange discordant sounds that probably won't sound familiar to fans of traditional classical music. With a running time of over one hour, these pieces are sure to please just about anyone who appreciates the more adventurous side of classical music and percussion instruments...
Everything is fine in
The Middle East.
Everyone gets along in
The Middle East.
Life is easy and carefree in
The Middle East.
The Move - The Lost Broadcasts (DVD, Radio Bremen, Rock/pop)
A priceless collection of lost musical treasures. The Move is easily one of our top favorite bands of all time. Although virtually ignored in the United States the band has had a profound and lasting impact on many folks in Great Britain and Europe (as well as some enlightened listeners in this country). Bandleader Roy Wood has never received the recognition he so rightly deserves so hopefully this is another piece of the puzzle that will make more folks aware of this incredible man's genius. The Lost Broadcasts is just that...clips of The Move performing on German television that had pretty much gotten lost in the vaults until now. Our hearts immediately started pumping hard when we looked on the back cover and noticed that the song "Curly" was included here...an incredible tune that we consider one of the very best pop songs ever written/recorded. The Lost Broadcasts features eleven videos, some in black and white and some in color...and songs are included featuring both the early version and later version of the band (which included Jeff Lynne). Highlights include "Blackberry Way" (another all-time favorite here), "The Words of Aaron," "Ella James" (two versions here), "Fire Brigade," and "Wild Tiger Woman." This collection of videos is an absolute must for all Move fans...but it can also serve as an excellent introduction for folks who haven't yet been turned onto one of Great Britain's most incredible bands of all time. An instant and obvious thumbs up here in babysueland... Highly recommended. TOP PICK.


Panos - Panos (Independently released CD, Pop)
Panos is the band created by Halifax, Nova Scotia's Panos Giannoulis...an intriguing and different songwriter and multi-instrumentalist. Giannoulis was originally in the band Their Majesties (also once known as the Porcelain Gods). This self-titled album delves into some very interesting musical terrain...and you never know exactly what's going to pop up from one song to the next. Panos writes songs that teeter in and out of pop, progressive, rock, orchestral, ambient, rock, and experimental zones. After spinning this album several times we still can't come up with any possible influences and/or comparisons. But no matter what kind of music he's creating, Giannoulis always manages to entertain with his slightly bizarre compositions. Ten wonderfully colorfully tracks here including "Dustbowl," "Mr. Anderson," "Marred," and "Foreign Correspondent." We'll keep coming back to this one again and again for months to come... TOP PICK.


Pere Ubu - Lady From Shanghai (CD, Fire, Progressive pop/rock)
Pere Ubu is kinda like the Energizer Bunny of underground progressive rock bands. While other bands have dissolved or faded away...David Thomas and crew keep going. It's been over three years since the last Pere Ubu studio album was released. And now in January 2013 the group releases Lady From Shanghai to celebrate 35 years making music. If there's one solid statement one can make about this band it is that they have never ever sold out. Thomas and his associates have always played quirky unusual stuff that's too strange for the average listener. And that hasn't changed one bit on Shanghai. Joining Thomas on this album are Keith Moline, Robert Wheeler, Gagarin, Michele Temple, Steve Mehiman, and Darryl Boon. If you never liked Pere Ubu then this album probably won't change anything. But if you ever appreciated anything the band has done in the past then you're sure to find plenty here to love. Eleven perplexing cuts including "Thanks," "Feuksley Ma'am, The Hearing," "Musicians Are Scum," "Lampshade Man," and "The Carpenter Sun."
---
PERPETUAL TURNOVERS
Ingredients:
5,000 lbs. Squishy Material
5,000 Different Things
25 lbs. Totem Sprinkle
5,000 Little Red Things

Hold your head high and look yourself right in the eye....it's time to begin preparing Perpetual Turnovers for every friendly face in town! These warm tasty turnovers are the perfect thing to make in Winter, Spring, Easter, Monday, and at Midnight. There's never a hungry eye in the house when Perpetual Turnovers are in town. First dump the SQUISHY MATERIAL into an empty swimming pool, invite your friends over, and everyone have a grand ol' time stomping around on it. When the material is properly prepared, take it out and roll it out flat with some telephone poles. Now cut the material up into one pound segments and flop it out real nice and flat on a heavily greased turnover sheet. Next, take the DIFFERENT THINGS one by one and place each on top of the Squishy Material squares. You can use whatever things you like but things that have been used in the past include BIG LEGS, GRAINY PHOTOGRAPHS, COMPUTER CHIPS, LIVER, COWS, MIDGETS, CHOW CHOW, FLOPPY METAL GUNS, and PORCH BANANAS. After each thing has been placed on a square, roll it up tight and put it back on the sheet. Toss a small amount of TOTEM SPRINKLE on the top of each turnover and top with LITTLE RED THINGS. Now just pop 'em in the oven and let 'em bake at 400 degrees for eight hours. Then remove all the sheets and begin turning over all the turnovers. Do it slowly and proficiently so as not to disturb the gentle insides. After each has peen properly turned over, pop each sheet back into the oven and let cook for another eight hours. Then remove all the sheets and begin turning over all the turnovers. Do it slowly and proficiently so as not to disturb the gentle insides. After each has been properly turned over, pop each sheet back into the oven and let cook for another eight hours. Then remove all the sheets and begin turning over all the turnovers. Do it slowly and proficiently so as not to disturb the gentle insides. After each has been properly turned over, pop each sheet back into the oven and let cook for another eight hours. Then remove all the sheets and begin turning over all the turnovers. Do it slowly and proficiently so as not to disturb the gentle insides. After each has been properly turned over, pop each sheet back into the oven and let cook for another eight hours. Then remove all the sheets and begin turning over all the turnovers. Do it slowly and proficiently so as not to disturb the gentle insides. After each has been properly turned over, pop each sheet back into the oven and let cook for another eight hours. Then remove all the sheets and begin turning over all the turnovers. Do it slowly and proficiently so as not to disturb the gentle insides. After each has been properly turned over, pop each sheet back into the oven and let cook for another eight hours. Then remove all the sheets and begin turning over all the turnovers. Do it slowly and proficiently so as not to disturb the gentle insides. After each has been properly turned over, pop each sheet back into the oven and let cook for another eight hours. Then remove all the sheets and begin turning over all the turnovers. Do it slowly and proficiently so as not to disturb the gentle insides. After each has been properly turned over, pop each sheet back into the oven and let cook for another eight hours. Then remove all the sheets and begin turning over all the turnovers. Do it slowly and proficiently so as not to disturb the gentle insides. After each has been properly turned over, pop each sheet back into the oven and let cook for another eight hours. Then remove all the sheets and begin turning over all the turnovers. Do it slowly and proficiently so as not to disturb the gentle insides. After each has been properly turned over, pop each sheet back into the oven and let cook for another eight hours. Then continue to infinity. The process is neverending and can never be resolved.
---
The Point - Definitive Collector's Edition (DVD, MVD Visual, Animated film)
The Point was the first full-length animated film created specifically for television. It was also a very important critical achievement in the life of classic singer/songwriter Harry Nilsson. The Point is an interesting film for many reasons. As far as the story and look go, it presents a world that seems to combine elements from Peanuts cartoons, The Wizard of Oz, Yellow Submarine, and Alice In Wonderland. The story involves a little boy named Oblio who, unlike everyone else in the town, has no point on top of his head. He is eventually exiled and then returns after realizing that even things without a point do indeed have a point. It's a cool story that teaches folks about what is really important out there in the world without coming across overly preachy. Directed and animated by Fred Wolf, the animation has held up very well over time. And the message is, of course, timeless. But the real treat here are the songs. Nilsson seemed to be on top of his game here, tossing out insanely catchy simple tunes that the world instantly fell in love with. Songs like "Me And My Arrow," "Think About Your Troubles," and "Are You Sleeping?" are right up there with Harry's best recorded work. In addition to the film, this collector's edition DVD also includes four bonus featurettes on the making of the film and Harry himself. A must have for animation fans and Nilsson fans alike...
Qurious - Void Vanishing (CD, Stickfigure, Dream pop/ambient)
Music coming from the state of Georgia sure has changed over the past five decades. Whereas the state was once mainly known as a haven for Southern rock and cover bands...Georgia now hosts a wild array of different artists with musical styles that go all around the universe and back again. Case in point is Qurious...the duo of Mike Netland and Catherine Quesenberry. These two artists combine dreamy sounds, electronic beats, and breathy vocals to create their own unique otherworldly dream pop. Netland and Quesenberry impressed lots of folks with their previous album (Planet Plant). Void Vanishing is bound to please fans and bring in many more. This nine track album is a nice cool spin and never ceases to satisfy. Cool reflective cuts include "Gaida," "Rubies," and "Termina." Groovy stuff with a slightly European sound.
The Radishes - Riot (Independently released CD EP, Punk rock/pop)
Fast loud snotty punk rock that reminds us of a cross between The Dickies and The Dead Boys...but with a much more modern overall vibe. This is a short little EP. These five tracks whiz by in about 13 minutes...but in that amount of time the guys in The Radishes make their point loud and clear. The band is comprised of Paul Stinson (vocals, guitar, piano), John Dumont (bass), Jason Fessel (guitar), and Randy Leasure (drums). All five of these tracks are cool hard rockers: "Last Call," "Blood Stains," "Jackals," Gotta Gun," and "Hot." A totally fun upbeat experience. These guys must put on one helluva show...
Rain Over St. Ambrose - Truth For News (Independently released CD, Pop)
The debut full-length release from Nova Scotia's Rain Over St. Ambrose. The guys in this band have a cool masculine sound that is immediately inviting and catchy. Lots of folks in the press are already catching on. It's only a matter of time before everyone else gets into the groove. Truth For News presents eleven songs that don't sound like the average generic twenty-first century rock band. These guys write smart songs and then present them using interesting arrangements...and the vocalist has a fantastic gritty voice that is the obvious focal point. The band is comprised of Cory LeBlanc, Curt Le Blanc, Luke Amirault, Matt Amirault, and Marc Durkee. The tracks on this album have a cool classic sound that recalls well-known artists from the past four decades. Our favorite songs include "Debate," "Headstone Light," "At Night With Friends," and "Tambourine." Nifty genuine music with balls.
---
SECRET SAUCE
Ingredients:
1 cup Mystery Greasy Stuff
3 teaspoons Invisible Powder
4 Stems of an Imported Plant
1 Shot of Uncertain Liquid
2 dozen Unknown Globs
7 Power Knobs

This recipe is for a scarcely-if-ever-conceived SECRET SAUCE that is sure to please even the most discriminating little nursery feaster in the neighborhood. Find a remote location that no one knows about and sit at the counter there. Plop a big plastic bowl down on it and grab the MYSTERY GREASY STUFF. Slop it in the bowl while tossing the INVISIBLE POWDER all around everywhere. Quietly take the STEMS OF AN IMPORTED PLANT and let them dreamily drift on top of the mixture. Suddenly clutch the SHOT OF UNCERTAIN LIQUID and unload it on top of the stuff in the bowl. Cram the UNKNOWN GLOBS real hard on top and screw them in with the POWER KNOBS. What does the sauce taste like? It's a secret. What should the sauce be used with? It's a secret. How much of the sauce should you use? It's a secret. Whatever then should you do with all the goddamn sauce that you've created? It's a secret.
---
Skyfall 007 - Original Motion Picture Soundtrack: Original Music by Thomas Newman (CD, Sony Classical, Soundtrack)
The world of 007 has been given a major shot in the arm thanks to the acting talents of Daniel Craig...who seems to please even the most diehard fans. Skyfall is the twenty-third James Bond film and it also marks the fiftieth anniversary of the film franchise. The music for the film was composed by Thomas Newman who many folks will remember as the man who created the spellbinding soundtrack to the film American Beauty in 1999. James Bond films are always chock full of excitement and unbridled energy...so one would expect nothing less in a soundtrack. And Newman delivers music that should push film buffs over the edge. This superbly recorded soundtrack features thirty tracks (!) that clock in at over seventy-seven minutes. Breathtaking, exciting, captivating...all of these come to mind and more when spinning this disc. Interestingly, on the back insert it states "This album does not contain a recording by the artist Adele" (haaaaaaw!). In the world of soundtrack composers, Thomas Newman is one of the best. And this is easily one of the best Bond soundtracks ever recorded...

Patti Smith - Live At Montreux 2005 (DVD, Eagle Rock Entertainment, Pop/rock)
We're not sure who chose the songs to be performed at this concert...buy whoever did the picking did an amazing job. We were huge fans of Patti Smith years ago when Horses first crashed into people's consciousness in the 1970s. We were fortunate to be able to see Ms. Smith live during her Radio Ethiopia tour way back when...and we will never forget her completely riveting performance that ended with one of the most vicious and intense attacks on an electric guitar we have ever seen. The woman was...amazing. Other than seeing a few videos in the 1980s and 1990s we haven't seen much of Patti so we approached this DVD with some hesitation and reservations. After all, Patti's a lot older now...how could she possibly still have "it"...? The great news here is that the fast rockers were omitted...and this was a smart idea because it would have seemed somewhat ridiculous for a mature lady to be trying to recapture such intense energy. So instead of trying to recreate her punk rock sound, Patti and her band take a more reserved approach...still managing to rock out but in a more reserved manner that seems perfectly fitting. And wow...what a band Patti had backing her on this particular night: Lenny Kaye and Tom Verlaine on guitars, Tony Shanahan on bass, keyboards, and vocals, and Jay Dee Daugherty on drums. During this show Patti's was in fine form...sporting her signature white shirt and thin black tie...and her vocals sound amazingly cool. Hearing some of the hits is certainly entertaining ("Dancing Barefoot," "Because The Night," "People Have The Power"). But...strange as it may seem...the peculiar and slightly abstract "Seven Ways of Going" absolutely steals the show. The soft atmospheric song perfectly takes advantage of all the top notch players as well as Patti's unusual vocals. If you're looking for punk rock Patti this probably isn't what you're looking for these days. But if you're interested in seeing how charismatic one of the original 1970s rockers can be...well then, Live At Montreux 2005 will certainly deliver. Most folks fade our over time and are no longer relevant. Patti Smith remains one of the true movers and shakers in the world of pop and rock music...
You can stop looking
For work now because
There is a specific job that
Was created just for you.

The job is permanent
And will last
Forever.
The poor little mouse
Just wants a tiny bit of cheese.
The threadbare mouse is begging
For a small crumbling of cheese.
That frail tiny mouse is starving
And needs some cheese to eat.
Help the sad needy mouse
In any way that you
Can.
Trakan - Powder Kegs Beneath Dagger Trees (CD, Dagger Tree Music, Rock/pop)
Eight nifty tracks from Chicago, Illinois-based recording artist Trakan. True to the claim of the press release that accompanied this disc, these tunes are reminiscent of artists like Frank Black, Tom Waits, and Nick Cave. Trakan's songs feature lyrics that are sometimes sung in English and sometimes in French...and they also feature guest female vocalists. Trakan had quite a few friends offering their support here...no less than seventeen folks helped in the recording of these tunes. The songs have a slick sound and yet the rockers retain a nice gritty sounding edge. Trakan's vocals are the real treat here. This guy has a cool breathy dark vocal style that reminds us in many ways of the previously mentioned Mr. Black. Groovy cuts include "The Bridge," "Walking The Plank," and "Peter The Great."
Pamela York - Lay Down This World: Hymns and Spirituals (CD, Jazzful Heart Music, Jazz/instrumental/piano)
The first thing that struck us about Pamela York...is that she seems so genuinely inspired to connect with people through her music. Ms. York grew up in Canada where she began playing piano at a very young age. By the age of 15 she was already playing live concerts...and later earned an Associate Degree in Piano Performance from the Royal Conservatory of Music in Toronto. In the 1990s she moved to the United States where she studied jazz at the Berklee College of Music in Boston. Pamela has previously released other well-received albums including Blue York and The Way of Time. On this, her latest offering, Ms. York presents intriguing interpretations of hymns and spirituals...giving them her own unique treatment that should delight her fans. She's great the keys...some of the softer moments occasionally remind us of Vince Guaraldi. Lay Down This World is a well-crafted album that allows York to show listeners how she can adapt just about any tune so that it breathes completely new life. Our favorite cuts include "A Mighty Fortress Is Our God," "Were You There?", "Ain't That Good News!", and "Soon I Will Be Done."
A
A Clever Con - Mannequin love part I
Animals At Night - Animals At Night
Apple Dot - Dot the dot
Aquarotten - Aqua is a rotten color
B
Lilly Bell - Try to tune the goddamn thing
C
Chestnuts Roasting On A Stove - Dumb nuts
Citadel Besieged - Creation/damnation
Nels Cline / Elliott Sharp - Open the door
Convergence - The music of Stewart & Gershwin
Crummy Band - This is the life worth dying for
Michael C. Cunningham - Gallry
D
Dolls On Fire - Ladies and gentlemen...
E
Eggs Are Eggs - Drippy thugs on corn
Amos Elkana - Casino umbro
Electric Shepherd - The imitation garden
El Perro Del Mar - Pale fire
Emperors of Wyoming - Emperors of Wyoming
F
Further To Fly - Wave mechanics union
Fussy Fussy - How many things can go?
G
Mac Gollehon - La fama
Jess Grant - Innocent invader
Grassmarket - You are for the ocean
H
Haunted West - Postlude
Hissing Makes Us Hissy - Hisses
I
Inside Insects - How we done got ate up
Intestines - The force is forceful
Invader - Original motion picture soundtrack
J
Jeepers Jeepers - The whopper in my panties
Jumpy Jerks - Jumpy on the beddie bye
K
Brendan Kelley - Quicksand
Gerald Krampl - Wonder way
L
Lady Antebellum - Own the night world tour
Lady Antebooboo - Own the day tiny tour
Lee Boys - Testify
Life of Pi - Original motion picture soundtrack
Loveskills - Multiplicity
John LT - Suburban superstar
M
Brad Mackeson - 1945
Madonna & Rose - Bank cormorants
Bex Marshall - House of mercy
Michael Mauldin - The last musician of UR
N
Ninners are for Ninners - Something for dinner
O
Ocean Floor - Falling star castle
Onoono - Yokoyoke
P
Para Vista Social Club - Scott & charlene's wedding
Pint of Pint - How to quart the quart
PLS PLS - EP EP
Q
R
Rob Roper - The other side of nowhere
Rumper Rump - How to dump the rump
S
Stand Up Guys - Original motion picture soundtrack
Stomacher - Clara
Summer Hours - Closer still
Swallows - Witching & divining
T
20 Something - 20 Something
Aly Tadros - The fits
Tapestry Ensemble - New York moments
Jay Trainer Band - Jay Trainer Band
Tune Into My Mind Radio - A tribute to multi-talented vocalist Kelly Keeling
U
Up The Up - Down down down
V
Vulnerable - We're not
W
Tim Warfield - Jazzy christmas
Wiggy's Popo - Flowers for Wiggy's Popo
X
XXX Means Dull - Pornography stinks
Y
Yup - Nope
Z
Zeezee - Weewee
Zzinn - Wullywoo