April 2013 Comics, Recipes, and Reviews from


aka

*Top Picks =

Apparat Organ Quartet - Polyfonia (CD, Head In The Sand, Pop)
Instantly addictive music from Iceland's Apparat Organ Quartet. These guys released their first (self-titled) album way back in 2002. Shortly afterward they began work on Polyfonia...which, surprisingly, took several years to complete. But the wait was apparently worth it, as this album has already been receiving rave reviews. The band is comprised of Musikvatur, Hordur Bragason, Ulfur Eldjarn, and Arnar Geir Omarsson...four men who obviously love their moogs and analog synthesizers. Considering the fact that these tracks are electronic compositions, it's interesting that neither sequencers nor computers were used (everything is played by hand). To us, these tracks sound something like a cross between Kraftwerk and New Order. There are some peculiar heady sounds for sure...but the overall vibe is kinda friendly and the perfect companion for consistent body movement. Nine kickass tracks here including "Babbage," "Cargo Frakt," "Macht Parat Den Apparat," and "123 Forever." Intriguing and engaging music with brains. TOP PICK.


The Appleseed Cast - Illumination Ritual (CD, Graveface, Progressive pop)
This is the first time we've heard this band in quite a while. The guys in The Appleseed Cast have been making music now for some fourteen years (!). During that time they've managed to capture the minds and attention of a wide range of fans and establish themselves as a credible ongoing entity in the world of music. On this album the band is comprised of Chris Crisci (vocals, guitar, keyboards), Nate Whitman (bass), Taylor Holenbeck (guitar, keyboards), and Nathan Wilder (drums). Illumination Ritual features more of the moody structural progressive compositions that the band is known for. This band has never been about catchy songs or hit singles...and this album does nothing to change that. Ten groovy cuts here including "Adriatic To Black Sea," "Great Lake Derelict," "North Star Ordination," and "Illumination Ritual." This one's being simultaneously released on vinyl, CD, cassette, and as a digital download. These guys always give it everything they've got.
Armed With Legs - Armed With Legs (Independently released CD, Progressive pop)
Intriguing modern pop with a difference. Armed With Legs is a two man band...but you'd never know it from the sound of the tunes on this self-titled album. Technology has made it so that any one person can sound like an entire band, even on a super tight budget. But even though there are tons of folks doing solo and duo recordings, we've heard few with a sound quite like these guys. This album features songs that are surprisingly complex. They sound almost like a cross between math rock from the 2000s mixed with techno dance/pop from the 1980s. And these folks manage to merge the two styles effortlessly, creating modern pop tunes that are simultaneously smart, inventive, hummable, and danceable. The more we spin this eleven track album the better it sounds. Kickass cuts include "Hey Hey," "Baby Rattlesnakes," "Teeth," and "The Fruit On The Tree."

Billy Boy Arnold - Chicago Blues From Islington Mews 1977 (CD, Angel Air, Pop)
Yet another cool little nugget that...without the folks at Angel Air...would probably still be sitting in the vaults somewhere not being heard or appreciated. This album will appeal equally to blues and rock fans. On these recordings blues singer/harmonica player Billy Boy Arnold is backed by the guys in Great Britain's The Groundhogs. Originally recorded in October 1977, Chicago Blues From Islington Mews 1977 captured four musicians who were on fire at the time. Billy Boy's singing and playing are inspired and intense...and Tony S.McPhee, Wilgur Campbell, and Alan Fish were truly at the top of their game. This album has become somewhat legendary over time...so fans of British blues rock will definitely want to get their hands on this one. In addition to the twelve cuts that appeared on the original album, this CD also features three bonus tracks ("It's Great To Be Rich," "Just A Dream," "Catfish"). This should be instantly appealing to fans of Jimi Hendrix.
Biv and the Mnemonics - The Pace (CD, Moo Moo, Pop)
Smooth melodic pop with an ultimately calming effect. Originally named Roy G Biv & The Mnemonic Devices, the folks in this San Francisco, California-based band eventually shortened their name (probably for obvious reasons). These folks have a classic sound that is surprisingly understated. At a point in time when so many folks are relying on technology to carry their careers, an album like The Pace immediately stands out from the rest. The main emphasis here is on songs...and if you like great pop songs then you're really in for a treat. The band began in 2007 as the duo of Dan Paggi and Ben Lang...but now also includes Jessie Alsop, Landon Moblad, and Evan Wardell. The overall sound and feel of this album reminds us in many ways of The Kinks' Muswell Hillbillies. The songs were recorded using traditional instruments...and the vocals never ever sound forced. Plenty of cool cuts here including "The Pace," "Manifest Destiny," "Hella," and "Long Arm of the Law."
The Burning Hell - People (CD, Headless Owl / weewerk / BB Island, Pop)
We love great lyrics...but unfortunately lyrics are usually the weakest link with artists and bands. THAT IS NOT THE CASE HERE. Mathias Kom is a lyrical GENIUS. It wasn't more than a minute into the first track that this talented young man had us laughing our hearts out. Opting to use a publicity photo that shows him covered in balloons like a human group of grapes, this man is obviously coming from a very unique place. In some ways, the songs on People remind us of The Bonzo Dog Band...mainly because of the odd variety of genres involved and the strangely hilarious wordplay. In a world full of copycat artists, The Burning Hell easily stands out as an act that is completely original and engaging. The lyrics are inventive and funny...but the songs are so strong that they would stand on their own without the puns. Nine thought provoking cuts here including "Grown-Ups," "Amateur Rappers," "Wallflowers," and "Industrialists." TOP PICK.


---
BUTTERSCOTCH DILLYWADS
Ingredients:
2 lbs. Corn Syrup
4 lbs. Butterscotch
24 Freshly Picked Dilly
48 Seedless Wads
1 bag Frolic Powder

If you have to end a meal, you better end the damn thing with some Butterscotch Dillywads. After all...if'n ya don't...there just might not never be no next dinner. Put one large sturdy plastic bowl on the counter and hold it there. Pour in the CORN SYRUP and then flop the BUTTERSCOTCH in with steady determination. Use your fists to smash it all up and don't be afraid to use your full force. Slowly let the FRESHLY PICKED DILLY drift into the mixture, making sure that the hands of the Dilly don't get frayed or hampered. Now place the SEEDLESS WADS on a sheet of sturdy wax paper and mush each one in the center using your largest thumb. Then fill them Wad holes full of yer Dilly mixture. Then slowly sass the FROLIC POWDER all over the top of 'em to make 'em look like they're more special than they really are. Ain't nobody nowhere what can turn down them Dillywads. Nobody nowhere...nohow.
---
---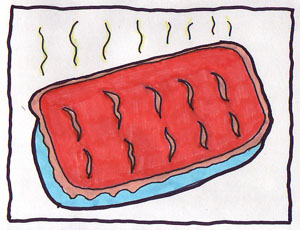 CHEESY ROUTINI
Ingredients:
4 Teeth Brushings
6 Trips to the Bathroom
10 e-mail Checks
12 Brisk Morning Showers
2 Plant Waterings
3 Pet Feedings
20 Trips to the Gas Station
15 Trips to the Grocery Store
50 lbs. Lovely Nice Cheese
20 Gallons 50% Milk

You can just smell this one before it even gets cooked...so let's not delay even for another second. In a large saucepan combine the TEETH BRUSHINGS and TRIPS TO THE BATHROOM and stir until they are properly merged. Then add in the E-MAIL CHECKS and the BRISK MORNING SHOWERS. Whip sternly for two minutes or until frothy. Slowly dump in the PLANT WATERINGS and the PET FEEDINGS while skating across the kitchen floor on your pinky toes. Mix thoroughly. Now layer in the TRIPS TO THE GAS STATION and TRIPS TO THE GROCERY STORE. Then whisk with a sturdy whisky thing that whisks real good. When everything is satisfactorily whisked, gently dump the LOVELY NICE CHEESE into the mixture along with the 50% MILK. Simmer until all the Cheese has melted and then pour the mixture into a casserole dish. Go out and buy a new oven because your old one doesn't have a nice silvery finish like the new ones all your friends have. Then pop into a 450 degree oven for 45 minutes and voila... Your guests will tremble with dull delight as they savor and relish the repetitive monotony of this divine dish. It truly is a meal fit for a king.
---
Chic Gamine - Closer (CD, Lucky Fox, Pop/soul)
The debut U.S. release from Winnipeg, Canada's Chic Gamine (the name of the band is roughly translated as "stylish mischievous young thing"). This five piece group is comprised of four female vocalists (Ariane Jean, Andrina Turenne, Annick Bremault, Alexa Dirks) and drummer/percussionist Sacha Daoud. These folks combine vintage Motown soul with modern pop...coming up with a winning sound that should please just about anyone who ever loved Amy Winehouse (that includes us...). The band has already received widespread critical acclaim in Canada (where they received one Juno award and were nominated for a second)...and now they're on a mission to spread some of that success to the United States and beyond. That shouldn't be too difficult...because these four young ladies are beautiful and, ultimately, very talented. All four have incredible voices. And given the fact that they trade off on lead vocals, that should be enough to differentiate them from any other artists currently recording this style of music. Closer is an instant hit. Our guess is that by year's end Chic Gamine will be a major player here in the United States. They have just the right sound that should appeal to just about...everyone (even underground snobs like us). We are totally in love with cool tracks like "Closer," "Days and Days," "Shake Off Your Worries," "Motions," and"Don't Think That I Can Stay." Totally cool stuff that'll leave you wanting more... TOP PICK.


Choose To Find - Songs Without Words (CD, Auxetic, Progressive/instrumental)
The second full-length release from Boston's Choose To Find. The band began in 2006 and is comprised of Todd Marston (piano, synthesizer), Colin Sapp (guitar, synthesizer, percussion), Andrew Dow (bass), and G. Maxwell Zemanovic (drums, percussion). These fellows play complex instrumental compositions that are extremely well thought out and intelligent. About four years in the making, Songs Without Words is easily one of the most impressive instrumental albums we've heard in years. The songs are driven mainly by acoustic piano and electric guitar. And while they are occasionally reminiscent of some of the classic progressive rock bands from the 1970s, the songs actually go farther than such a comparison might imply. These guys are all incredible players with an extremely overall fluid sound. This ten track album is bound to impress anyone who loves progressive rock, instrumental music, and jazz. Ten classy cuts here including "Choose To Find," "Stillness In Motion," "Joanna,"and "Same Boat." Meticulous, precise, and inventive.
City Society - City Society (Independently released CD, Soothing dreamy pop)
Written, recorded, produced, and mastered by New York City's one man recording artist Richard Cupolo, this self-titled album is instantly engaging and thought provoking. Cupolo was formerly in the band The American Dollar who released an album we were very impressed with in 2012. More than any other band, City Society reminds us very much of Starflyer 59 in terms of overall sound and style. The songs are dreamy and reflective...heavy on cool guitars and heavenly keyboard sounds...and the vocals are wonderfully reserved and subtle. This ten track album is a pure delight from start to finish. Underground pop fans are going to gobble this one up like there's no tomorrow...it's that good. The more we spin this disc...the more hypnotized we are. We can't help but love totally groovy tracks like "Riot Bloom," "Whirlwind," "Speaking of You," and "Distant Mystic." Absorbing, refined, and totally majestic. Highly recommended... TOP PICK.


Paul Coady featuring The Edsel Bros. - Our Father's Sons (Independently released CD, Pop)
These guys have an image that isn't quite like anything we've seen before. Instead of trying to look cool, hip, and current...in their publicity photo they're sitting at a table playing poker and drinking...and looking like the biggest squares in the universe. We love it. The band is comprised of Paul Coady (vocals, guitars, harmonica), Joe Klapka (drums, vocals), and Rob Fore (bass, vocals). This may not be the best album ever recorded in terms of sound quality. But what it lacks in slick polished sound it more than makes up for with personality and spirit. This ten track album is simple, direct, and fun...and after hearing this we can't help but feel these guys put on one helluva fun show for their fans. Our favorite cuts include "Bad Days/Good Nights," "Closing Day," and "Horn O Plenty."
The Crackling - Mary Magdalene (CD, FU:M (File Under Music), Pop)
The sophomore release from Vancouver, Canada's The Crackling. Canada seems to be the main hotbed for organic mid-tempo pop these days. The folks in this band already captured the minds and imagination of a large number of listeners with their Ashen EP that was released in 2012. Mary Magdalene continues where the EP left off...presenting nice, solid, smooth melodic songs with intelligent lyrics and wonderfully resonant vocals. Several superbly skilled friends/musicians in the Vancouver area lent their talents to these recordings. This ten track album flows by like a soothing mountain stream...with perfectly executed arrangements that sound full without ever sounding overdone. There's not a bad track on this album. Our initial favorites include "The Harm," "Suicide Is Painless," "I Ask You For The Courage," and "I Love You Tonight." We're digging just about everything we hear on the File Under Music label these days...
Jeff Danna and Akira Yamaoka - Silent Hill: Revelation 3D - Original Motion Picture Soundtrack (CD, Lakeshore, Soundtrack)
Movie goers and music fans are already aware of the fact that horror films often produce the best soundtracks...probably because the genre requires certain sounds and ideas that tend to make the music more moody, peculiar, and exciting. Silent Hill: Revelation 3D is about a teenager who, on her eighteenth birthday, comes to the conclusion that her identity is not real. She is then pulled into another dimension where her real identity lies in a town called Silent Hill. This film stars Adelaide Clemens, Kit Harington, Deborah Kara Unger, Martin Donovan, Malcolm McDowell, Carrie-Anne Moss, and Sean Bean. The soundtrack was written and recorded by Jeff Danna and Akira Yamaoka. The pair have done a remarkable job of creating music that is magical, peculiar, unpredictable, and frightening. We haven't seen the film...yet...but after hearing this disc it's on our list of movies to see. Fourteen groovy cuts here including "Silent Hill Revelation," "Heather In The Fog World," "Master Of The Order," and "Silent Scream."
Dead Ship Sailing - Dead Ship Sailing (Independently released CD-R, Rock/pop)
We sure as heck dig things that are simple and direct...so we were instantly impressed with the songs on this duo's self-titled debut album. Dead Ship Sailing is Craig L. Markel (guitars, beats, synthesizer, percussion, vocals) and Zera A. Marvel (vocals, guitars, synthesizer, percussion). These two inventive musicians are based in Seattle, Washington...and their music is a refreshing blend of rock and techno from the past few decades. Instead of overlayering everything to death and tweaking things to perfection, Markel and Marvel leave their songs simple...and allow enough rough edges to remain so that the songs have a cool rockin' sound. Twelve nifty tracks here including "Hot Hot Hot Hot," "Burn To Dust," "Shake My Soul," and "Carry Me Away." In addition to this self-released CD-R, this album is also being released as a white vinyl LP. Neat soundin' modern pop that ROCKS.
Linda Draper - Edgewise (Independently released CD, Pop)
Wow. This just might be the best release yet from Linda Draper. And considering how great her music has always been...that's really saying something. We were impressed in a big way with Draper's early recordings (produced by Kramer)...mainly because they were so direct, focused, and naked. Edgewise seems to return to the ideas of those early recordings...except now the additional instruments and layers are added to precisely support and add extra warmth to the vocal melodies. It seems incredulous that Draper has not yet received proper recognition for her work. But our guess is that Edgewise is the album that's going to push her career up to the next level. Linda has often been compared to Joan Baez...and that comparison still holds true. But her songs seem to (fortunately) lack the political slant of Baez...and her voice is much more subtle. Ten original compositions plus one cover of The Beatles" "Blackbird." Draper is clearly at the top of her game here...presenting smart, mature, thoughtful songs that are credible, sincere, and unforgettable. TOP PICK.


Sophie Duner and The Callino Quartet - The City of My Soul (CD, Big Round, Pop)
Rarely do we hear jazz / classical crossover music. As such, the unique pairing of jazz vocalist Sophie Duner with The Callino Quartet is an unusual and exciting experience indeed. Produced by Michael Haas, The City of My Soul is bound to perplex many listeners. Overall, the album comes across sounding something like a modern classical experience. The Callino Quartet is comprised of Sarah Sexton (violin), Fenella Humphreys (violin), Rebecca Jones (viola), and Sarah McMahon (cello). Duner composed the majority of the music here with the exception of two pieces ("Caravan" and "Well You Needn't"). She's got an amazingly expressive voice that seems particularly well-suited for a string quartet. There's a lot to take in here...nineteen tracks in all. Should appeal equally to jazz and classical fans...as well as those into the more adventurous side of female vocalists. Sophie Duner is a true original. Our favorite tracks include "The Plot," "Silent Revolution," "Why," and "You."
Electric Bird Noise - Desert Jelly (CD-R, Silber, Progressive)
Electric Bird Noise is Brian Lea McKenzie...an intriguing fellow who has been in the business of writing and recording puzzling underground music for the past fifteen years. Desert Jelly is a bit of a departure in terms of sounds and styles, as the album offers a more conventional approach...with many of the songs having more of an accessible pop feel. But this is not a sell out venture, nothing could be further from the truth. McKenzie's songs remain vibrant and inspired. True to the claim of the accompanying press release, these songs recall classic artists from the past like New Order, The Cure, Depeche Mode, Gary Numan, Brian Eno, and Todd Rundgren. Another interesting twist here is the fact that three of the tracks feature lead vocals courtesy of Brian John Mitchell (Remora). Mesmerizing underground pop music with a decidedly experimental slant. Eleven mind-bending tracks here including "Dunebuggy," "As the Glitter Glows," "I Come From The Earth," "Carnegiea Gigantea," and "The Theme From Impatiently Yours." Top pick.


John Fiddler - State of the Heart (CD, Angel Air, Pop)
Best known as a member of the bands Medicine Head, British Lions, and Box of Frogs, John Fiddler eventually opted to record and release his own recordings...and State of the Heart is his solo debut. Interesting how the recording for this album began. Fiddler was approached by his management company about joining The Stranglers...so at the time he began writing material that might be appropriate for the band. When that didn't work out, he continued recording enough material to release an album. This album was originally released on cassette only as part of a marketing ploy. This album has been in the vaults for many years so this is the first time in a very long while that many folks will hear it. These tracks receive the (always impeccable) Angel Air remaster treatment...and will undoubtedly whet folks' appetite for the rest of Fiddler's solo catalog. Smart guitar-driven pop cuts include "Strong Heart," "Time Will Tell," "Sex in the 90s," and "Where's Heaven Now?"
Frozen Planet - Composed and Conducted by George Fenton (CD, Silva Screen, Soundtrack)
George Fenton is best known for the music he has created for wildly popular films like Gandhi, The Fisher King, Groundhog Day, and Shadowlands. But in addition to creating music for big blockbuster films, he also works with smaller projects that are probably more carefully hand-selected. Narrated by David Attenborough, the Frozen Planet series originally aired on the BBC in 2011. Fenton's music for the BBC Wildlife Unit has been warmly received around the world and has been performed by a wide variety of orchestras in different countries. The music on this disc is divided into six sections: To the Ends of the Earth, Spring, Summer, Autumn, Winter, and The Final Frontier. The tracks on this CD are meticulous, beautiful, and very moving...they captivate and certainly have a wonderfully warm organic feel that must have added a great deal of depth to this series. The folks at Silva Screen are releasing some great soundtracks from the past that would probably otherwise not be made available to the public. Very cool.
---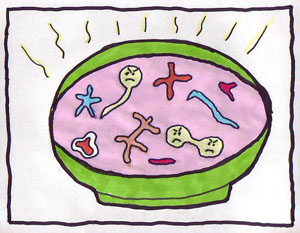 GERM SOUP
Ingredients:
1 cup Perfect Germs
1 cup Flu Germs
1 cup Underarm Germs
1 cup Pubic Germs
1 cup Outside Germs
1 cup Confusion Germs
1 cup Asian Germs
1 cup Determined Germs
1 cup Disturbing Germs
2 quarts Chicken Broth
1 teaspoon Chair Salt
1 Celery Stalk
1 Annoying Facial Expression

There's nothing to warm the tummy like a steaming hot bowl of Germ Soup. Everyone loves soup...and here's one with a slightly different aroma and flair for those fussy and hard-to-please eaters. Plop one large metal cooking pot on the stove and pour in the CHICKEN BROTH. Set the stove to "simmer" and let the broth heat all the way up. Slowly add in the PERFECT GERMS, the FLU GERMS, and the UNDERARM GERMS while stirring with a constant motion. Now cut up the CELERY STALK and slowly toss it into the mixture. Next, add the PUBIC GERMS, the OUTSIDE GERMS, and the CONFUSION GERMS while stirring the soup with a jerky whipping motion. Allow the ANNOYING FACIAL EXPRESSION to take over your whole dumb face as you toss in the CHAIR SALT. Stir again. Now add the ASIAN GERMS, the DETERMINED GERMS, and the DISTURBING GERMS as you slowly lower the heat on the stove. Before you remove the soup from the serve, wet your hand and rub it on the floor allowing some miscellaneous germs to attach themselves to your hand. As you ladle the soup into individual eating bowls, gently scrape some of the floor germs off your hand so that it lands right onto the top of each one. Serves six hungry soup lovers.
---
Ghostkeeper - Horse Chief! War Thief! (CD, Saved By Vinyl, Progressive rock/pop)
We love it when a band or artist keeps us guessing...and that's just what the folks in Ghostkeeper do on the puzzling and ultimately strange Horse Chief! War Thief! We could play this album another ten or twenty times and we'd still be scratching our heads trying to come up with ways to describe the overall sound. So...this is one of those rare cases where we're not even going to attempt to explain what's going on here. You just have to HEAR IT...and decide for yourself. The band is comprised of Sarah Houle, Jay Crocker, Ian Jarvis, and Shane Ghostkeeper. Interested in experiencing something really different? Tired of the same old sound? If so, you owe it to yourself to check out this album. Listeners won't soon forget the bizarre sound and feel of tracks like "HCWT," "The Indians," "Gospel Slinger," "Six," and "Till The Days That We Are Old." TOP PICK.


Chris Greco Quartet - Trane of Thought (CD, gwsfourwinds, Jazz/instrumental)
Classy provocative jazz music from the Chris Greco Quartet. Greco has a wealth of experience playing and composing...and has won numerous awards for his works and achievements over the years. Joining Chris on these recordings are Brad Rabuchin (guitars), Dean Taba (bass), and Kendall Kay (drums, congas). The compositions on Trane of Thought are well-crafted and fluid...effectively combining ideas from the past with a more modern and current sound. Interestingly, four tracks ("Sterope," "Merope," "Maia," and "Electra") were inspired by characters in Greek mythology. Another interesting fact is that the record label itself (gwsfourwinds) is credited as the producer of this album. Greco and his associates are masters of their instruments here...providing over 55 minutes of solid and purely effective smart jazz...
The Heligoats - Back To The Ache (CD, Greyday, Pop)
The sophomore album release from Chicago/Bellingham-based band The Heligoats. These guys had a great deal of success with their last album (Goodness Gracious) that was released in 2010. The band is driven by the songwriting skills of Chris Otepka, a fellow with a truly unique voice in the world of music. It's difficult trying to come up with comparisons and possible influences here. Otepka's songs don't really sound very much like anyone else...and his voice is an acquired taste. But once you get used to it...our guess is that you'll end up totally digging his groovy vocal style. These guys are going to be doing some heavy touring to support this album...and our guess is that every show will be one of those ultra-hipster events that folks will be lining up for. Back To The Ache's unusual driving pop/rock tunes pack a punch without ever sacrificing song quality for volume. These twelve tracks should please just about anyone wanting something truly credible and unique. Our favorite cuts include "Good Morning," "Sulfur, Baby," "Right Then And There," and "Leaving The Trip Alone." Totally cool stuff that gets better with each and every spin... TOP PICK.


Megan Hilty - It Happens All The Time (CD, Sony Masterworks / Columbia, Pop)
Before we begin here, we should mention that this album tends to venture into territory similar to that produced by the television show American Idol...so that may temper your opinion here. We approached this one with some hesitation because it certainly is one of those releases with songs that have been polished to the point of perfection. And it initially did remind us very much of that strangely distant American Idol sound. But there are two major differences here. First is...song choice. Instead of choosing the same old tired songs to cover, Megan Hilty (star of the TV show Smash) opted to select some interesting and surprising tunes to cover. And even though at times she sounds like she's pushing things just a bit too hard...in actuality she really does have a lovely voice. If you don't mind some extra gloss that might not be necessary...you will be rewarded by some truly fine singing and songs that have real emotion hidden beneath the surface. Ten well-crafted cuts here including "It Happens All The Time," "No Cure," "Hopin'", and "Dare You To Move."

Drazy Hoops - This Is The Sound Of... (CD, Slow Burn, Pop)
The eighth full-length release from New York City's Drazy Hoops (named after the Captain Beefheart song "The Blimp"). Hoops is backed by an extraordinary cast of musician pals here including Sean Eden, Bob Hoffnar, Karen Waltuch, Brooke Behmke, Dawn Landes, Jason Mercer, Mark Brotter, Sally Ellyson, and Lauren Ballthrop (whew!). There's a lot to sink your teeth into here...fourteen tracks total that clock in at close to forty-four minutes. Twelve of the tracks are originals while two are interestingly chosen cover tunes. Drazy chose to include his versions of Eno's "Golden Hours" and Devo's "Whip It"...both of which come across surprisingly well and fit perfectly within the context of this album. But the original songs are the real meat here. Hoops writes well-crafted laid back songs that are memorable and real...and he's got a great unpretentious voice that really pushes things to the next level. Cool reflective cuts include "Baby You Gave Me More," "I Am Going To Bring You Together," "Baby Jesus," and "Oh How It's Good To Be Home."
Hymn For Her - Hymn For Her Presents...Lucy and Wayne's Smokin Flames (Independently released CD, Rock)
Before we even read the press release we were thinking that these hot rockin' tunes recorded by Lucy Tight and Wayne Waxing reminded us of The White Stripes. So we shouldn't have been too surprised to find a few moments later that Hymn For Her Presents...Lucy and Wayne's Smokin Flames was produced by Jim Diamond who used to work with the Stripes. There's a real interesting story that goes along with this one. This album was recorded in the couple's 1961 Bambi Airstream trailer at different locations during a three month tour of the United States. But you'd never know it from listening to these boss ass tracks. Lucy and Wayne obviously had a helluva time recording these songs. Their enthusiasm and excitement shines through on every track. You won't hear tons of digital effects and everything isn't processed to infinity here. These cuts are rough and raw, and sound like real musicians who simply like to turn things up and have fun. Twelve powerful cuts that ought to please even the most jaded listeners. Our favorites include "Mojave," "Landescape," "Lucy Fur," "Dark Deeds," and "Passion." Top pick.


Kazyak - See The Forest, See The Trees (Independently released CD, Pop)
Smooth breezy modern pop with an organic feel. Kazyak is the band spearheaded by the songwriting skills of Minneapolis, Minnesota's Peter Frey. The band has gone through some changes over the past couple of years which may explain a slight shift in sound and direction. But if See The Forest, See The Trees is any indication of what lies in the future, then things are looking pretty damn bright. Frey writes wonderfully understated pensive songs with winding melodies and heartfelt vocals. This six track EP offers music that isn't of the cookie cutter variety...and there's obviously some real heart and soul that went into the recording of these tunes. Peter's got a great voice and his music is strikingly effective and genuine. Topping all off is some fantastic artwork of a rabbit in a suit on the front cover...with a more disturbing deathly variation on the back. Our favorite cuts include "Pieces Of My Map," "To The Manner Born," "Tar Baby," and "Disposition."
Adam Klein & The Wild Fires - Sky Blue Deville (CD, Cowboy Angel Music, Soft pop)
Really nice smooth guitar-driven music that sounds something like Chris Stamey if he were playing twenty-first century Americana pop. This is the fifth full length release from Athens, Georgia's Adam Klein. These songs were recorded using traditional instruments and they have a classic soft pop sound that should appeal to just about anyone who likes this style of music. Adam has a super smooth inviting voice that recalls a variety of classic artists from the past. His melodies are instantly familiar...giving the listener the feeling they've heard them somewhere before. Nine groovy tracks here and every one of them is a keeper. Our favorites include "Sky Blue Deville," "In A Southern Way," and "Highway Of Your Love."
Lorna - Heart Of Wire (CD, Words On Music, Pop)
The fourth full-length release from Nottingham, England's Lorna. These folks write and record soft dreamy pensive pop music that is simultaneously soothing and intriguing. The band is comprised of Mark Rolfe (guitar, vocals), Sharon Cohen-Rolfe (keyboards, vocals), Andy Bullock (bass), Matt Harrison (flute, guitar), Andrew McNamara (drums), and Rein Ove Sikveland (viola, percussion). The tracks on this album feature wonderful winding melodies...and some of the best arrangements you're likely to hear anywhere on this planet. You can tell that a lot of love and energy was spent recording these tunes. Everything about this band is right on target...great songwriting...superb vocals...perfect instrumentation to fit each tune...what more could you ask for? Our favorite tracks include "Sounds We Hear," "Whatever Happened To Andie Walsh?", "Mina and Marco," and "Chasing Amy." Every single release we hear on the Words On Music label hits the target dead center lately... TOP PICK.


Graham MacRae - Dundrearies (CD, Amanaplanacanal, Pop)
Intriguing album from up-and-coming singer/songwriter Graham MacRae. Rather than taking an artsy underground approach to music, MacRae writes songs that could be instantly appealing to just about anyone who loves good solid soft pop. He's got an incredible knack for penning cool melodies...and his understated sound is sincere and real. The tracks on Dundrearies combine elements from folk and pop...and there's a heavy emphasis on lyrical content. Whether he's playing upbeat pop or more subdued folky stuff, MacRae always manages to satisfy. We're totally diggin' cool tracks like "Daddy Don't Mind," "Hullabaloo," and "Dirty and Down."
The Naked Stills - Cochecho (Independently released CD, Pop)
The Naked Stills is the quartet comprised of Ryan Callahan (bass), Rocco DeRosa (vocals, rhythm guitar, acoustic guitar), Daniel King (lead guitar, lap steel), and Doug Standley (drums, percussion). The band began in 2009 and has been gaining steady momentum ever since. The band's influences include Ryan Adams, Wilco, and Dawes...and this would give a good indication of what the songs on Cochecho sound like. The main difference is that these songs are not overproduced and overly slick...which means there's still some true threads of emotion happening here. These guys are playing for what could be a huge audience at some point in the future. Their songs are melodic, accessible, and they have that familiar sound that should appeal to a wide cross section of listeners. Twelve well-crafted cuts here including "Impossible," "Is That Enough," and "Hands of Love."
Derek Nicoletto - Just Panic and Get It Over With (CD EP, Trick Pony, Dance/pop)
Cool techno/dance pop from New York's Derek Nicoletto. This fellow has a winning sound and style that is effectively captured on the six songs on Just Panic and Get It Over With. These tracks are driven by danceable rhythms and the central focus is clearly on the heartfelt vocals. Nicoletto was formerly in the band Telling On Trixie before making the decision to go solo. His songs have already been featured on numerous television shows and commercials...so he already has a built-in audience receptive and ready for the release of this EP. Interestingly, Derek is curating art exhibitions around the world to coincide with the release of this disc. He handpicked over twenty visual artists who have created art pieces specifically inspired by a song from this EP. All of these songs have a great deal of commercial appeal but they should be equally appealing to the artsy crowd as well. Nifty dance/pop cuts include "Kings Are We," "F5," "Blink Of An Eye," and "San Simeon."
Dawn Oberg - Rye (CD, Blossom Theory Music, Pop)
San Francisco, California's Dawn Oberg has a winning sound and style that could easily appeal to millions of fans. The songs on Rye are of the singer/songwriter style that appeals to so many folks. Now in her mid-forties, Oberg seems to write from her own personal experiences. Her songs are precise and direct...and feature what sound like some very genuinely heartfelt lyrics with an interesting humorous twist. Recorded at the legendary Hyde Street Studios, Rye features eleven melodic compositions with the central focal point being Dawn's subtle vocals. Our favorite tunes include "Girl Who Sleeps With Books," "Reconstruction," "To That Extent," and "End Of The Continent." Oberg will be touring the country this spring in support of this album.

Anthony Piccolo - Imaginary Symphony and Other Tales (CD, Navona, Classical)
If you love the sound of an orchestra...and you love the sound of children singing...you're certain to get a major charge out of at least two of the symphonies on this album. And our guess is that you'll get just as big of a thrill out of the other compositions as well. Anthony Piccolo is a multi-talented artist who, during his lengthy career, has worked as a composer, choral director, pianist, and conductor. Piccolo fell in love with music at a very early age. He eventually moved to England where he began seriously concentrating on music. Years later he returned to the United States where he worked with the New York City Opera. In 2009 he began working as the Children's Chorus Director of the Metropolitan Opera. This man's wealth of experience and talent are obvious here. His attention to detail on the compositions on Imaginary Symphony and Other Tales is impressive and mind-blowing. Piccoli's music combines sounds and ideas from classic artists from the past with the clean precise recording technology of the present. Smooth, intricate, and ultimately entertaining.
The Rockats - Rockin' Together (CD, Lanark, Rockabilly)
The first studio album from The Rockats since their 2004 release Wild Love. These guys have played alongside so many superstars during their lengthy career that we won't even begin to try listing them all here. This band is one of the originals who are responsible for introducing rockabilly music to a whole new league of listeners. The band is comprised of Dibbs Preston (lead vocals), Smutty Smiff (upright bass), Barry Ryan (guitars), Danny B. Harvey (guitars), Lewis King (drums), and Mike Osborn (drums). Rockin' Together is sure to please the band's fans as well as anyone else who loves rockabilly. These songs are spontaneous and inspired...and they practically demand body movement. We sure appreciate where the Lanark label is coming from. According to the web site the label is "...not interested in re-creating songs from the past. We are interested in making new recordings with established artists with the feel and familiarity of their past hits, but with a sound that is current." How cool is that? The Rockats are in fine form here, presenting twelve tracks of driving rock...and they all pretty much hit the target dead center. Our favorites include "The Doubt," "Kitten With AWhip," "Sweet Sweet Charlotte," and "Rockless Rebel."
Joey Ryan & The Inks - [pause.] (Independently released CD EP, Pop)
The third release from Joey Ryan & The Inks. These guys impressed lots of folks with their last two albums...so there's already a built in audience for this EP. These are the most professional recordings we've heard thus far from the band. These tracks are polished to perfection and feature plenty of layering to create a big sound. The vocals are once again the central focal point and far beyond what we normally hear in modern pop bands. Six well-crafted cuts here including "Pompous Chorus Line," "The Transfiguration of Eugene Wolf," and "For A Minute."
Saltation Ignite - Emergence (Independently released CD-R EP, Pop)
Interesting modern pop that incorporates sounds and ideas from all over the place. Saltation Ignite is driven by Sri Lankan-American producer Mardhavi...a young lady whose influences include Nine Inch Nails, Bjork, and Fiona Apple among others. This self-released EP features six tracks (one is a remix and another is an instrumental version of a previous cut). The song that will most likely capture most folks' attention is "Dark Skin" in which Mardhavi encourages her fellow Sri Lankan people to embrace the color of their skin. Well produced music that is intelligent, well thought out, and different. Interesting cuts include "Dark Skin," "I Know," "and "Refuse To Carry Regrets."
---
SCRAMBLED FOOD
Ingredients:
1 gallon Grape Juice
1 quart Big Shrimps
2 cups Lamb Liver
2 pints Sugar
3 quarts Sweetened Condensed Milk
1 cup Sardines
2 cups Cow Brains
3 cups Salted Peanuts
25 Large Eggs
2 cups Salt
3 cups Tobasco Sauce
5 Rose Flowers
3 slabs Taffy
100 Styrofoam Chips
1 can Whipped Cream
15 Bird Embryos
1 Fresh Warm Charity Donation

There's something new on the menu tonight...and it's causing some big random excitement in every corner of the universe. To make this delicate delight, you'll need something really big to scramble in...we would suggest an extra large plastic garbage can. That way, none of the tasty nuances of the dish get lost. First pour in the GRAPE JUICE and the BIG SHRIMPS. Next, smush the LAMB LIVER into a lazy groovy pulp and then toss it in with the other stuff. Sprinkle the SUGAR over the mixture and pour in the SWEETENED CONDENSED MILK. Now scramble it all together using an oversized boat motor. After all them things has done got scrambled, add in the SARDINES, the COW BRAINS, the SALTED PEANUTS, and the LARGE EGGS. Now grab that goddamn boat motor again and crank it up to super high mode. Scramble all that stuff harder than you did the first time. Remember, if everything isn't scrambled all the way your dish will be a failure. Now add the SALT, the TOBASCO SAUCE, and the ROSE FLOWERS. Rev up that goddamn motor again and scramble the mess some more, even if it takes four or five hours to get it all done right. Next, add the TAFFY, the STYROFOAM CHIPS, and the WHIPPED CREAM. Now get up on top of that boat motor and turn it all the way up as high as it will go. Scramble and scramble and scramble some more...because you're pretty damn near close to gettin' done now. Just before you're ready to serve your guests, gently add in the BIRD EMBRYOS and then hoist yourself right up there on top of the garbage can and give it your very best FRESH WARM CHARITY DONATION. Scramble non-stop for three more months and you're done. Best when served with toasted carrot tops, steamed rice, or freshly snipped toaster waifs. Note that this dish is not recommended for queasy eaters who are fussy about different food items touching one another on their plates.
---
Shotgun Jimmie - Everything, Everything (CD, You've Changed Records, Pop/rock)
Like lots of other folks, we kinda went nuts over the last Shotgun Jimmie album (Transistor Sister) that was released in 2011. It's a great album to be certain...but our guess is that Everything, Everything will be the one to really bump this guy's career up to the next level. To quote directly from babysue favorite Joel Plaskett: "Shotgun Jimmie is one of my favorite songwriters these days. He sounds like Jonathan Richman jamming with Eric's Trip at Wes Anderson's house." Joel pretty much hit the target in describing the songs on Everything, Everything. So much twenty-first century music is overproduced and tweaked to perfection. The songs on this album have wonderfully spontaneous qualities...to ensure that the music never ever sounds canned or phony. This sixteen track album is a pure delight, bursting at the seams with memorable melodies, smart lyrics, and a cool overall vibe. We love all of these tracks...but particular standouts include "Standing In A Line," "Sum Of My Parts," "Proud Champions," and "Everything, Everything." This album is bound to be on lots of best of lists for 2013...fantastic stuff. TOP PICK.


Soft Machine Legacy - Burden of Proof (CD, Moonjune, Progressive/jazz/rock)
Soft Machine Legacy is the quartet comprised of John Etheridge (guitar), Theo Travis (tenor saxophone, flute, Fender Rhodes piano), Roy Babbington (bass guitar), and John Marshall (drums, percussion). As should be obvious from the name, the band was formed in 2004 to continue the grand tradition of progressive music created by the legendary group Soft Machine. Progressive rock sure has seen a major rebound over the past few years as more and more up-and-coming bands seem to be treading in territory first chartered by some of classic bands from the 1970s. The songs on Burden of Proof bear some similarities to the music of the original Soft Machine...but they're really just a path that leads to some new and inventive areas. There's a great deal to sink your teeth into here, as these four musicians delve into all kinds of territories on this thirteen track album. Over 55 minutes' worth of music here...and it all sounds rather remarkable. Curious and slightly mind-altering tracks include "Burden of Proof," "Kitto," "Black and Crimson," and "They Landed On A Hill."
S.O.S. Titanic - Original Film Soundtrack: Music Composed and Conducted by Howard Blake (CD, Silva Screen, Soundtrack)
Because of the tremendous success of James Cameron's 1997 film, many may not remember the lengthy made-for-television film S.O.S. Titanic. At the time of its release in 1979, it was the most expensive film ever created specifically for television. Interestingly, the material in the script was based on first-hand accounts by Lawrence Beesley who was a passenger on the real ship itself. The soundtrack for this film features compositions that were played on the ship during it's final hours. Howard Blake did an excellent job of recording music that provides the perfect soundtrack for the specific time period during which the Titanic made its indelible mark on the world. Hopefully this disc will help to remind people about the original made-for-television film...and also serve to reintroduce folks to the music of this great British composer and conductor ...
The Steel Wheels - No More Rain (Independently released CD, Americana/bluegrass/folk/pop)
Good solid organic Americana pop infused with threads of bluegrass that's sure to please almost anyone who has an appreciation for these styles of music. This is the third full-length release from The Steel Wheels. The band resides in the Blue Ridge Mountains of Virginia and is comprised of Trent Wagler (vocals, guitar, banjo), Jay Lapp (mandolin, guitars, vocals), Eric Brubaker (fiddle, vocals), and Brian Dickel (bass, vocals). No More Rain was recorded in a barn that was transformed into a recording studio, the perfect setting to permanently document these sincerely heartfelt tunes. Wagler proves he is a songwriter to be reckoned with here, coming up with tunes that are simultaneously smart, classic, and genuine. All four players add just the right flavors to the mix, making this band sound much bigger than the sum of its parts. Twelve well-crafted cuts here including "Walk Away," "The Race," "Whistle Blows," and "I Will Love You."
Stick Men - Deep (CD, 7d Media, Progressive rock)
Complex, inventive, heady instrumentals from the three legendary musicians in Stick Men. This band is the trio comprised of Tony Levin, Pat Mastelotto, and Markus Reuter...all three of whom have made a solid name for themselves in the world of music over the past few decades. Deep presents music that is unconventional and ultimately very creative. These men apparently don't like creating music with boundaries. Thus, the nine tracks on this album involve a wide variety of instruments, sounds, and styles. Considering how much is going on here and the all the unusual sounds, it's amazing how coherent and fluid these tracks sound. Levin, Mastelotto, and Reuter are all tight as heck on their instruments...so the combination of their talents adds up to one big heaping wall of sound. Fans of progressive rock will no doubt go bonkers over cuts like "Nude Ascending Staircase," "Crack In The Sky," and "Whale Watch." Progressive rock the way it ought to be played.

Tall Heights - Man of Stone (Independently released CD, Pop)
Tall Heights is the Boston, Massachusetts-based duo of Paul Wright and Tim Harrington. This is the third release from these two talented fellows...and it's definitely a keeper. Wright and Harrington made an instant impression on many folks with their 2011 debut album Rafters. They followed up with The Running of the Bulls live EP in 2012 which seemed to fan the flames even more. The pensive songs on Man of Stone may remind folks of classic acts from the past like Simon and Garfunkel (mainly because of the impeccable vocal harmonies)...but make no mistake, these guys aren't copying anyone. Paul and Tim have an instantly appealing sound that could easily appeal to millions upon millions of fans. Ten well-crafted songs here including "Controlled Burn," "Eastern Standard Time," and "Learn Again." Sincere, genuine, and real...
Tim & Adam - Tim & Adam (Independently released CD, Pop)
Soft moody breezy modern pop from South Florida's Tim & Adam. Tim Yehezkely (The Postmarks) and Adam Rosenberg (Whirlaway, I Am Stereo, Hello Human) make a great team, as is evidenced by the cool reflective tracks on their self-titled debut. The pair wrote these songs on an old 1970s Lowery organ (bought at a thrift store) and then recorded the album at home. We're suckers for music like this...boy/girl vocals...slight psychedelic undertones...groovy subtle melodies...a generally playful overall sound... Yup, this one pretty much pushes all of our buttons just the way we like 'em to be pushed. This album is bound to find a warm and receptive audience in no time flat. Some of these tracks remind us of babysue favorite Starflyer 59. Groovy cuts include "One Little Taste," "Forest For The Trees," "3D Love," "Candy Store," and "Stranger Stranger." Top pick.


Wonderflu - No End In Sight (French import CD EP, Influenza, Rock)
More great edgy gripping underground pop/rock from the cool guys in France's Wonderflu. If you tire easily of the processed cheese sound of the twenty-first century, you're sure to get a major kick out of this ultra groovy French band. These guys write and record loud rock that features incredibly cool electric guitars and a vocalist who can really activate. These tracks remind us of some of the more adventurous bands treading around the United States in the mid to late 1990s. The more we hear this band...the more impressed we are. Seven killer tracks here including "Fine Now," "Anybody," "Lost in the 50's," and "Try to Try." Top pick.


Kree Woods - Talking Underwater (CD, Zodlounge, Pop)
Nice smooth melodic soft pop from Nashville,Tennessee's Kree Woods. Kree's released her first self-titled EP in 2011 and it has created quite a buzz over the past couple of years. Talking Underwater features lush, well produced songs with the central focus being Ms. Woods' super resonant and expressive voice. She wrote all of these eleven songs except for two ("Fake" and "Cave In" which were co-written by Woods and Zodlounge). If this album had been released a few decades ago Ms. Woods would have become a celebrity overnight. But now in the age of overproduction and overstimulation in the world of music...we can only hope her songs receive the attention they deserve. So many great artists in the twenty-first century tend to get overlooked simply because there is too much music being created. Underwater is warm and sincere...and ultimately a very memorable experience. Clever and rewarding tracks include "Talking Underwater," "Happiest Day," "Blink," and "Fake."
A
A Clever Con - Mannequin love part I
James Adler & Friends - James Adler & Friends
A Good Day To Die Hard - Original motion picture soundtrack
Aina Haina - Aina Haina
Verden Allen's Soft Ground - Love you & leave you
Angry - Wild ox shangri-la
Animals At Night - Animals At Night
Apple Dot - Dot the dot
Aquarotten - Aqua is a rotten color
David Armo - Poets on the wall
Mike Arroyo Jazz Organ Trio - Full circle
B
Matt Barron - Matt Barron
Beekeeper - Shout at people
Lilly Bell - Try to tune the goddamn thing
Jacob Blazer - I am Jacob
Jason Blum - Radio dial
Bolts - Wait 'til we're young
Bone of Contention - Bone of Contention
Greg Boring - Heavy syrup
Boss - Original television soundtrack
Brand New Trash - Brand New Trash
Breadwinter - Breadwinter one
Dewa Budjana - Dawaii in paradise
C
Alan Callahan - Shower of grace
Camera - The panic and the permanence
Brooke Campbell - The escapist
Marc Carroll - Stone beads and silver
Catbirds Say Yeah - Catbirds Say Yeah
Chapin Sisters - A date with the Everly Brothers
Chestnuts Roasting On A Stove - Dumb nuts
Chicago Arts Orchestra - Al combate
Kyong Mee Choi - The eternal tao: A multimedia opera
Churchwood - 2
Citadel Besieged - Creation/damnation
Nels Cline / Elliott Sharp - Open the door
Preston Cochran - Stumble into tomorrow
Como Asesinar A Felipes - Comenzaras de nuevo
Convergence - The music of Stewart & Gershwin
Ryan Cook - Wrestling with demons
Copper Gamins - Los ninos de corre
Copper & Glass - Copper & Glass
Laura Cortese - Into the dark
David Courtney - Midsummer madness/Shooting star
Crankshaft and the Gear Grinders - What you gonna do?
Crummy Band - This is the life worth dying for
Michael C. Cunningham - Gallry
D
Diemakers - Detroit recordings
Dolls On Fire - Ladies and gentlemen...
Sarah Donner - Fossil of girl
Dorothy Doring and Phil Mattson - Compositions by Duke Ellington and Billy Strayhorn
Drgn King - "Holy Ghost" b/w "Son of Wolfman"
Gordon Duthie - Shire and city
Mia Dyson - The moment
E
Eggs Are Eggs - Drippy thugs on corn
Eksi Ekso - Archfiend
Amos Elkana - Casino umbro
Electric Shepherd - The imitation garden
Holly Elle - Leopardess
El Perro Del Mar - Pale fire
Emperors of Wyoming - Emperors of Wyoming
Glenn Eric - Blanket of stars
Every Day Is Picture Day - Every Day is Picture Day
F
Fabulous Rudies - Labor of lust
Faco - Em si bemol
Fat Opie - Victoryville
Stephen Fearing - Between hurricanes
Julian Fernandez - Mi conciones
Fletcher - Open arms
Focus Features 10th Anniversary - A collection of film score
Lisa Forkish - Bridges
Olivia Foschi - Perennial dreamer
Further To Fly - Wave mechanics union
Fussy Fussy - How many things can go?
G
Holly Gentry - So much more
Susie Glaze & The HiLonesome Band - White swan
Go Around - Restating the question
Mac Gollehon - La fama
Jess Grant - Innocent invader
Grassmarket - You are for the ocean
Great Divide - Great Divide
H
Halle & The Jilt - Three roads home
Kyp Harness - The wrong way
Haunted West - Postlude
Henry Wagons - Expecting company?
Pamela Hines - 3.2.1.
Hissing Makes Us Hissy - Hisses
Dillon Hodges - Rumspringa
Home By Hovercraft - Are we chameleons?
Hunter - Pressure
I
Il Sogno del Marinaio - La busta gialia
Inside Insects - How we done got ate up
Intestines - The force is forceful
Invader - Original motion picture soundtrack
J
The JAC - I see things differently: Greatest Xmas Hits Vol. 1 2001-2012
The JAC - Record store
Jeepers Jeepers - The whopper in my panties
Alan Jeffries - Coffee 'til midnight
JLStiles - Presents house of murmurs
Shawn Jones - Struggle makes you stronger
Jumpy Jerks - Jumpy on the beddie bye
K
Red Russell Kamp - Night owl
Judy Kang - Judy Kang
Brendan Kelley - Quicksand
Lili Kendall - Beginnings
Aarison Kirby - Aries
Gerald Krampl - Wonder way
L
Shannon Labrie - Just be honest
Lady Antebellum - Own the night world tour
Lady Antebooboo - Own the day tiny tour
Dave Lalama Big Band - The Hofstra project
Daniel Lantz Trio - Plays Bond
Lapland - Lapland
Juan Sebastian Lach Lau - Islas
Kait Lawson - Until we drown
Lead Mule - Lead Mule
Lee Boys - Testify
Jim Libby - Made in USA
Life of Pi - Original motion picture soundtrack
Loveskills - Multiplicity
John LT - Suburban superstar
M
Andy Macintyre - Ruby
Brad Mackeson - 1945
Madonna & Rose - Bank cormorants
Magic City - Songs and score from the series: Score by Daniele Luppi
Tim Mahoney Band - Shine through
Marbin - Last chapter of dreaming
Marina - Believe in love
Bex Marshall - House of mercy
Michael Mauldin - The last musician of UR
Alison May - Earnest keep
Ian McFeron - Time will take you
Midas Fall - Wilderness
Gabriel Minnikin - Parakeets with parasols
Tom Morgan - Orange syringe
Moxi - In my dreams
Muy Cansado - Let it go
Myopic - We were here
N
New Day Dawn - Rise above this
New Standards - Sunday morning coming down
Karen Nielsen - Woman
Ninners are for Ninners - Something for dinner
NocturnalSol - In this together
No Escape For The King - 13 fjords
Nowherenauts - Warned you
O
Robin O'Brien - Dive into the end of the world
Ocean Floor - Falling star castle
Onoono - Yokoyoke
P
Paperhaus - Lo hi lo
Para Vista Social Club - Scott & charlene's wedding
Charlie Parr - Barnswallow
Rodney Patterson - Love > fear
Nick Peay - Feathers & fables
Dan Phillips BKK Trio - Bangkok edge
Garrett Pierce - City of sand
Pint of Pint - How to quart the quart
PLS PLS - EP EP
Pretty Little Demons - Flowers
Q
Quiet Parade - Old haunts
R
Red Dawn - Original motion picture soundtrack
Red Sammy - These poems with kerosene
Edward Ricart / Tim Daisy - Yiu ja ley
Marga Richter - Poetic images beyond poetry
Troy Roberts - Nuu-jive 5
Rob Roper - The other side of nowhere
Rockabye Baby - Lullaby renditions of Blur
Rockabye Baby - Lullaby renditions of Muse
Rockabye Baby - Lullaby renditions of Rush
Peter Rodocker & So It Is - We're still here
Arrica Rose & The . . . 's - Lucky
Rumper Rump - How to dump the rump
Run 8 Rider - Tenderfoot
S
Micky Saunders / Dan Susnara - Known & better tomorrows
Save The Date - Original motion picture soundtrack
Garrett Sawyer - Chronicles and vanity
Marcus Schwartz & Monvelyno Alexis - Vo-duo nou la
Scott & Charlene's Wedding - Two weeks EP
Secret City - Secret City
Seven Psychopaths - Original motion picture soundtrack
Shakespeare's Memory - Shakespeare's Memory
Sideman Sez - A Rob Loyot project
Silver Linings Playbook - Original motion picture soundtrack
Keaton Simons - Beautiful pain
Skiggy Rapz - Satellites
Smith III - Diamond in a rock
Snitch - Original motion picture soundtrack
Jeffrey Stadelman - Messenger and other works of Jeremy Stadelman
Stand Up Guys - Original motion picture soundtrack
Stomacher - Clara
Stone Foxes - Small fires
Nora Jane Struthers & The Party Line - Carnival
Sugarman - After the blackout
Summarily Dismissed - To each!
Summer Hours - Closer still
Sunshine - Sunshine
Super Zeroes: Get Awesome - Soundtrack and movie
Swallows - Witching & divining
Phil Swann - Age of opportunity
Sweet Honey in the Rock - A tribute
Sweet Knievel - Collapsible
T
20 Something - 20 Something
Aly Tadros - The fits
Tapestry Ensemble - New York moments
Thought Transfer - Light my way
Tomfun Orchestra - Earthworm heart
Jay Trainer Band - Jay Trainer Band
Chandler Travis Three-O - This is what bears look like underwater
Joe Treewater - The ice cream social
Tune Into My Mind Radio - A tribute to multi-talented vocalist Kelly Keeling
Two Hours Traffic - Foolish blood
U
Up The Up - Down down down
V
Bobby Jo Valentine - Home
Various Curelties - Various Cruelties
Vulnerable - We're not
VYIE - Nightingale
W
Tim Warfield - Jazzy christmas
Hope Wechkin - Leaning toward the fiddler
Whitewater Ramble- Roots & groove
Widowmaker - Widowmaker
Wig Party - Glass girls
Wiggy's Popo - Flowers for Wiggy's Popo
Rustsy Wright Band - This, that and the other thing
X
XXX Means Dull - Pornography stinks
Y
Yacht Rock Revue - Yacht Rock Revue
Your Future Lovers - Eat. play. leave.
Yup - Nope
Z
Zeezee - Weewee
Zzinn - Wullywoo