November 2013 Comics, Recipes, and Reviews from

aka

*Top Picks =

alucidnation - Aural Architecture (CD, Interchill, Soothing/mainly instrumental)
Yup, you read it right. It's ALL ONE WORD and it is NOT capitalized. That's the kinda name we're real, REAL familiar with around here for obvious reasons (heh heh heh...). Aural Architecture is a cool and calming album full of well-produced tracks that ought to tame even the wildest of beasts. This is the third full-length release from the folks in alucidnation. The album features over sixty-four minutes' worth of slick dreamy music that is ethereal and seductive. Most of the tracks are instrumentals but there are some subtle vocals added near the end. This disc is housed in a beautifully-designed tri-fold digipak sleeve and includes a really cool mini-photo booklet. If you dug the sound of trance and ambient artists from the 1990s there's a good change this'll really blow your mind. Our favorite cuts include "Protocol," "Havens Above," "A Place In The Sunshine," and "Genetics."
Jeff Andrew - Tunnels, Treehouses & Trainsmoke (CD, Shade Tree, Pop)
We absolutely love the packaging on this one. The CD is housed in a hand stapled booklet that immediately recalls the 1990s when everyone under the sun was discovering the thrills of self-publishing. The CD is subtly glued inside the back page, almost as an afterthought. But if the packaging might give one the impression that this album features low fidelity recordings, think again. Jeff Andrew is a professional in the world of music...offering what the press release describes as "...original fiddle tunes, ghost stories, murder ballads and protest songs." This disc is divided into two sections. The first is Tunnels which is Andrews' latest eight song EP. And as an added bonus the disc also includes his previous eight song EP entitled Treehouses & Trainsmoke. In some ways, these tracks sound like they've come from another place and time...but there's something very current about these recordings as well. If you're a fan of real music recorded by real people...this one will surely grab you by the socks and knock you out. Jeff's music is personal and credible...and he's got a sound that is totally groovy and inspired. Our favorite cuts here include "Dance To The Death," "Professional Asshole," "Places," and "Old Boots, Rusty Shovel." We love the fact that the magazine/booklet includes chords to the songs. This is a totally cool package in every way possible... TOP PICK.


Jared Bartman - Misery Makes Strange Bedfellows (Independently released CD, Pop)
Dreamy and slightly sleepy progressive modern pop from Jared Bartman. This nine track album features smart lyrics and songs that aren't easily pigeonholed. Jared has a nice smooth voice that is soothing and pensive. And his lyrics seem to come straight from his heart. Some of these cuts teeter into folkish territory while others are more dependent on articulate arrangements and inventive harmonies. After spinning this one several times we still can't decide on exactly who Bartman sounds like (?). Housed in a nicely designed digipak sleeve complete with lyric insert. Cool tracks include "Therese," "You've Been Drinking Again," "Silver Screen," and "It Leaves You."
Blackie and the Rodeo Kings - South (CD, FU:M (File Under Music), Americana/pop)
Blackie and the Rodeo Kings is the band driven by the vocals and songwriting skills of Stephen Fearing, Colin Linden, and Tom Wilson. The three originally formed this band back in 1996 to record and release the tribute album High or Hurtin': The Songs of Willie P. Bennett. But instead of being a one album project, the band developed a life of its own and is now a critical piece of each artist's career. But all three also have other outside interests as well. Fearing records solo and is also half of the duo Fearing and White. Wilson records solo and plays the lead role in the bands Junkhouse and Lee Harvey Osmond. Also a solo recording artist, Linden has also played guitar in Bob Dylan's touring band and has worked with a long list of notable artists as a guitarist and producer. South was named as such because these tracks were recorded in Nashville, Tennessee. Backing the three bandleaders are John Dymond on upright and electric bass and Gary Craig on drums and percussion. The songs on this album might best be described as groove-oriented Americana pop. It's amazing how well all of these songs fit together when you consider the fact that there were three songwriters involved. We can't really pick a favorite here, all three guys' songs are credible, memorable, and extremely melodic. These twelve tracks are smooth and effective...and there's not a bad one in the bunch. Our initial favorites include "North," "South," "Summertime's Over," "Try Try Try Again," and "Driftin' Snow." This album will be released January 2014...be on the lookout for this one.

John Brodeur - Little Hopes (CD, Sojourn, Pop)
The third full-length release from John Brodeur but his seventh release overall. Performed, produced, and mixed almost completely by John, Little Hopes took several years to complete. But Brodeur's fans will find the wait was well worth it as this is an exceedingly smart and memorable collection of well produced pop classics. Even though this fellow's sound draws from a wide variety of classic artists from the past, trying to pinpoint specific influences and similar sounding artists can be quite difficult. These tracks feature smooth flowing melodies, excellent layered vocals, and smart arrangements. But melodies always take center stage, and this is the area where John's music really shines. The songs are based around the ideas of self-improvement and second chances, so there are some definite threads of optimism here...which will probably be welcomed by most folks considering the sad state of our country. So if you need a little hope out there in the real world...or if you just need a solid dose of credible cool pop...Little Hopes may just be your favorite new album. Ten kickass cuts here including "Be Careful," "Dig," "Second Time," and "Spit It Out." Excellent solid stuff that will stand the test of time. Top pick.


Shauna Burns - Violet (CD, Red Rock Music, Celtic pop)
We've been following Shauna Burns for some time now. Thus far she has never failed to deliver quality heartfelt music to her fans. And once again, she hits the target dead center. Violet is yet another solid, smooth, slick collection of Celtic-inspired pop songs. There are lots of folks recording this type of music in the twenty-first century...but few who can compete with such compelling and believable honesty. This is a slick album recorded with all the intricacies that modern technology allows. But at the core these songs have heart and they are delivered with credible sincerity. Of course songs are what make an album...and that's where Violet really blooms (pun intended). Shauna's main accompanists here are her husband James Clark (drums, percussion), Ryan Whyte Maloney (guitar), Lindsey Springer (cello), and Caroline Kemper (harp). Housed in a glossy tri-fold cardboard sleeve complete with printed lyrics, this is yet another resounding success from this enchanting artist. Top pick.


Caterpillars - The Other Side (Independently released CD-R, Progressive)
Intriguing progressive pop music from the Texas-based band Caterpillars. The band recorded and released this album themselves as a professionally produced CD-R and they did an impressive job. The band is comprised of Christopher Robinson (vocals, guitar, keyboards, programming), Drew Black (guitar), Ben Love (bass, vocals), and Stephen O'Sicky (drums). The songs on The Other Side combine elements from progressive rock, pop, shoegazer, and dreampop. These songs, and particularly the arrangements, are quite complex and unorthodox in many ways. You won't hear lots of catchy hooks and repeating phrases in the choruses. The folks in this band seem more focused on creating a mood with their music. And in doing so, they have succeeded admirably. Our guess is that some perceptive company will snap these guys up rather quickly, as they have a sound that could quickly catch on with the right exposure and promotion. Nine inventive cuts including "Winter Haiku," "Figures," "The Other Side," and "The Foundation."
The Chambermaids - Whatever Happened Tomorrow (CD, Guilt Ridden Pop, Pop)
The third full-length release from The Twin Cities-based band The Chambermaids. We're mighty big fans of underground psychedelic bands from the 1990s...so this one instantly pushed all of our buttons just the way we like 'em to be pushed. The folks in this band describe their sound as "noisepop/post-shoegaze"...which rather succinctly sums up the sound of this cool and dreamy album. Whatever Happened Tomorrow is...to use a single word...totally groovy. Yup, this is one we'll be spinning for months and years to come. Instead of the usual overproduced glossy sound that characterizes so many twenty-first century artists, these songs have a nice organic vibe that sounds very much like a real band playing real music. There's a lot of reverb swimming through these tracks as well as some superbly executed trippy guitars. The vocals are pushed back in the mix to allow the overall groove to take center stage. Though it only lasts just over twenty-five minutes, in that amount of time these folks have managed to come up with something truly substantial. Kickass cuts include "Whirlpool," "She's Not Haunted," "Electric Sky," and "Whatever Happened Tomorrow." We love everything about this one... TOP PICK.


Couteau Papillon - Archipel (Independently released CD, French pop)
To quote directly from the press release that accompanied this album, "Couteau Papillon is an independent lyrical formation that explores the space between genres in the Montreal scene." The band cites a wide variety of influences that include Sufjan Stevens, The Dirty Projectors, Belle and Sebastian, Vampire Weekend, Karkwa, and Beau Dommage. Archipel features twelve smart and breezy pop tracks perfect for driving or dancing or...just about anything. We love the fact that the band's lyrics are in French...this really seems to add some extra zest to these memorable pop compositions. The songs on this album were written, performed, and recorded by a very talented Canadian fellow named Philippe Lachance. Instead of copying other bands or aping sounds from the past, Philippe seems driven by his own artistic interests. As such, this album flows by like the big white puffy clouds in the sky...continually entertaining the listener in so many subtle ways. Our favorite cuts here include "L'ile Mouvante," "Archipel," "Treize Racines," and "Timbre Et Vue." Totally nifty sounding stuff.
Come Down Denver - Don't Sweat It (CD, Are You Down, Rock/pop)
If you enjoyed buzzsaw power pop bands from the 1990s there's a good chance you'll get a kick out of the guys in Come Down Denver. Based in the unlikely city of Villa Rica, Georgia, the guys in this band have a sound and style that is much more reminiscent of bands from California. The band is comprised of Christian Camp (vocals), Billy Metcalfe (guitar), Travis Blake (guitar), Casey Buice (bass), and Allen Beck (drums). These energetic melodic tracks sometimes remind us of the 1990 buzzsaw rock band Bracket. Our favorite cuts here are "Buckle," "Don't Call It Crying," "I'm Sorry," and "Fire Hazard." Cool hard drivin' stuff played with gutsy integrity.
Morgan Doctor - Major Over Minor (CD, Aporia, Instrumental)
Impeccably cool instrumental music from Toronto, Canada's Morgan Doctor. You might not know the name but you've probably already heard or seen Morgan play. Over the past few years she has played with Andy Kim, The Cliks, Ron Sexsmith, Lights, Alex Lifeson, and Sandra Bernard...in addition to writing and recording her own albums. She has also appeared on many television shows, has received numerous awards, composes music for dance, film, and theater...and is a drum instructor as well. Talk about a productive and focused individual (!). This is Morgan's third release on the Aporia label and the first that is completely instrumental. Pinpointing an exact sound or style is difficult here because these tracks slide in and out of various terrain. Some might be described as ambient or trance, others almost dub-like, while the album overall sometimes reminds us of a film score. Ms. Doctor is an exceedingly smart and talented individual driven by the desire to create. Major Over Minor is one of the best instrumental albums we've heard in 2013. The attention to detail in these recordings is gripping and impressive. Killer cuts include "Holding the Reins," "The Seafarer," "Saturn," and "Phosphorescent." Totally cool from start to finish. TOP PICK.


Robert Dusek / Bryan Pezzone - Runes: A Piano Fantasy (CD, Ravello, Classical/piano)
This is the debut Ravello release featuring the music of Robert Dusek. These six compositions feature the exquisite piano playing skills of Bryan Pezzone who was the principal pianist for the Hollywood Bowl Orchestra from 1991 to 1999. Dusek has received numerous awards and honors over the years including Columbia University's Bearns Prize and the ASCAP Raymond-Hubbard Award. We love the photo of the artists that appears inside the digipak sleeve here--Dusek and Pezzone dressed in extreme casual mode, a look many would certainly not normally associate with the world of classical music. This ultra cool album features tasteful and intelligent pieces that are often complex and unorthodox. The album is divided into six sections: "Prelude," "Nightscape (Piano Sonata No. 2)," "Intermezzo," "Awakenings (Piano Sonata No. 3)," "Autumn Sky (For One-Piano, Four-Hands)," and "Postlude." Produced by Dusek and engineered by Steve Sundberg, these recordings are slick, classy, and rather...remarkable.
Giulio Garghentini - Believe (CD, Tanzan Music, Pop/rock)
The debut solo album from Italy's Giulio Garghentini. Prior to the release of this album Giulio was a member of the bands Mantra and Darkfire as well as Dream Company, a Bon Jovi tribute group. He has also worked on musicals such as Grida de Liberta and Jesus Christ Superstar. Instead of taking the artsy approach, Garghentini is taking a direct shot at the world of commercial music. These tracks are super slick and feature dozens upon dozens of overdubs and layers. Believe has a really big sound and songs that should appeal to millions of music fans. Giulio's got the voice to make it happen. He can really belt out a song and he's got the kind of voice that's made other similar sounding male artists superstars in no time flat. Ten tracks here including "No Second Chance," "Down The Line," "Sweet Hard Fighter," and "So Beautiful."
Colin Gilmore - The Wild And Hollow (CD, Woobietown, Pop)
Smooth melodic mid-tempo guitar pop. This is the third full-length release from Austin, Texas-based recording artist Colin Gilmore. After spinning this a couple of times the first possible comparison we came up with is George Harrison. Gilmore's method of composition reminds us of some of Harrison's later material but he's by no means a Beatles copycat. The soft, smart, flowing tunes on The Wild And Hollow have an appeal that should spread across ages and genres. Recorded and produced by Tim Bennett and Rob Seidenberg, these songs have a nice warm sound reminiscent of analog recordings from the past. Colin has a great natural sounding voice that is a perfect fit for the songs he writes. This may not be breaking any new ground but that's not really the point here. We get the impression that this young man is more interested in providing solid credible music that people can relate to. Top cuts include "Into My Future," "Wake Me In The Night," and "Raging Eyes."

Grimm - Original Television Soundtrack: Music From Seasons One and Two Composed by Richard Marvin (CD, La-La Land, Soundtrack)
Another excellent soundtrack album featuring the music of Richard Marvin who is probably best known up to this point for the music he composed for the Six Feet Under television show. Music for television shows sure has come a long way. Decades ago music for television was almost a second thought or throwaway addition and hardly anyone would buy albums that featured music from television shows. But nowadays it's big business...and a great deal of thought and energy goes into the creation of music because creators now realize what a critical part of the puzzle it can be. Even though we haven't yet seen this show, it's obvious that a great deal of the effectiveness is probably a result of Marvin's compositions. The creators wanted music that was "cinematic, old-fashioned style, as opposed to a modern television series"...and that's just what they got. This is a super long disc featuring over 78 minutes worth of music. Twenty-nine tracks of some of the best music ever composed for television. If you love the show, you'll love this album. If you've never seen the show...chances are you'll still love this album. Moving music, created with passion and excitement.
Matte Henderson with Marco Minnemann - The Veneer of Logic (CD + DVD, 7D Media, Progressive/rock)
Swirling heavy progressive rock with various threads from other genres. Robert Fripp has left so many indelible impressions on the world of music and his students continue making their mark as well. Matte Henderson studied guitar with Fripp many years ago before embarking on his career. Since then he has worked with a whole slew of different well-known artists. Now for the first time he has released his first solo album with the assistance of drummer Marco Minnemann. According to Doctor Know (of Bad Brains) the album is the first muttcore release (a term referring to equal parts post-rock, industrial, metal, and ambient). Progressive rock influenced by dinosaur bands from the 1970s has slowly been inching its way back into public consciousness. But we rarely hear progressive music in the twenty-first century that packs a punch like the tunes on The Veneer of Logic. Henderson's music is groove oriented but it also often tends to deliver a mighty punch. These songs have a big sound that is centered around some truly juicy and tasty guitar licks. Also included in this package is a DVD of films Matte created for each track on the album. This album was obviously a labor of love and will hopefully be only the first of many. Henderson is a master guitarist and composer. Top pick.


Carly Jamison - Ungrounded (CD, OK!Good, Pop/rock)
The second full-length release from Carly Jamison. Ms. Jamison's original idea was to write songs and she had no intent of becoming a performer. But some calculated persuasion from a producer eventually changed all that...and Carly eventually found herself releasing albums and touring. And the rest will no doubt become history. Jamison has a sound and style that many have compared to The Pretenders' Crissie Hynde. And this comparison holds true, particularly in the vocal department. Produced by Tres Sasser and recorded at the Brown Owl Studio and Undertow Studio in Nashville, Ungrounded is a pure slice of melodic guitar-driven pop/rock with a heavy emphasis on lyrics and vocal melodies. The tracks feature nice classic arrangements and those cool smooth vocals that Carly's fans know and love. Some real heavyweights lent their support here. Playing on this album with Jamison are Dan Baird, Keith Brogdon, the previously mentioned Tres Sasser, Sarah Silva, Chris Tench, Chris Tuttle, K.S. Rhodes, Chris West, Jon-Paul Frappier, and Oscar Utterstrom (whew!). Carly delivers music that has the punch and personality that could easily catapult her into superstardom. Super catchy cuts include "Superman Fantasy," "Small Talk" (a real standout track), "Runaway Train," and "I Said I Loved You But I Lied."
Dusan Jevtovic - Am I Walking Wrong? (CD, Moonjune, Rock/instrumental)
We've always been suckers for great sounding electric guitars. So we were instantly drawn to the music of Barcelona, Spain's Dusan Jevtovic. Backed by Bernat Hernandez on fretless bass and Marko Djordjevic on drums, this fellow delivers some super tasty riffs and licks here that should please just about anyone who loves cool guitars. Unlike most instrumental albums, Am I Walking Wrong? is loud, heavy, and intense. On this album Jevtovic proves he is easily one of the coolest guitarists on the planet. His playing sounds effortless and continuously focused...and ultimately very inspired. Anyone who ever loved great progressive rock, stoner rock, acid rock, grunge, or sludge will surely love this stuff. Ten well-crated tunes all penned by Dusan. Our favorites include "You Can't Sing," "Drummer's Dance," "Third Life," and "If You See Me Again." This one sounds great turned up really really LOUD. Top pick.


---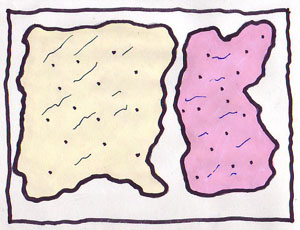 JUMBO DUMP CAKES
Ingredients:
Materials from 10,532 Junk Yards From All Over The World
15,000 Gallons of Oil
Some Oatmeal
1 Cup of Flour
1 Study Egg
1/2 Cup Flimsy Milk
1 Chocolate Bar
4 Cans of Stock Icing

This one requires a lot of prep work so you'd better get started early. Drain the water from the Atlantic and Pacific Oceans completely and allow the bottoms to dry. Once dry, begin transporting MATERIALS FROM 10,532 JUNK YARDS FROM ALL OVER THE WORLD into the ocean areas and lay out flat. Then promptly pour the GALLONS OF OIL on top so that everything is covered up good. Sprinkle the OATMEAL and FLOUR into both ocean cavities along with the STUDY EGG, FLIMSY MILK, and CHOCOLATE BAR. Stir everything up real good and then let the sun shine down hard on it for a few hours until done. Use a toothpick to see when the cakes are ready. When they are, open up the CANS OF STOCK ICING and spread evenly over the top using a nice curvy motion. Serves one million hungry eaters.
---
Justice League: The Flashpoint Paradox - Music From the DC Universe Animated Original Movie: Composed by Frederik Wiedmann (Limited Edition CD, La-La Land, Film score)
This slick and exciting film score was recorded in Los Angeles, California with a thirty piece orchestra conducted by Hyesu Yang. Composer Frederik Wiedmann's skills are in high demand of late. Over the past few years he has written music for many high profile television shows and films including Hostel: Part III, Mirrors II, Hellraiser: Revelations, The Hills Run Red, and Green Lantern: The Animated Series. With such a list of accomplishments, it's no wonder Wiedmann has become one of the leading film score composers. Justice League: The Flashpoint Paradox is a superhero end-of-the-world that required lots of dark orchestral pieces. There's a lot to take in here as Frederik presents a mindbending twenty-eight tracks that clock in at just under one hour. This album should appeal equally to superhero fans as well as anyone who loves great film scores. Impeccably recorded cuts include "The Incident," "The Beginning of the End," "Worlds Collide," and "Lost Family."
Jadea Kelly - Clover (CD, Divergent Recordings, Pop)
The second full-length release from Canada's Jadea Kelly. This young lady's fans have been waiting three years for this one to be released. Kelly made quite a splash in her home country in 2010 when she released her debut album Eastbound Platform. The album generated a good bit of success which resulted in a great deal of touring. So much touring, in fact, that Kelly eventually retreated from it all to take a breather, grow her first garden, and write the songs for her second album. She obviously made the right decision because Clover sounds fresh, inspired, and ultimately very personal. Jadea writes mid-tempo pop songs that feature smart impeccable arrangements, interesting lyrics, and a voice that is sometimes reminiscent of Kate Bush. Housed in a beautifully designed triple fold digipak sleeve, this album has a mature soothing sound that will easily stand the test of time. The more we spin this one the better it sounds. Our initial favorites here are "Wild West Rain," "You Had Me," "Clover," and "Violet." Beautiful music with heart and soul.
Dan Krikorian - Bloom (Independently released CD, Pop)
The fourth full-length release from California's Dan Krikorian. The title for Bloom comes from Dan's love of Tim Burton's Big Fish film. Produced by Shawn Nourse (former drummer for Dwight Yoakam) and Krikorian himself, this album has a nice warm organic sound that should appeal to a wide range of listeners. Dan had a good bit of success with his 2012 album Windsor Blue and now stands to push his career to the next level with these ten tracks. With his soothing smooth voice and instantly memorable melodies, this guy's got a sound and style that could go far in the world of commercial music. Joining Krikorian on these recordings are Mike Teague (guitar, vocals), Randy Querry (bass), Dustin Robinson (vocals), and Tayler Green (vocals). This album has a sound that is reminiscent of FM radio pop from the 1970s and 1980s except there is a decidedly twenty-first century point of view in the lyrics. If you're a fan of soft mid-tempo pop, Bloom is likely to be your favorite new spin. Our favorite cut is the beautifully subtle "Joe Purdy," which features a cool and slightly haunting melody.
---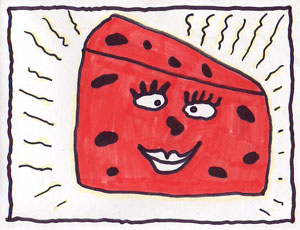 LADY CHEESE
Ingredients:
1 Cup From Kathy
1 Quart From Lina
1 Tablespoon from Frannie
1 Gallon from Hattie Mae
2 Tablespoons Fermentation Implementer
1 Teaspoon Salt

Animals have had control of the cheese industry for far, far, far too long. Let's let the ladies have their day in the cheese factories of the world. And what better place to begin than in the cottage industries of today's individual households. LADY CHEESE is a tasty treat that can be used in a variety of different things. And it always pleases, no matter what! Pour the CUP FROM KATHY, the QUART FROM LINA, the TABLESPOON FROM FRANNIE, and the GALLON FROM HATTIE MAE into a big metal vat. While it is sitting there, slowly drip in the TABLESPOONS OF FERMENTATION IMPLEMENTER. Then toss in the TEASPOON OF SALT and prepare to wait a while. Lady Cheese is something that can't be made in an hour or a day. It takes weeks or sometimes even months or years. Each day when you wake up, check to see the progress. Is it thick yet? Is it properly cheesy? And is it ready to eat? No specific rules here, you'll know when it's time to consume your special cheese. Be sure to invite friends over to share in the delight. Mmmmmmmm-mmmmm...it sure tastes yummy!
---
Mario Lanza - The Toast of Hollywood (Double CD, Sony Masterworks, Pop)
Most folks probably don't know who Mario Lanza is. Or the ones who knew who he is may have forgotten who he was. Lanza died way back in 1959 and his life has been the subject of debate and controversy ever since. The Toast of Hollywood collects Lanza's movie hit songs, opera arias, and more and includes six previously unreleased tracks. The first thing that caught our attention here is how dated this music sounds. Mario had a style that may have been popular during his lifetime. But when put within the context of today's sounds, it sometimes comes across like a distant history lesson. Lanza came from the school where opera and pop met, and each and every song and syllable were sung to the fullest. As such, these tracks will probably sound as if they are way, way, way over the top to most listeners. But presenting this music now will hopefully make folks aware of how much music has changed over the past few decades. In some ways for the better...and in some ways for the worse. To be honest, we're not fans of operatic singing so much of this treads into territory we don't usually enter. But from a purely retrospective perspective...this stuff sure is interesting to hear now. There are all kinds of myths about Mario's life that may or may not be true (do an internet search to find out more). But one thing this slick two disc set makes clear is that during his lifetime Mario Lanza was indeed a true star. Thirty cuts here including "Be My Love," "Because You're Mine," "What Is This Thing Called Love," and "I Love Thee."
Deana Martin - Destination Moon (CD, Big Fish, Pop)
Branson, Missouri's Deana Martin made her television debut way back in 1966 on her father's variety television show. Yup, Deana Martin is the daughter of the legendary Dean Martin. Since being introduced to the world of entertainment, Deana has made her own mark on the world as an actress, a musician, a radio show host, and an author. Destination Moon is one classy album full of Deana's takes on fourteen classic tracks. On this disc she effortlessly delivers her ultra-smooth vocals and is backed by a big band orchestra arranged and conducted by Charles Calello. Superbly executed tracks include "I Love Being Here With You," "Frim Fram Sauce," "Stuck In A Dream With Me," "Destination Moon," and "Nothing But The Best." These songs recall a time gone by when music was driven more by integrity and talent than technology. As such, they recall some of the best elements of female vocalists from the 1940s through the 1960s when music really was all about the songs. Martin is clearly a masterful performer. She has a fantastic voice and knows how to use it. The album closes with "True Love" ( a duet with her father)...which seems fitting, because Dean sure would be proud of this. Slick, smooth, and totally cool stuff.
Sue Maskaleris - Bring Nothing But Your Heart (CD, Jazilian, Jazz/female vocalist)
Smooth and breezy jazz/pop with interesting Brazilian/Latin flavors. This is one of those cases where we're really glad we were reading the press release as we listened to this disc. Otherwise we might have just thought that Sue Maskaleris was nothing more than a vocalist. But nothing could be further from the truth, because this uniquely talented lady is also a composer, lyricist, arranger, and producer...plus she also plays electric and acoustic violin, guitar, and bass (whew!). So if you think Sue's just another pretty face, think again. This enchanting twelve-track disc is housed in a beautiful quadruple-fold digipak sleeve which is rather impressive. But even more impressive is the music itself. These cuts are smooth and inspired. It's no wonder Maskaleris has already become an in-demand composer and performer. All of these tracks are great but our initial favorites include "Bring Nothing But Your Heart," "Ready To Love Again," and "The Meaning (Peace & Love)." Maskaleris is one super smart and talented artist.
Melt-Banana - Fetch (CD, A-Zap, Noise/experimental/pop/rock)
This Japanese band isn't afraid to push the limits. Melt-Banana music might best be described as nervous aggressive noise pop. After hearing the first few songs on Fetch we felt compelled to search for some live videos of this unusual band. Whew. We are now...converted. More and more artists seem to be taking cues from the wild, out-of-control sound of the 1990s when bands turned all the way up and played like their lives depended on it. And that's the exact approach the folks in Melt-Banana seem to be taking. Fetch is an audio assault on the senses. The band plays super loud and super fast. But rather than coming across like generic hardcore, the songs somehow have a strange sense of humor and creativity that is compelling and unusual. These folks have been at it for a while now but they've obviously not lost their edge. Fetch is their tenth album and it's certain to drive parents insane and make folks go wild in concert. Housed in a quadruple-fold digipak sleeve, this is an exciting and captivating collection of modern rock tracks that will peel paint off the walls. Our favorite cuts include "Candy Gun," "My Missing Link," "Red Data, Red Stage," and "Zero."
Origami Horses - Trashola! (CD, Magnetic Eye, Rock)
True underground rock music from the guys in the Canterbury, United Kingdom-based rock band Origami Horses. Our favorite thing to whine about lately is how tame and samey the world of underground music has become. Not sure why but for some reason over the past decade most folks seem to have turned soft and they're all playing at a really low volume. Ahhhhhhh how we once again long for the sound of the 1990s when there was some real meat and muscle happening in music. Well, music fans...those days don't have to be over...because there are still some cool aggressive noisy bands out there like Origami Horses. Trashola! is a cool and refreshing spin. Instead of generic predictable pop, these guys present cool underground rock music that is curious and inventive. Strange that we can't come up with any obvious comparisons or influences here...? Thirteen nifty credible cuts and they all have something substantial to offer. Our favorite tracks include "Velvet Rock," "Boilers," "Dumb Luck," and "Double Chime." These guys push our groovy meter into the red.
Pantaleimon - The Butterfly Ate The Pearl (CD, Grass Girl Music, Progressive pop)
We're not usually ones to jump on bandwagons, but we have to admit that we've been kinda drawn to the artists out there in the twenty-first century who are reviving the cool sound of progressive bands from the 1970s. But we're not talking about artists like Yes and King Crimson here. Andria Degens (aka Pantaleimon) writes music that is reminiscent of some of the more peculiar and abstract underground European artists from that era who never had any hit songs. The tracks on The Butterfly Ate The Pearl are moody, subtle, and abstract...and they have cool threads of psychedelia added to create some otherworldly cuts you won't soon forget. Degens is a multi-instrumentalist but she doesn't weave her music in traditional formats. Her songs have cool flowing qualities and she has a wonderful smooth voice that really makes her music work on a variety of levels. This is an exceedingly interesting album full of magical tracks. Our favorites include "Ember," "Another World," "Morning Star," and "Summer Reigns." Way cool stuff... TOP PICK.


The Paradise - Original Television Soundtrack: Music by Maurizio Malagnini (CD, Silva Screen, Soundtrack)
Maurizio Malagnini is quickly becoming an in-demand name in the world of music composers. And his soundtrack for The Paradise television series will no doubt fan the flames of his career even more. Performed by the BBC Concert Orchestra, the twenty-nine tracks on this album are smooth and intricate and infused with pure emotion. The show was the most watched TV drama in Fall 2012 and has been scheduled to reappear this year. Even though we haven't yet seen the series itself it seems obvious that music played a key role in its success. Malagnini has already received several awards for his work and as of yet this man has only begun to scratch the surface. You can be certain that in the years ahead Maurizio will be working with true heavyweights in the world of film and television. This fifty-six plus minute album is a pure delight. Our favorite tracks include "I Have Married The Wrong Man," "Perfume From Morocco," "Opening The Doors," and "The Hope For Love."

Parralox - Recover (CD, Conzoom / Subterrane, Dance/techno pop)
If you loved the keyboard driven techno sounds of dance bands from the 1970s, 1980s, and early 1990s...chances are the folks in Parralox are gonna knock your socks off. The band is the project created by Australian producer John von Ahlen. This album also includes the vocal talents of Roxy, Ryan Adames, Amii Jackson, and van Ahlen himself. Parralox is already a favorite among lots of music fans around the planet. And after spinning this album we can certainly see why. These groove-oriented tracks absolutely command movement. The songs feature solid 4/4 rhythms with perpetual beats and nice big meaty keyboard sounds. There's a lot to chomp into here...fourteen intoxicating cuts that'll have folks on dance floors around the world sweating up a storm. Our favorite tracks include "In The Night," "Headhunter," "Physical Attraction," and "A Little Respect." This package also includes a nifty art booklet that is just too cool for words.
Philippe Petit - Needles In Pain (CD-R, Alrealon Musique, Experimental)
A word of warning. This is one really strange album. So if you're not into weird experimental stuff, this may be too difficult and bizarre for your brain. Needles In Pain is a symphony for turntables that was recorded live using three turntables plus an extra tone arm specifically built that allowed Petit to capture the sound from two different vinyl discs simultaneously. Because Philippe is using his own records to make the music, in some ways this resembles a remix album...but the remixing is done in an entirely different manner. So...what does this sound like? Hard to describe, really. It comes across sounding kinda like ambient music with all kinds of pops and cracks and new forms of distortion added in for extra zest. The album is divided into two sections ("First Movement" and "Second Movement") both of which are over twenty minutes long. We love everything this guy does. Once again, Petit has managed to come up with music that pushes boundaries and is sure to cause plenty of confusion for many. Really, really, really different... Top pick.


Yves Ramette - With Passion: Works For Solo Piano (CD, Navona, Classical/solo piano)
Just a single piano...and nothing else. And that's really all you need when you combine the music of Yves Ramette with the superb playing skills of Eric Himy. Ramette passed away in June of 2012 but his legacy lives on thanks to those who appreciate his music as well as the fine folks at the Navona label. With Passion features five compositions: "Quatre Esquisses," "Introduction Et Scherzo," "Trois Etudes," "Variations Sur Un Theme Original," "Berceuse," and "Les Elfes." We love the quote from Himey that was included in the press release: "In the end, Ramette's compositions seem to be objects that exist in space rather than in time." These sparse introspective pieces are inspired creations that feature wonderful melody lines and strange moody segments. Ramette's music is not predictable and simple. His compositions were obviously driven by a pure desire to create. Music is so often overproduced and processed to death in the twenty-first century. Perhaps that is why these tracks come across sounding so clean, precise, and genuine. Sixty-one minutes of pure piano perfection here. Readers should note that the folks at PARMA Recordings are currently working on Ramette's symphonic output which will be released in the near future.
Rip 'N Time - Playing Her Guitar Suite (CD EP, Bosue, Progressive pop)
We rarely review EPs and only do so when something really stands out. This is one of those cases. Although this disc only features three songs, the folks in this band are doing something credible and different and are worthy of your time and attention. Rip 'N Time is a project created by students at their high school in West Los Angeles. But if you think this is something amateurish and lacking substance, think again. Playing Her Guitar Suite features impressive music as well as a very well prepared comic booklet that serves as the front insert. The band is comprised of Riley Ripintyme (lead, rhythm guitar), Langston LaBelle (vocals, rhythm guitar), Akemi Lee (bass), and Vincent Tarrega (drums). The folks in the band cite influences such as Sonny & The Sunsets, The Smithereens, and The Bangles...but we can also hear traces of other classic artists like The Beach Boys and Lilys. Some of this stuff is surprisingly trippy and surreal. We love the layered vocals, cool guitar riffs, classic rhythms, and totally fantastic guitars. This may have been created as a class project...but we can't help but hope that these folks decide to take this to the next level because...they've got the songs and talent to really go places with this one. Truly impressive.
Runner Runner - Original Motion Picture Soundtrack: Music by Christophe Beck (CD, Regency, Soundtrack)
A different kind of soundtrack album featuring music composed by Christophe Beck. The film features Justin Timberlake in the title role and involves his attempts to capture a gambling tycoon in Costa Rica. Beck has created some compelling tracks here. Combining electronics with classical instruments, he has managed to come up with moody, provocative, compelling instrumentals that are intriguing and completely magical. Not a fan of Mr. Timberlake? Doesn't matter in the least. These tracks are so slick and effective that you don't even need to see the film in order to appreciate the music. Nineteen hypnotic cuts here including "Runner Runner," "The House Always Wins," "Leverage," and "Escape From Costa Rica."
Tony Scalzo - My Favorite Year (CD, East Liberty, Pop)
The name Tony Scalzo may not immediately register in your memory bank. But chances are, if you're a music fan, you remember the band Fastball. The band made some major waves in the 1990s with their hits "The Way," "Out Of My Head," and "You're An Ocean" and for awhile the band name seemed to be all over the place at once. What a lot of folks may not realize is that the guys in Fastball are still out there playing together. Although they're also solo artists now as well. Which brings us up to the present. As a songwriter and vocalist in Fastball, Scalzo's music is already a part of most folks' consciousness. So this fellow already has a built-in fan base. My Favorite Year is Tony's first full-length solo album, and it's a keeper. The tracks on this album are immediately familiar, catchy, and inspired. Unlike a lot of artists whose music becomes way too complex and orchestrated over time, Scalzo seems to be taking the opposite approach. The songs on this album are presented simply without any unnecessary ingredients getting in the way of the vocal melodies. The more we spin this disc...the better it sounds. We can't get enough of groovy tracks like "Love Lost," "Don't Let Anyone," "Free World," and "Forever Girl." If you love great guitar-driven mid-tempo pop, there's a good chance you'll go apeshit over this one. We sure did. TOP PICK.


---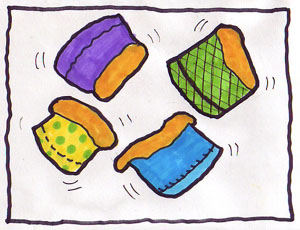 SHORT SLEEVES WITH MUSTARD BITCH
Ingredients:
24 Short Sleeves
1 Cup Papa Broth
5 Sprigs of Parsley
1 Can of Seventeen Things
2 Cans Hot Mustard
2 Cans Mild Mustard
1 Sack of Caramel Particles

Dinner is a time for thanks and a time for consumption. Here's a dish you can whip up in mere minutes. To begin, remove the SHORT SLEEVES from twelve of your favorite shirts and/or blouses. Lay in a warm tray full of PAPA BROTH and allow to sit for eight hours. Once the sleeves have absorbed the broth, place on a nice clean monkey sheet with each one laid out evenly. Politely ladle the HOT MUSTARD and MILD MUSTARD into a bowl along with the SPRIGS OF PARSLEY and the CAN OF SEVENTEEN THINGS. Mix well or until totally ready. Slowly bitch the mustard onto the sleeves until it all looks like a real groovy painting or something. Then sprinkle with the CARAMEL PARTICLES until ready to serve.
---
The SixxiS - The SixxiS (CD + DVD, WBA, Progressive rock)
Hard hitting complex progressive rock from the guys in Atlanta, Georgia's The SixxiS. This band is comprised of Vladdy Iakhakov (lead vocals, violin, piano, rhythm guitar), Mark Golden (bass, synthesizer), and Josh "Jbake" Baker (drums, percussion, pads, vocals). But also performing with the band live are multi-instrumentalists Paul Sorah and Cameron Allen. These fellows combine ideas from 1970s progressive bands with the meat and muscle of underground guitar bands from the 1990s, and manage to come up a loud driving rock sound that is all their own. The band is bound to rack up plenty of fans as they are the opening act for Mike Portnoy's new band The Winery Dogs on their 2013 tour of Europe. The press release that accompanied this double disc set mentioned several artists that give a good idea of what's happening here. Included in the list of comparisons is Rush, Soundgarden, System Of A Down, Kings X, and Alice In Chains. If you dig these bands there's a good chance you'll get into these interesting propulsive tracks. Cool rockers here include "Snake In The Grass," "She Only," and "Farewell To Everything (live)."
Mindy Smith - Snowed In (CD EP, Leap, Pop)
Mindy Smith should be a superstar. She's got the songs and she's got the voice. But at least up to this point in time Ms. Smith remains relatively unknown except to her diehard fans...who will probably follow her to infinity and beyond. This is not the first holiday release from Mindy. In 2007 she released the well-received My Holiday disc. Now, several years later, comes the follow-up. Snowed In features five tracks: two originals and three covers. "Tomorrow Is Christmas Day" should become a holiday classic in no time flat. It's an incredibly well-written song that's as good as any holiday song we've ever heard. "Snowed In" is also beautiful and shows off Smith's incredibly resonant voice. Also included here are covers of "What Child Is This," "Silent Night," and "Auld Lang Syne." We sure hope Mindy never stops making music because she's easily one of the best artists in Nashville, Tennessee. Her voice and presence are pure...magic.
Sweet - The Answer (CD, Angel Air, Pop)
Although best known for their slew of ultra-successful singles in the 1970s, most folks probably aren't aware of the fact that the band is still recording and playing live shows even though they've gone through several different formations. This is a reissue of the band's 1992 album that was recorded in Hanover, Germany. The Answer has been out of print for some time so Sweet fans will welcome this one with open arms. By this time in their career, the guys in the band had altered their sound from buzzsaw bubblegum to more of an arena rock sound. Rather than playful catchy tunes to make teenage girls squeal, the guys seemed more driven by the desire to deliver blistering lead guitars and walls of vocals. In addition to the original fourteen tracks that made up the album, this reissue also includes the bonus tracks "Marshall Stack (Alt Ending)," "Do As I Say (Single Mix)," and "Stand Up (Hard Rock Version)."
---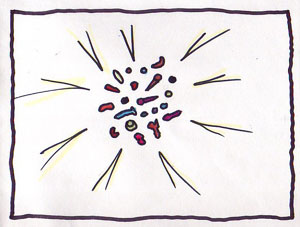 TEENIE TINY LITTLES
Ingredients:
50 Very Small Bugs
25 Little Tiny Pins
70 Eensie Teensie Dots
10 Almost Impossible To See Watch Parts
300 Silver BB's
2 Paper Clips
50 Miniature Nails
50 Hardly There At All Screws
One Tub Of High Quality Binding Material
Some Tufts of Cinnamon

When it is time to shed a few pounds you'll be gladder than ever to have the smallest of things ripe and ready in your kitchen. And those are the things that would be called TEENIE TINY LITTLES. Get a big metal pot and sit it down. Pour in the VERY SMALL BUGS and the LITTLE TINY PINS. Mix around with a big metal spoon for about five minutes. Then slowly add in the EENSIE TEENSIE DOTS and the ALMOST IMPOSSIBLE TO SEE WATCH PARTS. Grind them hard into the mixture with the spoon, using extra force if necessary. Next toss in the SILVER BB's and PAPER CLIPS. Begin to whip with a slapping motion as you ensure that everything is properly distributed. Now add the MINIATURE NAILS and the HARDLY THERE AT ALL SCREWS. To make everything adhere as it should, you will need to combine everything with a TUB OF HIGH QUALITY BINDING MATERIAL. The material may be hard to work with at first but as it becomes warm things get easier. Mix for about a month or so until you realize you need to do something else. Then cut the stuff up into very small cubes and sift the TUFTS OF CINNAMON on the tops and...you're done, dammit! All the way completely DONE!
---
Tempesta - Scusate Per Il Sangue (Italian import CD, UK Division, Heavy metal)
Tempesta is an heavy metal band that began in 1992 in Grado, Italy. The band is comprised of Fulvio Sain (vocals, guitar), Carlo Rota (bass), and Alessandro Longo (drums). Scusate Per Il Sangue is a complex and riveting spin, full of complex time signatures, speedy rhythms, and flashy guitar riffs. Though these guys play loud, they manage to keep melodies and song structures purely in focus here. This, the band's sixth full-length release, contains plenty of aggressive rockers with an edge listeners won't soon forget. Rockin' cuts include "Crollera Il Cielo," "Non Siamo Numeri," and "Sparami Sul Viso."
Victory and Associates - Better Luck Next Life (CD, Seismic Wave Entertainment, Pop/rock)
We had a feeling we were gonna dig this one when the press release mentioned comparisons like Black Sabbath, Led Zeppelin, Devo, The Melvins, and The Buzzcocks. This totally cool Oakland, California-based band is comprised of Conan Neutron (vocals, guitar), Evan Gritzon (bass, vocals), Shane Otis (lead guitar, vocals), and Jacob "Mouse" Menough (drums, vocals). These guys aren't playing the same old way-too-safe mid-tempo stuff that most bands are delivering these days. Better Luck Next Life packs a mighty big punch. The songs are driven by explosive rhythms, big overdriven guitars, and vocals that are delivered with focused intensity. This is the band's second full-length release and it's a keeper. There are some elements in these tracks that remind us very much of the criminally overlooked 1990s band The Chainsaw Kittens. These guys are doing everything right here. This hard hitting album features ten rockin' cuts including "We'll Have To Be Our Own Heroes," "Weightless and Pointless," "The End of Memory," and "A Cheeky Little Wish For Your Attention" (gotta love them there song titles...!). Hot rockin' stuff with balls. Neat.
The Whiskey Gentry - Holly Grove (Independently released CD, Pop)
The Whiskey Gentry is an Atlanta, Georgia based band on the fast track to success. The band's career seems to be speeding down the highway and this is the album that will probably push them over the top. These seven musicians have an instantly familiar sound that combines elements from country, bluegrass, folk, rock, and punk. And strangely enough...they manage to merge them all seamlessly together so that the overall sound is never confusing or distracting. The band raised more money than they needed to record this album by way of the ever-popular Kickstarter web site. The Whiskey Gentry is comprised of Lauren Staley (vocals), Jason Morrow (guitar), Chesley Lowe (banjo), Sammy Griffin (bass), Price Cannon (drums), Michael Smith (mandolin), and Rurik Nunan (fiddle). Staley is certainly an up-and-coming star. Her warm resonant voice and inviting presence are virtually impossible to ignore. Eleven smart slick tracks here including "I Ain't Nothing," "One Night In New York," and "Here's Your Song."

Mark Winges - Night Voiced: New Chamber Music For Viola (CD, Ravello, Classical)
Viola lovers of the world unite. This album is cause for celebration as it presents some really juicy recordings featuring compositions by San Francisco's Mark Winges. This talented fellow is a composer/advisor for the chamber choir Volti and is also a freelance organist. But this album specifically features compositions he created for the viola in solo, duo, and trio contexts. Featuring well over an hour's worth of music, Night Voiced: New Chamber Music For Viola is provocative, insightful, and ultimately very rewarding. Much of the album features music that is slightly discordant which may make some listeners feel a bit uneasy. The album sometimes sounds like the soundtrack to an eerie film. In addition to Winges himself, the players include Ellen Ruth Rose, Thalia Moore, Karen Rosenak, and The Left Coast Ensemble (Kurt Rohde, Tanya Tomkins, Michael Goldberg). Winges pushes the boundaries of the viola here, inventing new sounds and constantly coming up with ideas that are creative and credible. Our favorite compositions include "Night-Voiced," "Diverged Vignettes," and "San Francisco Stopover."
Xiu Xiu - Nina (CD, Graveface, Strange stuff)
Strange. Very, very straaaaaaaaaaaaange stuff. Though this album presents covers of songs by the late great jazz/blues artist Nina Simone, most folks will hardly recognize them. Everything we've heard thus far from Jamie Stewart's Xiu Xiu has been peculiar and this album is no exception. Recorded in one day and with songs recorded in just one or two takes, Nina has a very bizarre spontaneous sound and feel that is like no other. Actually and in fact, we can honestly say that we've never heard vocals that sound quite like this. Stewart has a strange breathy rasp that is unusual and completely different. If you're expecting standard Nina Simone covers, think again. This album takes the idea and soul of Ms. Simone...and transforms it into something completely different. Eleven perplexing tracks here including "Don't Smoke In Bed," "Just Say I Love Him," "You'd Be So Nice," and "The Other Woman."
A
AAA Battery - Year of the woman
A Clever Con - Mannequin love part I
James Adler & Friends - James Adler & Friends
Africa - Original television soundtrack
After Earth - Original motion picture soundtrack
A Good Day To Die Hard - Original motion picture soundtrack
Aina Haina - Aina Haina
Alias Means - Light matter
Verden Allen's Soft Ground - Love you & leave you
Allusions - Evocative chamber works
An Apple A Day - Yes we can
BJ Anders and The Buccaneers - BJ Anders and The Buccaneers
Angry - Wild ox shangri-la
AnnaLee - Gatsby's green light
Animals At Night - Animals At Night
Aoede - Is love a fairy tale?
Apple Dot - Dot the dot
Aquarotten - Aqua is a rotten color
Architect - A chamber opera
Arjun - Space
David Armo - Poets on the wall
Mike Arroyo Jazz Organ Trio - Full circle
A.S. - Exile
Ayala Asherov - Cycls of the moon: Chamber works
Dave Askren & Jeff Benedict - It's all about the groove
Badi Assad - Between love and luck
Aurah - Summon the sky
Avengers - On a mission
B
David Bach - Other world
Bachmann, Kreimer, Graves, Wilsey - The july amalgam
Steven Bakur - Sooner than later
Bardo Pond - Peace on venus
Matt Barron - Matt Barron
Offiong Bassey - Offiong Bassey
Badlam - Live in Binghampton 1974
Beached Out / The Reference Desk - You're getting close
Beekeeper - Shout at people
Lilly Bell - Try to tune the goddamn thing
Rusty Belle - Common courtesy
Jeff Berlin - Low standards
Brandon Bernstein Trio - But beautiful
Robin Bessier - Other side of forever
Big ol' Nasty Getdown - Volume 1
Big Sandy and his Fly-Rite Boys - What a dream it's been
Mary Black - No means no: Going nowhere (book)
Black Orchid - Wake
Black Saturn - Ned Jackson is my little brother
Black Watch - The end of when
Jacob Blazer - I am Jacob
Blood Washed Band - Driftin' along
Camille Bloom - Big dreams
Jason Blum - Radio dial
Bolts - Wait 'til we're young
Bone Cave Ballet - Will of the waves
Bone of Contention - Bone of Contention
Megan Bonnell - Hunt and chase
Philip Boone - A light and a line
Greg Boring - Heavy syrup
Boss - Original television soundtrack
George Bouchard Group - Listen to your dreams
Brand New Trash - Brand New Trash
Breadwinter - Breadwinter one
Breaking Laces - Come get some
Brief Candles - Newhouse
Steve Broderick & The 100 Watt Suns - Steve Broderick & The 100 Watt Suns
Del Bromham - Nine yards
Brothers Rigney - Out of the woods
B'Shnorkestra - Go to orange
Dewa Budjana - Dawaii in paradise
Burning Condors - "Love On The Rocks" b/w "Folsom Prison Blues"
Burning River Gamblers - To color a fool
Rosemary Butler - You just watch me
C
Cable Car - Ride
Alan Callahan - Shower of grace
Camera - The panic and the permanence
Brooke Campbell - The escapist
Rob W. Carlson - You better call someone
Marc Carroll - Stone beads and silver
Shuana Case - Some kind of fairytale
Glenn Cashman's Southland Nonet - Music without borders
Steven Casper & Cowboy Angst - Trouble
Nancy Cassidy - Memphis
Catbirds Say Yeah - Catbirds Say Yeah
Raquel Cepeda - I'm confessin'
Chaise Lounge - Dotdotdot
Chapin Sisters - A date with the Everly Brothers
Chapter One - Chapter One
Cherry Bluestorms - Bad penny opera
Chestnuts Roasting On A Stove - Dumb nuts
Chicago Arts Orchestra - Al combate
Kyong Mee Choi - The eternal tao: A multimedia opera
Chronos Band - Boots the cat
Churchwood - 2
Citadel Besieged - Creation/damnation
City of Prague Philharmonic Orchestra - The film music of Howard Shore
Clara May - American desi
Nels Cline / Elliott Sharp - Open the door
Coal Men - Escalator
Coals - A happy animal
Coastwest Unrest - High times on lowly streets
Preston Cochran - Stumble into tomorrow
Paul Colilli - Hieroglyphs of the soul
Como Asesinar A Felipes - Comenzaras de nuevo
Convergence - The music of Stewart & Gershwin
Ryan Cook - Wrestling with demons
Copernicus - Worthless!
Copernicus - L'Eternite immediate
Copper Gamins - Los ninos de corre
Copper & Glass - Copper & Glass
Larry Corban - The circle starts here
Laura Cortese - Into the dark
Cosmic Suckerpunch - Breathe
David Courtney - Midsummer madness/Shooting star
Crankshaft and the Gear Grinders - What you gonna do?
Crashdollz - Crashdollz
Blair Crimmins and the Hookers - Sing-a-longs
Cross Connection - Selected works of Henry Wolking & James Scott Balentine
Crummy Band - This is the life worth dying for
Michael C. Cunningham - Gallry
Cuscino - Eternality
Reginald Cyntje - Love
D
Paul D'Adamo - Tell me something
Dances of Eternity - Works for orchestra
Dangfly - Good luck, curiosity
Jason Daniels - Dashboard visions and rearview reflections
Dark Lark - Dark Lark
DaVinci's Demons - Original television soundtrack: Music by Bear McCreary
Lizzie Davis - Latitudes
Voo Davis - Vicious things
Dead Waves - Take me away EP
Dear Dumb Diary - Original motion picture soundtrack
Death Songs - Sung inside a house
Deckchair Poets - Who needs pyjamas?
Robert DeGaetano - DeGaetano concerto No. 1, Chopin concerto No. 1
Donna De Lory - The unchanging
Rick Devin - Old school 2: Rock hits of the 60s & 70s
Dialeto - The last tribe
Diemakers - Detroit recordings
Digital Noise Academy - Synemy
Dim Past - Black dolphin
Dio - Finding the sacred heart: Live in Philadelphia 1986
Doctor Who - The Krotons
Dolls On Fire - Ladies and gentlemen...
Sarah Donner - Fossil of girl
Dorothy Doring and Phil Mattson - Compositions by Duke Ellington and Billy Strayhorn
D.P. - While we're still young
Dream Logic - Dream Logic
Drgn King - "Holy Ghost" b/w "Son of Wolfman"
Duo Del Sol - Hello kaleidoscope
Gordon Duthie - Shire and city
Dylan at the Opera - Diva de lai
Mia Dyson - The moment
E
Eggs Are Eggs - Drippy thugs on corn
Eksi Ekso - Archfiend
Amos Elkana - Casino umbro
Electric Shepherd - The imitation garden
Elf Power - Sunlight on the moon
Holly Elle - Leopardess
El Perro Del Mar - Pale fire
Emperors of Wyoming - Emperors of Wyoming
Richard Tyler Epperson - Falling between the stars
Glenn Eric - Blanket of stars
Escuela - Are we rolling?
Gene Ess - Fractal attraction
Every Day Is Picture Day - Every Day is Picture Day
F
Fabulous Rudies - Labor of lust
Faco - Em si bemol
Fat Opie - Victoryville
Stephen Fearing - Between hurricanes
Felsen - I don't know how to talk anymore
Julian Fernandez - Mi conciones
Michael Feuerstack - "Shadow" b/w "Wolves"
The Fifth Estate - Original motion picture soundtrack: Music by Carter Burwell
Fights - The formal institute of great hit tunes
Fletcher - Open arms
Flowerland - The caffeine disk EP
Focus Features 10th Anniversary - A collection of film score
Foreign Motion - In flight
Lisa Forkish - Bridges
Olivia Foschi - Perennial dreamer
Josephine Foster - Little life
Josephone Foster - I'm a dreamer
Fred Fried and Core - Core Bacharach
Mitch Friedman - Sing sing
Fugitives - Fugitives
Further To Fly - Wave mechanics union
Fusion - Till i hear from you
Fussy Fussy - How many things can go?
G
Holly Gentry - So much more
Georgia's Horse - Weather codes
Gertrudes - Neighbourhood
Susie Glaze & The HiLonesome Band - White swan
Go Around - Restating the question
Mac Gollehon - La fama
Good Intentions - Travelling companion
Go Time! - Tight like wood
Jess Grant - Innocent invader
Grassmarket - You are for the ocean
Great Divide - Great Divide
Grisley Hand - Country singles
H
The Habit - The town we live in
Gregory Hall - Composition improvisations from the mysteria, vol. 1
Halle & The Jilt - Three roads home
Ryan K. Hamlin - Run
Kyp Harness - The wrong way
Harris Group - Errands
Rebecca Harrold - The river of life
Kathleen Harkard - Where the land meets the sky
Haunted West - Postlude
Haymaker - Now now now
The Heat - Original motion picture soundtrack
Joe Henly - The fall comes early
Henry Wagons - Expecting company?
High Cotton - A tribute to Alabama
Pamela Hines - 3.2.1.
Hissing Makes Us Hissy - Hisses
Dillon Hodges - Rumspringa
Holy Folk - Motioning
Home By Hovercraft - Are we chameleons?
Honey Island Swamp Band - Cane sugar
Dan Hubbard - Livin' in the heartland
Diane Hubka - West coast strings
Hunter - Pressure
I
Il Sogno del Marinaio - La busta gialia
Inside Insects - How we done got ate up
Intestines - The force is forceful
Invader - Original motion picture soundtrack
Dan Israel - Live on
Issy Missy Pissy Woss - Widdle biddle noodle poodle
It Men - Greatest its
J
The JAC - I see things differently: Greatest Xmas Hits Vol. 1 2001-2012
The JAC - Record store
Jack + Jill - Coloradio
Jackpot Donnie - Mayday!
Craig Jackson Band - Sweeter songs
Jim Jacobi - If the show fits...
Brendan James - Simplify
Jazz Combustion Uprising - Self-immolation
Jeepers Jeepers - The whopper in my panties
Alan Jeffries - Coffee 'til midnight
JLStiles - Presents house of murmurs
Lynn Jolicoeur and the Pulse - World behind your eyes
Shawn Jones - Struggle makes you stronger
Jumpy Jerks - Jumpy on the beddie bye
JZ's Bobo Truck - Baddest in the binto-box
K
Red Russell Kamp - Night owl
Judy Kang - Judy Kang
Wouter Kellerman - Mzansi
Brendan Kelley - Quicksand
Lili Kendall - Beginnings
Stan Kenner - The behavior of vibration
Killigans - Another round for the strong of heart
Kine - Meditations in april green
Kinky Boots - Original Broadway cast recording
Aarison Kirby - Aries
Arrison Kirby - The micro jackson EP
Lee Koch - Whole heart
Zack Kouns - The Deacon family tree
Gerald Krampl - Wonder way
Levi Kreis - Imagine paradise
KuKu - Dumma kawwa muh kookoo
L
Shannon Labrie - Just be honest
Lady Antebellum - Own the night world tour
Lady Antebooboo - Own the day tiny tour
Dave Lalama Big Band - The Hofstra project
Daniel Lantz Trio - Plays Bond
Lapland - Lapland
Las Kellies - Total exposure
Late Cambrian - Peach
Juan Sebastian Lach Lau - Islas
Larksong Trio - Homeward bound
Richard Lavenda - Chiaroscuro: Chamber music of Richard Lavenda
Kait Lawson - Until we drown
Lead Mule - Lead Mule
Aaron Lebos - Reality
Lee Boys - Testify
Pat LePoidevin - American fiction
Jim Libby - Made in USA
Life of Pi - Original motion picture soundtrack
Lift - Lift
Lily - Life of Lily
Frances Livings - The world i am livings in
Ira Losco - The fire
Elisa Lovelie & The Device - Undertow
Loves It - All we are
Loveskills - Multiplicity
John LT - Suburban superstar
M
M1, Brian Jackson, & The New Midnight Band - Evolutionary minded
Doug MacDonald Band - Mr. bones
Andy Macintyre - Ruby
Brad Mackeson - 1945
Gordie MacKeeman and His Rhythm Boys - Pickin'n'Clickin'
Madlife - 21st century megalomaniac
Mad Men On The Rocks - Music from the television series
Madonna & Rose - Bank cormorants
Magic City - Songs and score from the series: Score by Daniele Luppi
Tim Mahoney Band - Shine through
Malea - Prism
Anya Malkiel - From the heart
Mike Mangione & The Union - Red-winged blackbird man
Marbin - Last chapter of dreaming
Marina - Believe in love
Adam Marsland - The owl and the full moon
Bex Marshall - House of mercy
Michael Mauldin - The last musician of UR
Alison May - Earnest keep
Ian McFeron - Time will take you
Ian McLagan & The Bump Band - At the lucky lounge
Stephen McQuarry Trio - Azure
Memory - Electric city
Michael and the Lonesome Cowboys - Bottle cap sky
Midas Fall - Wilderness
Gabriel Minnikin - Parakeets with parasols
Mission Dorado - Yannash nahollo
Mood Indigo - Symphonic music of Erik Lotichius
Carol Morgan - Retroactive
Tom Morgan - Orange syringe
Morningbell - Boa noite
Moto Perpetuo -Moving works for cello
Moun t Pressmore - Enjoy
Moxi - In my dreams
Music From the Iron Man Trilogy - Performed by London Music Works
Muy Cansado - Let it go
Myopic - We were here
Myrasky - License II love
N
John Nagle's Distractions - John Nagle's Distractions
Ned Van Go - Lost in the trouble
Neighbours - Prime numbers
New Day Dawn - Rise above this
New Standards - Sunday morning coming down
Karen Nielsen - Woman
Ninners are for Ninners - Something for dinner
NocturnalSol - In this together
No Escape For The King - 13 fjords
Nova - Socikety of composers, Inc.
Nowherenauts - Warned you
O
Robin O'Brien - Dive into the end of the world
Ocean Floor - Falling star castle
October Gold - Bridge of the sun
Kanji Ohta & The Jazz Family - Kanji Ohta & The Jazz Family
Onoono - Yokoyoke
Oops - See daisy
Orflop - Bannie toe wishes
The Outsiders - Original motion picture soundtrack
[owt kri] - The new seed
P
Paper Beat Scissors - Tendrils live at St. Matthew's Church
Paper Bird - Rooms
Paperhaus - Lo hi lo
Para Vista Social Club - Scott & charlene's wedding
Chris Parker Trio - Chris Parker Trio
Charlie Parr - Barnswallow
Matthew Patrick - Blue sun
Rodney Patterson - Love > fear
Nick Peay - Feathers & fables
Perceptions - Points of oview for small ensemble
Dan Phillips BKK Trio - Bangkok edge
Chris Picco - The beach
Pickled Okra - Sounds like chicken
Garrett Pierce - City of sand
Patrice Pike - The calling
Paul Pierce Project - Pierce my heart
Pine Barons - Pine Barons
Please Please Me - Shake a little harder
Pint of Pint - How to quart the quart
PLS PLS - EP EP
Kevin Presbrey - Dust unto dust
President Lincoln - The sinking of the President Lincoln
Pretty Little Demons - Flowers
Brianna Lea Pruett - Gypsy bells
Mark Andrew Pudas - Mark Andrew Pudas
Q
Quick & Easy Boys - Make it easy
Quiet Parade - Old haunts
Q utt - Bras for no one
R
R.A. The Rugged Man - Legends never die
Dave Rave and Mark McCarron - Memphis midnight
Rebel Set - How to make a monster
Red Dawn - Original motion picture soundtrack
Redmond Langosch Cooley - Compared to what
Red Sammy - These poems with kerosene
D.B. Rielly - Cross my heart hope to die
Dulcinea Renee - Smoke and mirror
Rosonance - Introductions
Edward Ricart / Tim Daisy - Yiu ja ley
Marga Richter - Poetic images beyond poetry
Fimbombante - Maria has lost her soul
Troy Roberts - Nuu-jive 5
Rob Roper - The other side of nowhere
Rockabye Baby - Lullaby renditions of Blur
Rockabye Baby - Lullaby renditions of Muse
Rockabye Baby - Lullaby renditions of Rush
Peter Rodocker & So It Is - We're still here
Arrica Rose & The . . . 's - Lucky
Rose Phantom - Abandon
Rumper Rump - How to dump the rump
Run 8 Rider - Tenderfoot
S
Arian Saleh - Undone
Sasha's Bloc - Melancholy
Micky Saunders / Dan Susnara - Known & better tomorrows
Save The Date - Original motion picture soundtrack
Garrett Sawyer - Chronicles and vanity
Martin Schlumpf - Streams
Marcus Schwartz & Monvelyno Alexis - Vo-duo nou la
Scott & Charlene's Wedding - Two weeks EP
Andy Scott - The solo singles
Eric Scott - Where the water runs deepest
Ridley Scott - Music from the films of Ridley Scott
Second Wind - Eudora
Secret City - Secret City
Seven Psychopaths - Original motion picture soundtrack
Shakespeare's Memory - Shakespeare's Memory
Tracy Shedd - Arizona
Sideman Sez - A Rob Loyot project
Sidleys - Bittersweet
David Sills - Blue's the new green
Silver Linings Playbook - Original motion picture soundtrack
Keaton Simons - Beautiful pain
Skiggy Rapz - Satellites
Sky Thing - Virgin Journalist
Helen Slater - Myths of ancient Greece
Slosm Oratik - Bridges and boats
Slow Leaves - Second chances
Slowpoke - Slowpoke
Smith III - Diamond in a rock
Smoking Flowers - 2 guns
Snitch - Original motion picture soundtrack
Alex Snydman - Fortunate action
Spellbound - Captivating works for orchestra and large ensemble
Spiral System - Be
Andrew St. James - Doldrums
Jeffrey Stadelman - Messenger and other works of Jeremy Stadelman
Stand Up Guys - Original motion picture soundtrack
Star & Dagger - Tomorrowland blues
Star Trek - Music from the video games
Steel Cranes - Ouroboros
Heather Stewart - What it is
Stomacher - Clara
Stone Foxes - Small fires
Straw Dogs - No dividing line
Nora Jane Struthers & The Party Line - Carnival
Sugarman - After the blackout
Summarily Dismissed - To each!
Summer Hours - Closer still
Sunshine - Sunshine
Super Zeroes: Get Awesome - Soundtrack and movie
Swallows - Witching & divining
Phil Swann - Age of opportunity
Patrick Sweany - CLose to the floor
Amber Sweeney - The starting line
Sweet - Live at the marquee 1986
Sweetheard & The Satisfaction - Sweetheart & The Satisfaction
Sweet Honey in the Rock - A tribute
Sweet Knievel - Collapsible
T
20 Something - 20 Something
2 The Nines - Oblivion
Aly Tadros - The fits
Tapestry Ensemble - New York moments
Teen Beach Movie - Original soundtrack
Jesse Terry - Stay here with me
These Animals - Pages
This Is Thunder - 10" Vinyl EP
Thornwill - Requiem for a fool
Thought Transfer - Light my way
Tomfun Orchestra - Earthworm heart
Jay Trainer Band - Jay Trainer Band
Chandler Travis Three-O - This is what bears look like underwater
Joe Treewater - The ice cream social
Nicholas Tremulis Orchestra - For the baby doll
Trentalange - Same illusion
True Believers - Dedication
Tune Into My Mind Radio - A tribute to multi-talented vocalist Kelly Keeling
Two Hours Traffic - Foolish blood
U
UFU - Mozie
Ugly Guys - Lost in the badlands
Unscratchable Itch - A tribute to little fyodor
Universe - Chances
Up The Up - Down down down
Urp - Slop it up with a mop
V
Bobby Jo Valentine - Home
Various artists - Made IN Iceland VI
Various artists - Coming together for a cure, vol. 2
Various Curelties - Various Cruelties
Jacob Varmus - Terminal stillness
Ray Vaughn - Way down low
Javier Vercher & Ferenc Nemeth - Imaginary realm
Voice of Addiction - Modern day meltdown
Voices of Earth and Air - Works for chorus
Thisbe Vos - Under your spell
Vulnerable - We're not
VYIE - Nightingale
W
Tim Warfield - Jazzy christmas
Way Back - Way Back
Weaver At The Loom - Before now was then
Hope Wechkin - Leaning toward the fiddler
Whitewater Ramble- Roots & groove
Widowmaker - Widowmaker
Wig Party - Glass girls
Ira Wiggins - When freedom swings
Wiggy's Popo - Flowers for Wiggy's Popo
Wiseguys - Scallywags
Sterling Witt - Sterling loves U
Words In Flight - Words In Flight
Rustsy Wright Band - This, that and the other thing
X
XXX Means Dull - Pornography stinks
Y
Yacht Rock Revue - Yacht Rock Revue
Young Sinclairs - You know where to find me
Your Future Lovers - Eat. play. leave.
Yup - Nope
Z
Kady Z - Ordinary girl
Zamora Rose Project - Stand true
Zeezee - Weewee
James Zollar - It's all good people
Chris Zurich - Black ink
Zzinn - Wullywoo