September 2013 Comics, Recipes, and Reviews from


aka

*Top Picks =

Marty Belcher / Jason Bivins Double Quartet - EXO (CD, Public Eyesore, Experimental/Modern classical)
We've learned to expect the unexpected from releases on the strangely-named Richmond, California-based label Public Eyesore. This disc arrived with no press release, no publicity photo, and no explanations...which is usually a good thing because it forces lazy writers like us to actually focus on the music instead of extraneous details. This 58 minute plus album features fourteen tracks of experimental modern classical music that is moody and thought provoking. Playing on the album are Philip Anderson (electronics, vocals, fx), Marty Belcher (sopranino, soproano, tenor saxes), Jason Bivins (electric guitar, fx), David Miller (trumpet, pocket trumpet, flugelhorn), Chris Rail (tenor sax, percussion), Michael Rings (synthesizers, vocals, electric guitar, fx), Joe Stone (drums, samples), and Dan Wick (piano, drums). With so many artists taking part, you'd think that these tracks would be thick and muddy...but instead the exact opposite is true. There are plenty of wide open spaces between the instruments...and the players don't seem interesting in overplaying. There are no songs listed on the sleeve. Provocative and compelling stuff.
Casey Black - Lay You In The Loam (CD, Cat Beach Music, Pop)
The fourth full-length release from Nashville, Tennessee recording artist Casey Black. Many folks will remember this fellow's father Charlie Black, who penned more than a dozen number one country music hits. Casey's playing to a different audience...but his music has some of the classic elements that drew people to his father's music many years ago. Recorded and produced by Bobby Hartry in Los Angeles, California, Lay You In The Loam features ten smart pensive songs with a big open sound and arrangements that are a perfect fit for each song. At the heart of these songs are Casey's superb masculine vocals. This man has a soothing deep voice that comes across sounding completely sincere and real. Instead of recording potential hits, Casey seems to be aiming at folks who want something more substantial than that. These are songs that come from the heart and resonate in different ways...with much more than just a hummable chorus or catchy hook. The more we spin this disc..the better it sounds. Cool tracks include "Fire, Fire, Fire, Fire," "Museum Made of Glass," "Son," and "Flowers."

Terence Blanchard - Magnetic (CD, Blue Note, Jazz)
It's been a while since we last heard from jazz trumpeter Terence Blanchard. He released his last album (Choices) in 2009...and now comes the long-awaited follow up. Many folks were introduced to Blanchard's talents years ago when he replaced Wynton Marsalis in Art Blakey & The Jazz Messengers. Since that time Blanchard has been forging ahead with his own career (which includes creating film scores). Magnetic is yet another classy collection of smooth jazz tunes, executed to perfection and infused with genuine sincerity. In addition to playing jazz, Blanchard has also now branched out into the field of opera. In June of this year the Opera Theatre of Saint Louis and Jazz St. Louis premiered his first opera entitled Champion which is based on the real life story of boxing champion Emile Griffith. Magnetic once again solidifies Terence's standing as one of the most genuinely gifted trumpeters of the twenty-first century. These smooth tracks are inviting, riveting, and genuinely effective. Ten groovy cuts here including "Magnetic," "Hallucinations," "No Borders Just Horizons," and "Time To Spare."
The Breakup Society - So Much Unhappiness. So Little Time... (CD, Get Hip, Pop/rock)
More groovy and totally rockin' guitar pop from Pittsburgh, Pennsylvania-based band The Breakup Society. This group is the project spearheaded by Ed Masley who was formerly in The Frampton Brothers. This is the band's third full-length release...and it's chock full of upbeat catchy melodies and a cool overall vibe. Some of these tracks remind us in some ways of Let's Active or even Pete Shelley at times...but the songs are much more direct than such comparisons might suggest. Masley has a real talent for coming up with smart lyrics and memorable melodies. And he and his band mates have the good sense to present the songs simply without unnecessary fanfare. So Much Unhappiness. So Little Time... succeeds on many different levels. But what probably impresses us most is how unpretentious these tracks sound. Great underground rockers include "So Much Unhappiness, So Little Time...," "The Upward Spiral," "Here Comes Floyd," "Mary Shelley," and "She Doesn't Cross Against The Light." Cool stuff indeed... Top pick.


David Bronson - The Long Lost (Independently released CD, Pensive pop)
If New York's David Bronson doesn't end up being a big success in the world of music...it will probably be because (a) he is too intelligent, or (b) his approach is too unconventional for the casual listener. The Long Lost is the second of a two-part album release that is based upon the end of a relationship Bronson was in several years ago...but even though it is the second to be released it was actually the first to be recorded (...unconventional...). Readers should also note that The Long Lost is the name of David's live backup band. We reviewed the other album (Story) back in November 2012. The Long Lost is, perhaps, even more honest and gripping. David's sound still reminds us in many ways of David Bowie and (even more so) Roy Harper. These are not pop songs in the traditional sense of the word. Bronson's winding melodies and soul searching lyrics are precise and focused...and he's got a totally incredible voice. Housed in a beautifully designed cardboard foldout sleeve complete with poster/lyric sheet...The Long Lost is an album that will surely stand the test of time and be an instant critic's favorite. Eleven gripping tracks here including "The Lost," "October," "Living In Name," and "Stay In Touch." Sincerely moving stuff... TOP PICK.


Alex Chilton - Electricity By Candlelight / NYC 2/13/97 (CD, Bar/None, Pop/folk)
This is a different sort of album that captures a different sort of performance. On February 13, 1997 Alex Chilton and his band were playing two sets at the Knitting Factory in New York. But after the first set the electricity went out. Rather than waste the time, Chilton proceeded to borrow an acoustic guitar and then entertained the audience without any P.A. or microphones or anything. The first half of the tracks on this album are Alex alone and on the second half drummer Richard Dworkin joins in with a subtle snare and hi-hat. The choice of material is interesting to say the least...and spans across genres and styles. Chilton presents stripped down versions of songs like "D-I-V-O-R-C-E," "Girl From Ipanema," "Wouldn't It Be Nice," "Surfer Girl," "If I Had A Hammer," and more. Eighteen tracks in all featuring Alex Chilton doing what he did best...which was just being himself. Chilton will always be missed in the world of music.
---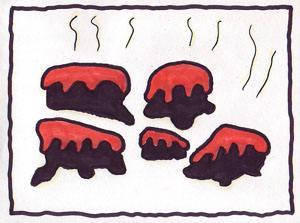 COUNTRY FRIES WITH CHEESE
Ingredients:
5 cups Efficient Cooking Oil
5 touches of Salt
Austria
China
France
Germany
Norway
Russia
United States
Vietnam
20 Big Wads of Burly Farm Cheese

Here's a side dish that's perfect to place on the side of a dish...but it can also be used as a single tray munchie kind of thing if your guests have popular snorts about them. Pour the EFFICIENT COOKING OIL into a large metal basin and place on the stove. Cook on high until the oil begins to boil real hard. At the point when it boils toss in the TOUCHES OF SALT. Now grab AUSTRIA and throw it deep into the oil. While Austria is cooking, toss in CHINA and FRANCE. Allow to cook for two minutes. Next, ladle in GERMANY, NORWAY, and RUSSIA while stirring heartily with a large metal tippy spoon. As everything starts getting cooked real good finally add in the UNITED STATES and VIETNAM. Allow all the countries to cook for at least 24 hours or until they all turn completely black and crummy. Remove all countries from the oil and lay them on a disappointing tray. Dump the BIG WADS OF BURLY FARM CHEESE on top and you're done. Serve piping hot so that all the nuances of the flavors can be fully appreciated.
---
Crash Kings - Dark of the Daylight (CD, Universal Republic, Rock)
Hard driving keyboard-driven modern pop from the guys in the Boston, Massachusetts-based band Crash Kings. These fellows got their start in 2009 when they released their self-titled debut album on the Universal Motown label which yielded the hit "Mountain Man." The delay in releasing this follow-up album was caused by "structural changes" at the band's label (which unfortunately means they're not getting any promotional support for this disc). For an all keyboard band, these men pack quite a punch. We'd be willing to bet that most folks won't even notice no guitars are present, as the hard driving tracks on this album tend to rock really hard. As far as overall sound goes...the tunes on Dark of the Daylight teeter into territories similar to those concocted in the past by bands like Queen and Rush. The arrangements are busy and lush...and the vocalist has a voice that can really cut through the mix. In the Summer of 2013 the band is touring with Nico Vega to promote the album. Cool hard pop/rock cuts include "Foot Tall," "So Many Ways," "White Wolf," and "Wave of Tomorrow."
Culture Club - Live at the Royal Albert Hall 2002 (CD + DVD, Angel Air, Pop)
This is an audio and video documentary of Culture Club playing a concert at the Royal Albert Hall in 2002 to celebrate their twenty year anniversary. A lot of fans were obviously delighted by this show...and the band delivered what the fans wanted. This double disc set offers two ways of experiencing the performance. As an audio only experience...or as a slick video that probably offers much better views than most of the folks had who were there that night. While a lot of 1980s bands sound very dated and tired at this point in time, Culture Club songs have held up surprisingly well. You'll hear/see all of your favorites here: "Do You Really Want To Hurt Me," "Church of the Poisoned Mind," "Karma Chameleon," and plenty more. The show began with Boy George coming out looking very much like he did when the band began...but he quickly switches costumes to a bizarre big-butted thing with points on his head...before settling into an outfit that looked almost normal. This anniversary performance succeeded in achieving its goals. The twentieth anniversary was indeed observed...the folks in the band were obviously enjoying themselves...and the audience loved it. Who could ask for...anything more?
Dark For Dark - Warboats (Independently released CD, Folk/soft pop)
Three cool young Canadian ladies...three super smooth soothing voices...and ten intelligent well-crafted folky soft pop tunes. Dark For Dark is the trio comprised of Rebecca Zolkower, Jess Lewis, and Mel Stone. Warboats is a calm and reflective album that combines sounds and ideas from the past with an overall sound that is decidedly current. We hear lots of artists and bands with a sound that is similar to Dark For Dark...but rarely do we hear songs of such high quality. These ladies' material is light years beyond what one normally associates with soft folky pop. The lyrics and melodies are absorbing and smart...and the vocal harmonies are so good they'll make your head spin. All ten tracks are keepers...but particular standout cuts include "Around," "Sweetwater," "Wake Me When It's Over," and "Lullaby." Really great music delivered with pure sincerity. Top pick.


The Dead Daisies - The Dead Daisies (CD, Spitfire, Rock/pop)
Loud ballsy catchy rock/pop played with real conviction. With the release of this, their debut full-length...the guys in The Dead Daisies are off and running. So early in their career these guys have already achieved the kind of success that most bands only dream of. This past summer they played the Rockstar Energy Uproar Festival...and they're headlining the Herbal Whiskey Showcase Stage (powered by Ernie Ball). There's no doubt music fans will be going apeshit over these guys...simply because they're good. The influences and possible comparisons are many...but in the end the guys in The Dead Daisies are, quite simply...crowd pleasers. No artsy fartsy crap here, these guys just like writing, playing, and recording super catchy danceable rock that should appeal to just about anyone who loves great guitars, solid vocals, and a good beat. This twelve track album is sure to please...as is evidenced by cool tracks like "It's Gonna Take Time," "Yesterday," "Bible Row," and "Talk To Me." Good solid stuff with balls.
Death Valley Rally - The Stars Shine Brighter After Midnight (CD EP, Planting Seeds, Pop/rock)
When we read the list of bands who have influenced the folks in Norfolk, Virginia/Washington, DC-based band Death Valley Rally...we had a feeling we were gonna dig their stuff. The list includes Lilys, Velocity Girl, The Ropers, and Unrest...so if you dig those bands you're likely to appreciate The Stars Shine Brighter After Midnight. These folks have a cool driving sound that is anchored by persistent rhythms and cool overdriven guitars. The vocals are delivered with a slightly distanced attitude...and appropriately lathered in reverb. Six cool tracks here. Our initial favorites are "Come On," "Stop And Go," and "Farewell." It'll be interesting to see/hear what these folks do on a full-length...
Europa Report - Original Motion Picture Soundtrack: Music by Bear McCreay (CD, Sparks and Shadows, Soundtrack)
Yet another cool resonant soundtrack created by the incomparable Bear McCreay, who now has his own music label called Sparks and Shadows. McCreay is a very busy man indeed these days...working on a multitude of creative projects...and always coming up with music that is credible, moving, and thought provoking. The compositions on Europa Report are much more reserved and contemplative than what one hears on a normal twenty-first century soundtrack. Much of the music on this album is sparse and ethereal...calming and reflective...and ultimately very serene. The film itself "...follows a contemporary mission to Jupiter's moon Europa to investigate the possible existence of alien life within our solar system." McCreay proves himself over and over again to be one of the most important film composers alive today. Totally cool uplifting tracks here include "Lift Off," "The Drill," "Under The Ice," and "Theme From Europa Report."
The Farewell Circuit - We Were Wolves (CD EP, Princess, Pop)
In 2012 the guys in The Farewell Circuit released an album entitled In Our Bones that impressed a lot of folks...including us. Since that time they've racked up some positive words from a wide variety of sources. Now they're back with an EP that's bound to fan the flames even more. From what we're reading, this EP is already on CMJ's Top 200 Chart. We compared the songs on the last album to The Hang Ups...and that comparison still holds true. The five tracks on this EP feature beautiful winding melodies, intriguing arrangements, and perfectly executed vocals. There are some real tasty sounds here...not the least of which are the cool elastic-ized electric guitars. These guys are doing everything right. If they keep this up, the next full-length is bound to be the one that really pushes them to the next level. Five classy cuts here: "We Were Wolves," "Years of Youth," "Faces of Friends," "From The Sun," and "Admission." Dreamy...and totally inspired stuff...
Fauna - //////// (CD, pfMENTUM, Experimental/modern classical)
Fauna is the duo of Paul Stapleton and Simon Rose...and the strangely-titled //////// is a very peculiar album recorded by the two. The album features strange spontaneous creations in which the two musicians feed off each other's energies...and allow anything to happen. Stapleton is credited with playing the bonsai sound sculpture (BoSS) and Rose plays baritone and alto saxophones. These tracks are sparse...and we get the impression that they were recorded live with no overdubs. Eight tracks of experimental sounds here that will best be appreciated by those into the strange and more artsy realms of music. Eight intriguing cuts...sounds range from bizarre to spooky...and then splinter off into other parallel universes. Eight smart tracks including "Borealis," "Deep," "Shift," and "Vertreiben." Purely puzzling material for adventurous listeners...
FireFriend - Witch Tales (Independently released CD, Exploratory rock)
We rarely get a chance to hear Brazilian rock bands. But if this band is any indication of what's going on there...we've been missing out. FireFriend is the quintet comprised of Yury Hermuche (guitar, vocals), Julia Grassetti (bass, cello, piano, vocals), Pabro Orue (drums), Caca Amaral (guitar, bass, drums), and Judaz Mallet (guitar, bass). These folks make music that is kinda noisy and gritty...and decidedly uncommercial. If there's one thing that instantly gets our attention in the world of music...it's groovy guitars. And man oh man there are plenty of way cool guitar sounds zipping around in the tracks on Witch Tales. These folks play a brand of rock music that harkens back to the mid- to late-1990s when loud guitar-driven underground rock bands seemed to be ruling the universe. We're totally diggin' ultra cool cuts like "Lost Drive-In," "Mountain View Acid Test," "Komura Freak," and "Singularity." You can bet your best Sunday socks that these folks put on one helluva live show...
Firehorse - Pills From Strangers (Independently released CD, Progressive pop)
We're always on a neverending search to find music that is unique and real. So when we received an album entitled And So They Ran Faster... in October 2011 the band Firehorse immediately caught our attention. The band is the creation of Leah Siegel who is a very, very busy lady these days. Originally trained to be a classical violinist as a small child, Siegel now writes and records her own music, fronts the Brooklyn, New York-based band the Brooklyn Boogaloo Blowout, and also sings in the Citizens Band. What strikes us most about Leah's music is that she doesn't seem to be striving to be or sound like anyone else. This intriguing young lady makes music that obviously comes from deep within her soul. As such, her songs seem to be personal statements rather than calculated compositions. Pills From Strangers is cut from the same fabric as the last album...but takes the ideas and sounds even further. Ms. Siegel has an incredibly effective voice that gives us chills and causes us to reflect about things like...What matters in life? What's it all about? Leah isn't afraid of getting into subjects far too deep for the casual music fan and yet...her songs never come across sounding too deep or artsy. The seven songs on this mini-album are incredible...and are bound to influence listeners for decades to come. Killer cuts include "Bloodstream," "Wave," "Walls," and "Fool." Incredible stuff... TOP PICK.


---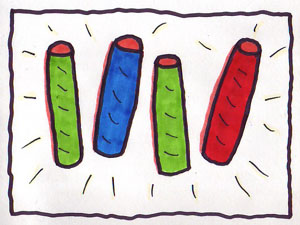 GLASSY DING DINGS
Ingredients:
1 lb. Flour
2 cups Sugar
4 sheets Cobalt Blue Glass
4 sheets Red Ruby Glass
4 sheets Top Green Glass
2 dozen Extra Tiny Dings
1 frozen Dog Egg
Limpy Old Moss


Don't break your family's heart when dinner time comes. There's not a husband or child in the house that can resist the tasty proportions provided by GLASSY DING DINGS. In an extra small large mixing bowl sift the FLOUR and SUGAR together so that they become one. Then take the sheets of COBALT BLUE GLASS and crush them into small pieces. Add to the Flour and Sugar mixture. Next, take the sheets of RED RUBY GLASS and break them into extra long shards. Add to the mixture. Now put the sheets of TOP GREEN GLASS on the counter and pound with a large rubber mallet. Add to mixture. Break the DOG EGG open and scramble it up good. Then add to the mixture. Now throw in the EXTRA TINY DINGS, making sure each is covered completely. Now remove the Dings and lay on your very best quality party tray. Sprinkle with LIMPY OLD MOSS...and you're DONE.
---
The Greencards - Sweetheart of the Sun (CD, Darling Street, Pop)
Nice smooth melodic mid-tempo folky pop with a decidedly organic sound and feel. Core members Kym Warner and Carol Young are originally from Australia. But after moving to Austin, Texas it wasn't long before they formed their band The Greencards in 2003. After landing a deal with Dualtone Records they left for Nashville for a while...before eventually returning to Austin, which is where they now reside. Sweetheart of the Sun is the band's first album to be built around a theme...and this time the theme is water. The songs on this album are meant to be listened to as a whole, so the band members are encouraging folks to either get the album or download the entire thing at once. Folks who think CDs offer bad sound quality should hear this one. The tracks on this album have all the depth and clarity of the best analog recordings ever made. Grammy-winning producer Gary Pacczosa really managed to come up with some heavenly sounds for the band on this one. There's lots of clean open space between the tracks...and the harmony vocals are absolutely outasight. Twelve well-crafted smart cuts here including "Once and Gone," "Ocean Floor" (our favorite), "Love and Other Errors," and "Fly."
Green Lantern: The Animated Series - Volume Two: Music Composed by Frederik Wiedmann (CD, La-La Land, Original television score)
It's been almost a year since the release of the first volume of Green Lantern: The Animated Series was released. Now comes Volume Two, once again featuring music composed by Frederik Wiedmann. This lengthy disc (clocking in at over 76 minutes!) features exciting textural orchestral compositions designed to enhance the things that occur in the animated series. Wiedmann is no newcomer to the world of score and soundtrack creation...he has worked on an astounding number of well-known projects over the years. Co-released by La-La Land, DC Comics and Warner Bros., this album is sure to be welcomed by fans of the show as well as those who appreciate Wiedmann's creations. Thirty-seven perfectly executed tracks here including "Igniting Ceremony," "Through Universes," "Aya Faces the Anti-Monitor," and "Relentless Machines." Cool riveting stuff.
Clay Harper - Old Airport Road (CD, Terminus, Pop/rock)
It's been over a decade since Atlanta, Georgia's Clay Harper has released a solo record...so for his fans Old Airport Road is long overdue. Harper has been a busy guy in and around the Atlanta area for decades...initially capturing the attention of many with his bands The Coolies, Ottoman Empire, and The Bogues. Old Airport Road is bound to please Clay's fans. The album features an impressive array of notable musicians including Kevin Dunn, Kevin Scott, and Duane Trucks...plus guest appearances by Sandra Hall, Errol Moore, Colonel Bruce Hampton, and Slim Red. This is a surprisingly fresh sounding collection of tunes. Usually when folks have been playing for such a long time the music sounds calculated and tired. That is definitely not the case here. Old Airport Road comes across sounding genuine and real. And unlike so many modern day recordings, the songs do not sound canned and processed to pieces. Cool loose rockers include "Ole Ray," "Roly Poly," "F*ck Who You Want," and "They Played Amazing Grace." This album features interesting lyrics...as well as a good overall vibe.
Mayer Hawthorne - Live performance at The Woods Amphitheater at Fontanel (August 18, 2013)
Soul singer Mayer Hawthorne has been out there making music for a while now...but his latest album (Where Does This Door Go) is probably going to be the one that most folks remember. Several years back Hawthorne had his sights set on being a rap artist. But when a record company executive heard demos he made of some soul songs from the past...he was instead instantly signed on as a soul/pop artist. The rest is pop music history. The latest album produced the very popular tune "Her Favorite Song"...and that seems to have catapulted Mayer's career to the next level. He's appeared on numerous high profile television shows over the past few weeks and his name seems to be just about everywhere. Hawthorne and his band played at The Woods Amphitheater at Fontanel recently (the new concert venue near Barbara Mandrell's mansion)...and they put on quite a show. Mayer was opening up for the very popular commercially successful band One Republic so he was in a great position to convert music fans. If there was a headline for this review it would be Mayer Hawthorne Steals The Show...because on this particular night...he most certainly did. During the first few songs folks seemed a bit slow to warm up to the hot funky soulful sounds of the band. But by the time they got around to playing the new single...well, from that point forward Mayer had most folks in the palms of his hands. Simultaneously singing, dancing, and playing guitar, he proved that he's got the pipes to deliver in a live setting. Physically he's a bit strange...he was wearing a suit with short pants (a la Angus Young of AC/DC) and an odd little hat. But if folks had any doubts about him based solely on his appearance they were immediately dashed because the guy has a voice that absolutely ROCKS. To give an idea of what the music sounds like...imagine a cross between Culture Club, Hall and Oates, and Steely Dan...and you'll have a good idea of where this guy is coming from. His band sizzled with determined energy...while he single-handedly commanded the stage with confident control. After the single got the crowd moving and grooving, Hawthorne and his band seemed to quickly switch from one song to the next...keeping the energy level high...so that those in attendance never got a chance to catch their breath. We couldn't help but think that the folks running the show made the lighting guys really tone things down so that One Republic wouldn't be outstaged. But even thought that might or might not have been the case...Hawthorne most certainly blew the guys in One Republic completely away. The Woods Amphitheater does have it's share of problems. Seven bucks for a beer certainly isn't going to sit well with most concert goers. Plus the venue is so big that most folks can't really see the artists very well. But even though this wasn't a perfect setting for a concert...we left feeling completely impressed and satisfied. The weather couldn't have been more perfect and Mayer put on a show that we won't soon forget. And we can only hope that the next time Mayer plays Nashville, Tennessee he's in a venue that's more intimate and appropriate. Hawthorne will be touring heavily all over the globe in the coming weeks so refer to his web site link (above) for dates and venues.
The Heavy Blinkers - Health (Independently released CD, Pop)
The first thing that caught our attention about this album...is the simple fact that it doesn't seem to fit at all into today's Top 40 commercial musical climate. Not being big fans of today's Top 40 commercial musical climate (understatement of the year)...we were immediately impressed with the cool progressive tunes on Health. The first reference point that came to mind was Van Dyke Parks...so we shouldn't have been too surprised when we read in the press release that Parks himself called The Heavy Blinkers "the real deal." The band is driven by the one constant remaining member Jason Michael MacIsaac, who wrote all of the songs on this album. Health was created as a musical, so lyrics are an integral part of the equation here. Vocal duties are handled by Stewart Legere, Melanie Stone, Jenn Grant, and Sean O'Hagan (of The High Llamas). Sixteen smart well-orchestrated pop compositions. MacIsaac is a master of melodies...and everything he comes up with seems to work. Over an hour's worth of material. Our favorite tracks include "Ann Karina, I Was Wrong," "Call It A Day," "Waiting For A Riverboat," and "Everything Is Magic." Cool stuff from a decidedly different universe.
Todd Herfindal - Right Here Now (CD, Single Recordings, Pop)
Like getting in on the ground floor before everyone else? If so...you owe it to yourself to check out Todd Herfindal's way cool guitar pop. We went nuts over this guy's last album Collective...and Right Here Now once again hits the target dead center. If you're a fan of classic radio pop, Herfindal's purely positive upbeat pop tunes will no doubt blow you away. This guy's upbeat songs are guaranteed to put you in a good mood...no matter what's going on in your life. Todd has a great knack for constantly coming up with great soaring melodies and heartfelt lyrics...and the songs are presented simply without the addition of any unnecessary ingredients...which allows the listener to concentrate on the inherent substance contained within. Most artists would be willing to sell their souls to come up with one great song. Herfindal...manages to come up with twelve (?!!) here...all of which could easily be transformed into hugely popular hits if all the pieces were to fall into place as they should. Great songs, killer vocals, and a totally fantastic overall vibe...what more could you ask for? Our initial favorites this time around are "Keeping Me Up Nights," "Right Here Now," "You Might Just Make It," and "Tomorrow's An Ocean"...but in actuality all of these songs are sure to end up being favorites over time. Highly recommended... TOP PICK.


Sydney Hodkinson - Shifting Treks (CD, Navona, Classical)
The debut Navona release from composer Sydney Hodkinson who was the former director at Musica Nova. Hodkinson is no newcomer to the world of music. He has composed a large number of orchestral pieces and is an artist-in-residence, director, and educator in the United States and Canada. This album features three of his compositions as presented by the St. Petersburg State Symphony Orchestra and the Moravian Philharmonic Orchestra. Three pieces are presented here: "Potpourri: 11 Very Short Pieces," "Epitaphion," and "Piano Concerto No. 1: A Shifting Trek." Hodkinson's compositions are complex and varied...and they feature some very peculiar time signatures and unusual arrangements (some of which remind us of Frank Zappa's voyages into classical music in the 1980s and 1990s). These tracks feature a huge slick sound (which is always the case with Navona releases)...plus there is on-disc enhanced content that includes extended liner notes, study scores, and more. Quite a package here. We love the cover painting by artist Mark Chadwick (very cool...!)...
Flabby Hoffman - Coup de Ta-Ta's (Independently released triple CD, Pop)
Talk about a major undertaking... Chicago's Flabby Hoffman has bitten off a mighty big chunk here...releasing a lengthy triple CD that clocks in at about four hours (!). This, Hoffman's third full-length release, was recorded over a two-and-a-half year period...and features fifty musicians lending their talents to the proceedings. This album features recordings that are totally and completely DIY. You won't hear a glossy overproduced sound here or that all-too-familiar sound of digital perfection. These songs have that strange rough and raw sound of real people playing real music. If you're a fan of Robert Pollard's home recordings there's a good chance you'll totally dig these gritty and somewhat experimental tracks. Hoffman's songs teeter somewhere on that fine line that separates commercial music from experimental. Some of these tracks are surprisingly accessible and could probably appeal to a wide audience. In addition to making music, Flabby is also a writer (his last book is the fifth longest book ever written in the English language)...and also an independent promoter in and around the Chicago area. Talk about driven...this man seems to be on a mission to outdo almost everyone by doing more than almost anyone could or can. Coup de Ta-Ta's is a cool and refreshing reminder that credible underground music is alive and well in the United States. So much to take in here...and our initial reaction is that virtually all of these tracks sound cool as hell (!)...
Roger Houdaille - Safe Keeping (Download, Pop)
Regular readers may remember our continually drooling over the band Ex Norwegian during the past few years. Now Roger Houdaille (the main man behind the band) releases his debut solo album. We can sum up this album simply by saying...if you're a fan of Ex Norwegian...you're gonna love this one. Roger seems to produce a neverending supply of great pop tunes. Considering how much stuff he's recorded over the years and the fact that the quality is always superb...we're puzzled as to why this talented fellow hasn't already hit the big time. It's probably due to the fact that our country simply has an overabundance of talent swirling around in the undercurrents in the twenty-first century...and it's just impossible for all the super talented folks to be financially successful. But in terms of art...Houdaille is already a great success. Safe Keeping features ten instantly hummable pop/rock cuts...each one with it's own insanely catchy ingredients. Each song stands squarely on its own...and many of these tracks sound very much like potential hit singles. The vocals are always spot on...and the harmonies are to-die-for. Anyone who ever loved Ray Davies (as well as Salim Nourallah and/or Faris Nourallah) is bound to go apeshit over Roger's album...or any of his Ex Norwegian releases. This is only being offered as a download...thus we are reviewing a promotional CD-R of the music. This is one we'll be playing over and over for months...and years to come. Kickass cuts include "Dead Romance," "Fresh Guacamole," "King of the Castle," and "Over Bypass." Highly recommended... TOP PICK.


Fredrick Kaufman - Guernica Piano Concerto (CD, Navona, Classical)
Although you might not be familiar with his name, Fredrick Kaufman is an important man in the world of twenty-first century classical music. He has created over one hundred and thirty (!?!) published compositions, his works have been performed by a wide array of orchestras all over the world, and the critics adore him. This album is divided into three sections. First is the "Guernica" Piano Concerto, presented in three sections. The anti-war composition is interpreted by the Czech National Symphony Orchestra (with Marcello Rota conducting). This twenty minute plus concerto is exciting, unusual, and riveting. Kemal Gekic's piano playing is inspired and precise. Next up is the "Kaddish" Concerto for Cello and String Orchestra," which features the Czech Radio Symphony Orchestra (this time conducted by Carlos Piantini and featuring Mark Drobinsky on violincello). Fourteen minutes plus of some emotionally gripping music driven mainly by strings. The album concludes with "Seascape," presented by the Czech Symphony Orchestra with Richard Hein conducting. The dreamiest of the compositions, "Seascape" is more subtle and experimental in overall sound and style...and sounds very much like it could be the soundtrack to a peculiar underground art film. Kaufman is one of those cases where all the praise and attention is certainly warranted. This man writes music that is provocative and intelligent...and it truly grips the minds and souls of those who hear it. Highly recommended... TOP PICK.


Kitten Forever - Pressure (CD & Double 7" vinyl, Guilt Ridden Pop, Pop/rock)
If you loved the intensely creative and edgy sound of bands from the 1990s (before so many bands and artists began opting for a more smooth and accessible sound--barf!), then you will probably be pleasantly surprised by the fresh and effervescent sounds created by the Minneapolis-based band Kitten Forever. The band is the trio comprised of Liz Elton, Corrie Harrigan, and Laura Larson. These three ladies have a sound that is decidedly noisy, abrasive, and driven by pure energy and excitement. They have an image that in no way fits within the confines of the mass market...these three girls have an obvious sense of humor about what they're doing. And the best part is that...they're damn good at what they do. The songs are purposely left ragged and raw...and our guess is that these tracks sound very much like how the band sounds live. On the first spin we kinda dug the songs on Pressure. By the third or fourth spin...we realized that this album was the exact shot in the arm we needed this month. There's so much homogenized music in the world. What the world needs are more noisy, adventurous, challenging bands with music that excites. This album is being simultaneously released as a download, a CD, and a beautifully designed double 7" vinyl release (on kickass bright pink and orange vinyl...!). Grrrrrreat cover art on this one (!!). Wildly exciting rockers include "Get Loud," "Rat Queen," "Black Ice," and "Pressure." Killer rockin' stuff with major balls. Top pick.


The Last Of Us - Original Score by Gustavo Santaolalla (CD, Sony Masterworks, Video game score)
Gustavo Santaolalla has composed music for many films in the past...but this is the first time he's recorded the score for a video game. Created exclusively for the PlayStation 3 system, The Last Of Us sets a new standard in the world of video games. According to the press release, the game "...delivers an evocative journey of survival in a world radically transformed set twenty years after a virulent pandemic spread by the cordy ceps virus has ravaged the course of humanity" (whew!). And instead of the usual central themes, this one deals with themes like survival, loyalty, love, and redemption. Just goes to show how far video games have progressed over the past few years. And the game's depth is probably what attracted Santaolalla to compose the music for it. Not only is the substance of the game far beyond what one would normally expect...but so is the score. This sounds nothing like what the average person would expect to hear in a video game. This sounds much more like the score for a big budget film. Santaolalla obviously uses the skills he learned creating film scores to create this one...and the results are magical and awe-inspiring. Over fifty-five minutes' worth of music here divided into thirty tracks. Moody, provocative, and thought provoking stuff...
Lori Lieberman - Bricks Against The Glass (CD, Drive On, Pop)
Lori Lieberman might best fit into the category of well-known unknowns. Despite the fact that she's been out there making music for decades...and has been involved with a wide array of well-known major celebrities...she's still relatively unknown in the big scheme of things. And when you consider all of her accomplishments over the years...that seems rather baffling. The confusion and conflict over a poem she wrote in the 1970s after seeing a Don McLean concert that inspired the song "Killing Me Softly" probably didn't help...even though she eventually was given credit where credit was due (even by McLean himself). Bricks Against The Glass is Lieberman's fifteenth full-length release. The album features eleven well-crafted intelligent compositions driven by a gently strummed acoustic guitar...and that super soft soothing voice that her fans have come to know and love. In a perfect world "Ticket To Leave" would be an instant hit, especially when you consider how timely the lyrics are. Other cool contemplative tracks include "Lottery," "Rise," "The End Of Our Story," and "The Rest Will Follow."
Lovers - A Friend In The World (CD, Badman Recording Co., Pop)
The seventh full-length release from Lovers. Although the band is now a three piece crafting and playing soft synth driven pop tunes, this wasn't always the case. The group has gone through several changes over the years...but many agree that the current line-up is the one that's going to stick. So...what does the music sound like? To our ears, these three ladies' music sounds something like Azure Ray except for one major difference...the songs have a good solid backbeat. The band is comprised of lyricist Carolyn Berk, producer/performance artist Kerby Ferris, and producer/percussionist Emily Kingan. These songs are chock full of positive vibes...with lyrics that involve ideas such as love, friendship, and psychological support. These three ladies obviously love what they're doing...and that passion shines through clearly on all ten tracks. Recorded by Badman label owner Dylan Magierek and Adam Selzer and mixed by Andy Lemaster, these songs sizzle with crystal clear polish and cool danceable vibes. Our favorite tracks include "Tiger Square," "Oh Yeah," "Lavender Light," and "Wild Horses"...but in all honesty they're all keepers. Top pick.


Marcus And The Music - Catch 22 (CD, Ex-Tension, Progressive pop/rock)
The first cut on this album sure surprised us. While "We Are Life & Love" begins like many other mid-tempo pop songs...mid-way through power chords suddenly blast through the speakers...and then the song heads off into progressive rock terrain. Surprising to say the least and a very bold move on the part of songwriter/multi-instrumentalist Marcus Linon. These songs have a nice punchy sound and feel which may be due in part to the fact that Linon's main instrument of choice is drums. The songs on Catch 22 are not easy predictable compositions. Marcus writes complex winding melodies that are very different and challenging. He's very adept on a variety of instruments...you'd never know he plays everything on these tracks. The vocals are also much more varied and unusual than what we normally hear. Instead of singing with one voice, Linon goes all over the map and back with his voice. Catch 22 is bound to be welcomed by progressive music fans. It's unusual...well-crafted...and a real voyage into true imagination. Ten cool cuts here including "We Are Life & Love," "Song For Apologies," "A Man Like Me," and "Third Eye."
---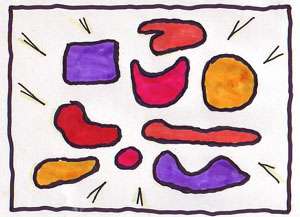 MEASUREMENT BLINTZES
Ingredients:
3 cups
2 quarts
A pinch
1 tablespoon
3 pounds
A dash
2 teaspoons
7 ounces
A sprinkle
5 cans


There ain't no mathematician in the house what can't resist the pure taste of them thar MEASUREMENT BLINTZES. Are they hard to make? NO! Are they EASY to make? YES! And the best part is...all you need is a few things to get them damn things up and running for your very SPECIAL PARTY GUESTS in no time flat. Use a large stainless steel bowl to combine ingredients. Pour the THREE CUPS into the bowl and then slowly ladle in the TWO QUARTS. Mix thoroughly and then add A PINCH. Toss in ONE TABLESPOON and then combine it all with THREE POUNDS. Knead the mixture with your raw hands while adding A DASH. Let everything sit for a moment and then sprinkle TWO TEASPOONS on top while introducing SEVEN OUNCES into the equation. Mix with a large straddling spoon and allow to cool. Put A SPRINKLE on top before covering with FIVE CANS. Place inside a 575 degree oven for one hour and...B-I-N-G-O, you're DONE! Serve instantly.
---
Migrant Kids - Migrant Kids (Independently released CD, Atmospheric pop)
Migrant Kids is the trio comprised of John Zakoor, Bryan O'Flynn, and Miguel Ojeda. Originally from Detroit, Michigan, the band is now based in Austin, Texas...and the music might best be described as atmospheric pop. According to the band's web site, their music draws "...heavily from the influences of David Lynch and the method acting techniques of Stanislavski." The tracks on this self-titled album are orchestrated and dreamy....combining pop elements with sounds normally associated with trance and modern classical. This is a short disc clocking in at just over thirty-three minutes. But all nine tracks have something substantial to offer...proving that Migrant Kids are more than just another pop band flash in the pan. Groovy tracks include "Act I," "Eyes Removed," "Hielo," and "Salida."
Dan Miraldi - Devil At Our Heels (Independently released CD EP, Pop)
In a perfect world, Dan Miraldi would already be a superstar. In the real world, he's not...but that's very likely to change over the next few years. After releasing his his Sugar & Adrenaline album Miraldi released an EP of softer material that was certainly pleasant...and it was warmly received by fans. But Devil At Our Heels is a direct hit...featuring more of the great power pop that made Sugar such an incredibly great album. Six killer tracks here: "Untame," "Girl, You Made Your Mark," "Devil At Our Heels," "Asking Her To Stay," "Lovebomb!," and "I Still Wish She Was Mine." One day Dan Miraldi will be a superstar. But until that day arrives...you can be one of the first to appreciate this cool guy's unbelievable upbeat power pop. Produced, mixed, and recorded by Chris Grainger in Nashville, Tennessee...Devil is one intensely positive jolt of pure positive energy. The vocals are absolutely out-of-this-world. We just can't get enough of Dan Miraldi... Highly recommended... TOP PICK.


Monsters University - Original Soundtrack: Original Score Composed and Conducted by Randy Newman (CD, Disney, Soundtrack/score)
Many folks may be surprised at the music prepared for Disney's Monsters University film. Although the film itself will probably appeal mainly to young folks, the music is surprisingly mature and intricate. Randy Newman composed and conducted the original score...and it's very impressive indeed. This is the seventh Disney film Newman has created music for...so it's no wonder he's so good at it now. These tracks were recorded using a 112-piece orchestra so the sound is big...but, surprisingly, the music never sounds cluttered or overproduced. Instead, these tracks tend to have a nice breezy inviting sound that should appeal equally to children and adults. Twenty tracks here that clock in at just over fifty-five minutes. Memorable reflective cuts include "Young Michael," "Oozma Kappa," "Rise and Shine," "Human World," and "Mike and Sulley."
Orbe Orbe - Invisible Kingdoms (Independently released promo-only CD-R, Pop)
If you like really good vocals, well man oh man...you're gonna love Cristina Orbe's voice. Orbe is originally from New York but now calls Seattle, Washington home. She's been through some definite changes over the past months and years. In the past she was a spoken word poet and a soul-folk band front woman. But after moving to Seattle she followed through on some promises she made to herself...to live alone, to stop watching television, and to learn to play guitar. The evidence of her success is obvious on these songs. True to the claim of the cover letter that accompanied this release, Invisible Kingdoms features compositions that may remind listeners of other classic artists like Portishead and Janelle Monae. There's a heavy emphasis on the produced sound here and the arrangements are precise and appropriate for each track. But those vocals are what's going to really catch folks' attention. We got kinda lucky to receive one of only a few promo CD-Rs created by Cristina herself...but the actual release is available on vinyl and as a download. Nine well-crafted tracks here including "Let Me In," "Instead," "Lady Bug," and "Winner." [This album is set to be released October 2013.]
PAS Musique - Abandoned Bird Egg (CD, Alrealon Musique, Experimental)
We've been spinning and absorbing the sounds and ideas from PAS Musique for quite some time now. This release is possibly the most adventurous and intriguing album yet. Abandoned Bird Egg was created from the pure desire to create. Instead of songs in the traditional sense of the word, these recordings are experimental sound collage compositions...very spacey, very bizarre, and very, very creative. If you only like hummable commercial music you'll want to steer clear of this one. Egg presents ten ultra-cool tracks that push the boundaries of what music should, could, and ought to be. PAS Musique is the project created by Robert L. Pepper...easily one of the most focused, inspired, productive, and creative minds currently operating in the world of experimental recordings. Pepper seems continually driven to challenge himself, his associates, and his listeners by coming up with peculiar sounds that are far too unusual for the world of commercial music. Joining Pepper on this album are Michael Durek, Amber Brien, and Jon Worthley. The four musicians effectively bounce off one another...creating an otherworldly sound that is like no other. We particularly admire where the folks in PAS Musique are coming from in terms of overall concept and idea. Their entire approach to making music is refreshingly genuine and real...and they seem purely driven by inspiration. Ten wild tracks here. Our initial favorites include "Commercial Space," "Modern Witchcraft," "You Are Who You Are," and "Abandoned Bird Egg." Highly recommended... TOP PICK.


Andrea Perry - Four (Independently released CD, Pop)
Yet another completely resilient and rewarding album from Austin, Texas-based recording artist Andrea Perry. Once again, Perry has written and recorded an absolutely compelling album chock full of super smart smooth pop tunes that ought to please even the most jaded listeners. We've been fans of this young lady's music for several years now. In addition to recording and releasing her own albums, Andrea also records music for video games, radio and television commercials, and public service announcements. But our guess is that her real passion is centered around recording her own albums...because Four resonates with the cool vibes of an artist who truly loves making music. To try and give some idea of what the music sounds like...Andrea's songs sound something like Azure Ray...except they are much more melodic and upbeat than such a comparison might imply. She's got an incredible knack for coming up with catchy gliding melodies...and her vocals are out-of-this-world. Andrea Perry writes modern classic pop songs that folks will be listening to for decades to come. We've loved everything we've heard from this ultra-talented lady in the past...but this time she has really outdone herself. Killer tracks include "My Lover Said," "Spring," "Nothing Hurts Like This," "Flame In My Heart," and "Alright With Me." Absolutely essential listening... TOP PICK.


Sara Petite - Circus Comes To Town (Independently released CD, Country/pop)
The fourth full-length release from San Diego, California-based up-and-coming recording artist Sara Petite. The songs on Circus Comes To Town were written before and after the death of Petite's best friend and partner Johnny Kuhlken...with many of them being a form of therapy for Sara to deal with the tragedy. Considering this, listeners may be surprised at how upbeat this album is. Instead of coming across like a downer, Circus is surprisingly uplifting. In Sara's own words: "There is beauty and experience in tragedy. Some of the most hilarious and enlightening moments of my life came after Johnny passed away. One of the most amazing experiences I have found is how many people share tragedy." Sara surrounded herself with top notch players for the recording of these tracks, so the overall feel is slick and professional. At the heart of the music are some truly heartfelt vocals...that are very much unlike most of the country artists coming out of Nashville these days. Instead of sounding like digitally tweaked perfection...Petite sounds like a real lady who is singing from her heart. Eleven nifty cuts here including "Perfume," "Movin' On," "Forever Blue," and "Someday I'm Gonna Fly."
Sonia Rao - Los Angeles Part 1 (Independently released CD EP, Pop)
The second proper release from Los Angeles, California's Sonia Rao. We rarely review EPs...so if you see an EP covered in these pages you know it's something worth seeking out. Rao released her debut album Calm Her back in 2011. That album was well received...and this, the follow-up, should easily thrust her career up to the next level. Five intriguing songs here...and they're all keepers. Sonia has a really cool expressive voice that listeners will love. Our favorite songs here are "You Say I," "Little Blue Room," and "Los Angeles." Our guess is that you'll be seeing and hearing this young lady's name and face a great deal over the coming months and years... She is good.
Leann Rimes - Spitfire (CD, Curb, Country/pop)
With the release of Spitfire Leann Rimes is back...in a big, big way. Rimes was so hot early in her career that it probably made it very difficult to live up to all of the hype. While she was an early favorite with critics and millions of listeners...over the years her career seemed to get sidetracked and her focus seemed to wane. But she's apparently now in a really great mental space...and this is the album that is undoubtedly the one that is reinventing her career. Produced and arranged by Darrell Brown and Rimes herself, the tracks on this album resonate with pure genuine spirit and inspiration. The songs chosen are a perfect fit for Leann's voice...and the arrangements are appropriate and never overdone. Rimes is touring the globe this year promoting this album...and from what we're hearing the fans are loving it. Spitfire just might be Rime's best album...EVER. Memorable cuts include "Spitfire," "What Have I Done," "You Ain't Right," "Just A Girl Like You," and "Who We Really Are." An impressive return to form...
Gary Ritchie - Near The Alley (Independently released CD, Pop)
More groovy underground guitar-driven pop/rock from Wimbley, Texas recording artist Gary Ritchie. Gary isn't afraid of letting his fans know who his influences are, as his albums include a handy list for easy reference. This time around folks who have influenced his sound include The Nobles, The Grapes of Wrath (one of our favorites), Sluggo, The U.M.F.'s, Malchick, Loose Lips, and more. Unlike a lot of independent artists, Ritchie's music has a great deal of commercial appeal. Almost all of the tunes on Near The Alley sound like oughta-be hits. The mood is upbeat and positive...and Gary's got a voice that really makes his songs sizzle. Plus...the guitars always hit the target. Fifteen meaty tracks here including "Hum, Sing, Repeat," "Back To You," and "Pull Your String." Groovy stuff with plenty of cool vibes.
Seabird - Troubled Days (Independently released CD, Pop)
The third full-length release from Seabird...the pop duo comprised of brothers Ryan Morgan (guitar, vocals) and Aaron Morgan (piano, vocals). These guys released two albums on the Credential Recordings/EMI label a few years back that received a good bit of attention. Afterward...they began to ponder whether or not they should continue making music. A Kickstarter campaign that successfully raised over $40,000 to record Troubled Days probably answered the question for them. The fans still support them...and from the sounds we're hearing on this album these fellows have only just begun. These songs are slick and commercial...highly melodic...and they have a nice fresh urgent sound that is appealing and cool. This album might just be the one to catapult them into the big time. Twelve intelligent tracks here. Standout cuts include "Love Will Be Enough," "We Can't Be Friends," "Find A Way," and "Palmetto Peach."

Shut Up - Shut Up (Independently released CD, Pop/rock)
The package that arrived in our box immediately caught our attention because of the name. We've always loved the phrase Shut Up (because it's so direct and to-the-point)...but to our knowledge there's never been a band called Shut Up. That's all changed now...as the folks in this Nashville, Tennessee-based trio are poised to make their mark on the world of music. The band is comprised of Megan Light (bass, lead vocals), Nathan Spears (guitar, vocal), and Zach Grace (drums, vocal). The songs on the band's debut album harken back to the 1990s when the United States was full of ultra cool underground pop/rock bands. When most folks think Nashville they think country music...but the city has always been home to an interesting and thriving underground rock/pop scene. Shut Up tunes tread on that fine line that separates art and music. Some of the tunes should appeal to fans of the underground...while others have a surprising amount of commercial appeal. Cool modern buzzsaw pop/rock cuts include "Friday Night," "Walking Away," "Invisible Friend" (a particularly beautiful cut), and "Mother." Great trippy cover art on this one courtesy of Michael Trebing. An up-and-coming band with a great deal to offer...
Sons of Hippies - Griffons At The Gates Of Heaven (CD, Cleopatra, Rock)
It's been quite some time since we've heard anything on the Cleopatra label (they used to send us stuff years ago)...but judging from this release the label is still fully alive and KICKIN'. Sons of Hippies is a Florida-based band that doesn't sound anything like other Florida-based bands. Produced by the legendary Jack Endino, Griffons At The Gates Of Heaven offers songs that teeter on that fine line that separates modern guitar pop from psychedelia. The band began back in 2008 and has been building a steady and devoted following ever since. The band is comprised of Katherine Kelly (vocals, guitar, sitar), Jonas Canales (drums, korg, percussion, vocals), and David Daly (bass guitar, vocals). Along with some additional friends lending their talents to these recordings, these folks churn out some tasty rock cuts that sound instantly familiar...and they make it almost impossible to resist the desire to move to the music. If you love progressive music from the 1970s and underground/alternative bands from the 1990s...well then, you're almost guaranteed to get a major jolt out of this album. These songs are gripping and tight...and that have that nice propulsive sound that is infectious and addictive. Twelve nifty rockers here including "Forward," "Mirrorball," "Man Or Moon," "Whatever We Spend," and "Cautionary Tale." Groovy soundin' stuff...
The Stargazer Lilies - We Are The Dreamers (CD, Graveface, Psychedelic hazy dream pop)
The debut full-length release from The Stargazer Lilies. This band is the new project created by guitarist/drummer/bass player/producer John Cep and vocalist/bass player Kim Field (formerly of Soundpool). Rounding out the band are Tobacco (of Black Moth Super Rainbow) and live drummers EJ DeCoske and Johnny Lancia. We Are The Dreamers features hazy, slightly psychedelic tracks that could probably best be described as dream pop. The rhythms are, for the most part, rather slow and persistent...the vocals drenched in reverb...and there are plenty of cool mod effects added to the main instruments to give the songs strange effervescent qualities. Ten pensive peculiar cuts here including "We Are The Dreamers," "Undone," "Sad Colored Tears," and "Because." We've yet to hear anything on Savannah, Georgia's Graveface label that wasn't interesting and cool...
Mike Stinson - Hell and Half of Georgia (CD, Poplar Cove Recording Company, Honky tonk/rock/pop)
Mike Stinson's been out there making music for almost two decades now. But from the fresh rockin' sounds on Hell and Half of Georgia you'd never know it. Mike's songs have a nice meaty sound, combining elements from rock, pop, and honky tonk into an intoxicating mix that should please the hell out of most listeners. Although he hasn't achieved major stardom...yet...Stinson has received plenty of praise and encouragement over the years. Produced by R.S. Field, this album sizzles with the excitement of good solid rock and roll. Mike's got a great sounding gravelly voice that really makes his tunes cook. If you like good solid tunes delivered without all the excesses of twenty-first century technology...well then, Hell and Half of Georgia might just be your favorite new album. Solid gripping cuts include "Late For My Funeral," "Box I Take To Work," "Got A Thing For You," and "The Kind of Trouble I Need."
TaQuita Thorns - Rough & Fancy Vol. 1 (CD, On Orbit, R&B/pop)
The debut full-length solo album from Detroit, Michigan-born recording artist TaQuita Thorns. Many folks will remember TaQuita from her stint on MTV's Making The Band III or the spin-off series The TaQuita & Kaui Show. Although she's been out there singing and performing for a while now, it appears that TaQuita's real career has only just begun. Rough & Fancy, Vol. 1 is chock full of infectious danceable R&B/pop that ought be set the airwaves on fire. Thorns has a fire and spark in her soul that truly sets her apart from the rest. She has a truly strong visual image...in some photos reminding us very much of a young Grace Jones. But make no mistake about it, TaQuita is not just another pretty face. This young lady has a killer voice and she can really belt out a tune. This fifteen track album is slick...and it ought to be an instant favorite in dance clubs around the world. Well-crafted cuts include "Forever," "Steady," "Feel Right," and "Nobody But You."
The Three O'Clock - The Hidden World Revealed (CD, Omnivore Recordings / Frontier, Pop)
The 1980s were a particularly incredible and fertile period for music in the San Francisco area. Some of our favorite bands created some of their best music during this time period...Redd Kross and Game Theory were (and still are) top favorites...but one of the best known alternative pop bands from this era was The Three O'Clock. Fans of the band have no doubt already heard that Michael Quercio has reformed the band...and once again they're making waves around the globe. The Hidden World Revealed presents songs culled from the band's Frontier Records albums...plus ten unissued tracks (including demos and alternate takes). As such, this disc serves as an excellent introduction to the pop music recorded by The Three O'Clock in the 1980s. The reformed band includes Quercio (of course) as well as Louis Gutierrez on guitar and Danny Benair on drums...plus new member Adam Merrin (from the band The 88). The new line up has already played at Coachella and they've appeared on the Conan television show...plus they've already toured the West coast. Fans of upbeat bubblegum will find a lot to love here. Plenty of hummable feelgood cuts here including "All In Good Time," "Jet Fighter," "Around The World," and "Feel A Whole Lot Better." It's great to know that these guys are back together making music again...
---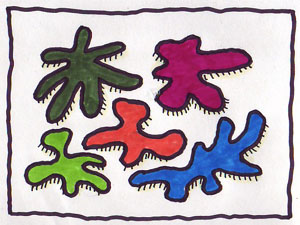 TOORFLOD BURNIFF MINCHES
Ingredients:
1 cup Grawny
2 cups Prishter-Naw
3 tablespoons Wur
1 pint Nissy
5 Slabs of Minch
3500 slobs of Boons
1 teaspoon of Princie Sack

You cook, people eat. People eat, then stop eating. Eventually start eating again. Be ready for next eat, for always is good for being ready. Best dish for prepare is TOORFLOD BURNIFF MINCHES. Easy for preparation, easy for serving up. To begin, spread GRAWNY with even texture over large flat surface. When Grawny out flat, doss on PRISHTER-NAW with care taking to give up booster patrols. Slowly tinkle on WUR as light in upper rooms turn dim. Now sprinkle with generous the NISSY. Note that Nissy must be fresh for proper experience and taking on. Grab SLABS OF MINCH and pound with metal hammer. Never stop hammer, keep doing for indefinite. As hammer smashes for continuation, announce the SLOBS OF BOONS for tender moistness. Final and before to serve, liberal top with PRINCIE SACK. Dish best serving in small bowl for unanimous consumption, all go in Wing Time and proverbial.
---
Corey Tut - Chasing Down The Bedlam (CD-R, Aural Fix, Pop/rock)
More solid driving pop/rock from Jackson Heights, New York-based artist Corey Tut. The last time we heard from Tut was way back n 2008 when he released an album entitled Everything. Since that time Corey has been having some impressive successes with his music...and along the way his voice has been heard in commercials for big companies like Toyota, Diet Pepsi, and Ford (!). While it has taken a while to record and release the follow up, it was certainly worth the wait. Chasing Down The Bedlam features songs that are much more polished technically...but they still display catchy melodies and danceable rockin' beats. If there's one word we would use to describe this man's music...that word would probably be unpretentious. These tracks have cool vibes created by a man who obviously loves what he's doing. These songs have a great deal of overall appeal and yet...they are definitely a far cry from crass commerciality. Corey has a great presence that really shines here. Ten groovy cuts here. Our initial favorites are "Something Good," "These Are The Days," "Shine A Light," "Matter Of Time," and "Pretty Little Liar." In a perfect world several of these tracks would be major hits. Totally cool music created for all the right reasons.
Jan Van Der Roost - Sirius and Other Works for Orchestra (CD, Navona, Classical)
Born in Duffel, Belgium in 1956, Jan Van Der Roost is an accomplished composer who currently teaches at the Lemmensinstituut in Leuven. His compositions have been performed all over the world. Sirius and Other Works for Orchestra, Van Der Roost's debut release on the Navona label, presents three of his orchestral works: "Sirius," "Sinfonia Per Orchestra," and "Manhattan Pictures." Jan's works have a lot in common with the great masters of the past. You won't hear any of the strange atonal sounds that are present in the creations of many twenty-first century composers. The music on this album is smooth, cerebral, and classic in nature. These recordings feature performances by the St. Petersburg State Symphony Orchestra and the Philharmonic Orchestra of the Belgian Radio. This album has a huge slick sound. The compositions are intricate and involved...and the playing is infinitely inspired. Over 55 minutes of pensive, credible, intelligent music from a composer whose work absolutely commands respect from his peers and associates.
The Wolverine - Original Motion Picture Soundtrack: Music by Marco Beltrami (CD, Sony Classical, Soundtrack)
The main character in the popular X-Men series gets his own movie. Directed by James Mangold, the story revolves around Wolverine's trip to Japan where is he faced with all kinds of enemies which (of course) result in some fierce battles. We haven't seen the film yet but it's on our list of things to see. The music for the movie was composed by Marco Beltrami who is no stranger to the world of soundtracks (he was recently nominated for an Academy Award for his music created for The Hurt Locker). This twenty-two track album showcases Mangold's talents in presenting orchestras in a different light--he's known for his use of innovative effects on orchestral sounds to achieve his desired sound. The music is thrilling, suspenseful, compelling, and sometimes unorthodox. Mangold is a master at his craft...this time presenting close to an hour's worth of exceptional and creative sounds. Plenty of audio thrills here on tracks like "A Walk In The Woods," "Kantana Surgery," and "Whole Step Haiku." Intriguing and compelling stuff.
Donovan Woods - Don't Get Too Grand (CD, Aporia, Folky/pop)
The third full-length release from Canadian singer/songwriter Donovan Woods. The title of this album says a lot about the music. Woods came up with Don't Get Too Grand "...as a reminder to myself that simple is usually best." That's a viewpoint we've had for years...so we weren't too surprised how appealing this album was on the very first spin. Donovan has a voice and style that may remind many listeners of Paul Simon...but the songs are actually much less obvious than such a comparison might imply...and certainly less commercial. These songs are driven by a gently strummed acoustic guitar...and the simple arrangements allow the listener to take in the pensive lyrics...and appreciate the subtleties of this fellows' ultra cool voice. Woods has already had his music included in film and television...and he's quickly becoming an in-demand writer who currently spends time in both Toronto and Nashville, Tennessee. Eleven smart melodic cuts here...and every one's a keeper. Our initial favorites include "Don't Get Too Grand," "The Coldest State," "Taft" (a particularly beautiful song), and "Let Us Now Praise Simple Men." Top pick.


Wood Shampoo - Crack, Crack Heart Attack (Independently released CD, Rock/pop)
Nice solid melodic guitar-driven pop/rock from Wood Shampoo. This band is the project created by Murph Daniels who...along with some heavyweight musician pals...manages to come up with some instantly pleasing classic cuts. Joining Daniels on this album are Tommy Byrnes, Chuck Burgi, and Eddie Martinez, all of whom have played with some rather notable artists over the years. Produced by Kevin Killen, Crack, Crack Heart Attack certainly has the potential to produce some solid hits. In addition to cool melody lines, these tunes are chock full of some really nifty guitar riffs that sound ultra cool indeed. Murph has a great voice that seems tailor-suited for the type of songs he writes. Over an hour's worth of solid driving music here. Our favorite tracks include the title track, "Va-Va-Vavoom," "Cover Girl," "I Wanna Rock," and "Three Cheers."

The Wrong Object - After The Exhibition (CD, Moonjune, Progressive rock)
The folks in The Wrong Object began playing together early in the twenty-first century. It's been about five years since their last full-length studio album...so After The Exhibition is bound to be warmly welcomed by fans of the band. Originally a five piece, the band now includes six members: Michel Delville, Antoine Guenet, Marti Melia, Francoise Lourtie, Pierre Mottet, and Laurent DelChambre. This ten track album features songs that are spontaneous and free-flowing...combining all the best elements of progressive rock, past and present. Some of the band's influences include Soft Machine, Gong, Amon Tobin, King Crimson, Charles Mingus, and Frank Zappa...and you can hear traces of all of these (and more) in the music. Recorded in 2012 in Liege, Belgium, this album features close to an hour's worth of material...and every track is focused and captivating. Our favorite cuts include "Detox Gruel," "Yantra," and "Wrong But Not False."
Brooke Wylie - Don't Waste The Silence (Independently released CD, Roots/pop)
The third full-length release from Alberta, Canada's Brooke Wylie. Before embarking on a solo career, this talented singer/songwriter was in the band Brooke Wylie and the Coyotes. Don't Waste The Silence features ten well-crafted Americana folk pop tunes with a heavy emphasis on lyrics and vocal melodies. Wylie has a sound and style that could easily appeal to millions of listeners. Her songs are smart and intricate...and she's got a great resonant voice that really pushes her songs to the next level. There's not a bad cut on this album...but our initial favorites include "Robbie's Eyes," "I Will Miss Growing Old With You," "Bells," and "Always Be Mine." Nice passionate music with heart.
A
A Clever Con - Mannequin love part I
James Adler & Friends - James Adler & Friends
Africa - Original television soundtrack
After Earth - Original motion picture soundtrack
A Good Day To Die Hard - Original motion picture soundtrack
Aina Haina - Aina Haina
Alias Means - Light matter
Verden Allen's Soft Ground - Love you & leave you
BJ Anders and The Buccaneers - BJ Anders and The Buccaneers
Angry - Wild ox shangri-la
AnnaLee - Gatsby's green light
Animals At Night - Animals At Night
Aoede - Is love a fairy tale?
Apple Dot - Dot the dot
Aquarotten - Aqua is a rotten color
Arjun - Space
David Armo - Poets on the wall
Mike Arroyo Jazz Organ Trio - Full circle
Badi Assad - Between love and luck
Avengers - On a mission
B
Bachmann, Kreimer, Graves, Wilsey - The july amalgam
Steven Bakur - Sooner than later
Matt Barron - Matt Barron
Offiong Bassey - Offiong Bassey
Beekeeper - Shout at people
Lilly Bell - Try to tune the goddamn thing
Jeff Berlin - Low standards
Brandon Bernstein Trio - But beautiful
Robin Bessier - Other side of forever
Big ol' Nasty Getdown - Volume 1
Big Sandy and his Fly-Rite Boys - What a dream it's been
Jacob Blazer - I am Jacob
Jason Blum - Radio dial
Bolts - Wait 'til we're young
Bone of Contention - Bone of Contention
Philip Boone - A light and a line
Greg Boring - Heavy syrup
Boss - Original television soundtrack
Brand New Trash - Brand New Trash
Breadwinter - Breadwinter one
Breaking Laces - Come get some
Dewa Budjana - Dawaii in paradise
Burning Condors - "Love On The Rocks" b/w "Folsom Prison Blues"
C
Cable Car - Ride
Alan Callahan - Shower of grace
Camera - The panic and the permanence
Brooke Campbell - The escapist
Rob W. Carlson - You better call someone
Marc Carroll - Stone beads and silver
Shuana Case - Some kind of fairytale
Glenn Cashman's Southland Nonet - Music without borders
Steven Casper & Cowboy Angst - Trouble
Catbirds Say Yeah - Catbirds Say Yeah
Raquel Cepeda - I'm confessin'
Chapin Sisters - A date with the Everly Brothers
Cherry Bluestorms - Bad penny opera
Chestnuts Roasting On A Stove - Dumb nuts
Chicago Arts Orchestra - Al combate
Kyong Mee Choi - The eternal tao: A multimedia opera
Churchwood - 2
Citadel Besieged - Creation/damnation
City of Prague Philharmonic Orchestra - The film music of Howard Shore
Nels Cline / Elliott Sharp - Open the door
Coal Men - Escalator
Coals - A happy animal
Coastwest Unrest - High times on lowly streets
Preston Cochran - Stumble into tomorrow
Paul Colilli - Hieroglyphs of the soul
Como Asesinar A Felipes - Comenzaras de nuevo
Convergence - The music of Stewart & Gershwin
Ryan Cook - Wrestling with demons
Copernicus - Worthless!
Copper Gamins - Los ninos de corre
Copper & Glass - Copper & Glass
Larry Corban - The circle starts here
Laura Cortese - Into the dark
Cosmic Suckerpunch - Breathe
David Courtney - Midsummer madness/Shooting star
Crankshaft and the Gear Grinders - What you gonna do?
Crashdollz - Crashdollz
Cross Connection - Selected works of Henry Wolking & James Scott Balentine
Crummy Band - This is the life worth dying for
Michael C. Cunningham - Gallry
D
Dances of Eternity - Works for orchestra
Dangfly - Good luck, curiosity
Dark Lark - Dark Lark
Death Songs - Sung inside a house
Rick Devin - Old school 2: Rock hits of the 60s & 70s
Dialeto - The last tribe
Diemakers - Detroit recordings
Dim Past - Black dolphin
Dio - Finding the sacred heart: Live in Philadelphia 1986
Doctor Who - The Krotons
Dolls On Fire - Ladies and gentlemen...
Sarah Donner - Fossil of girl
Dorothy Doring and Phil Mattson - Compositions by Duke Ellington and Billy Strayhorn
Dream Logic - Dream Logic
Drgn King - "Holy Ghost" b/w "Son of Wolfman"
Gordon Duthie - Shire and city
Mia Dyson - The moment
E
Eggs Are Eggs - Drippy thugs on corn
Eksi Ekso - Archfiend
Amos Elkana - Casino umbro
Electric Shepherd - The imitation garden
Elf Power - Sunlight on the moon
Holly Elle - Leopardess
El Perro Del Mar - Pale fire
Emperors of Wyoming - Emperors of Wyoming
Richard Tyler Epperson - Falling between the stars
Glenn Eric - Blanket of stars
Escuela - Are we rolling?
Gene Ess - Fractal attraction
Every Day Is Picture Day - Every Day is Picture Day
F
Fabulous Rudies - Labor of lust
Faco - Em si bemol
Fat Opie - Victoryville
Stephen Fearing - Between hurricanes
Felsen - I don't know how to talk anymore
Julian Fernandez - Mi conciones
Michael Feuerstack - "Shadow" b/w "Wolves"
Fletcher - Open arms
Focus Features 10th Anniversary - A collection of film score
Lisa Forkish - Bridges
Olivia Foschi - Perennial dreamer
Josephine Foster - Little life
Further To Fly - Wave mechanics union
Fussy Fussy - How many things can go?
G
Holly Gentry - So much more
Georgia's Horse - Weather codes
Susie Glaze & The HiLonesome Band - White swan
Go Around - Restating the question
Mac Gollehon - La fama
Go Time! - Tight like wood
Jess Grant - Innocent invader
Grassmarket - You are for the ocean
Great Divide - Great Divide
H
Halle & The Jilt - Three roads home
Ryan K. Hamlin - Run
Kyp Harness - The wrong way
Harris Group - Errands
Rebecca Harrold - The river of life
Haunted West - Postlude
Joe Henly - The fall comes early
Henry Wagons - Expecting company?
Pamela Hines - 3.2.1.
Hissing Makes Us Hissy - Hisses
Dillon Hodges - Rumspringa
Holy Folk - Motioning
Home By Hovercraft - Are we chameleons?
Honey Island Swamp Band - Cane sugar
Hunter - Pressure
I
Il Sogno del Marinaio - La busta gialia
Inside Insects - How we done got ate up
Intestines - The force is forceful
Invader - Original motion picture soundtrack
Dan Israel - Live on
Issy Missy Pissy Woss - Widdle biddle noodle poodle
J
The JAC - I see things differently: Greatest Xmas Hits Vol. 1 2001-2012
The JAC - Record store
Jackpot Donnie - Mayday!
Craig Jackson Band - Sweeter songs
Jim Jacobi - If the show fits...
Brendan James - Simplify
Jeepers Jeepers - The whopper in my panties
Alan Jeffries - Coffee 'til midnight
JLStiles - Presents house of murmurs
Lynn Jolicoeur and the Pulse - World behind your eyes
Shawn Jones - Struggle makes you stronger
Jumpy Jerks - Jumpy on the beddie bye
JZ's Bobo Truck - Baddest in the binto-box
K
Red Russell Kamp - Night owl
Judy Kang - Judy Kang
Brendan Kelley - Quicksand
Lili Kendall - Beginnings
Stan Kenner - The behavior of vibration
Killigans - Another round for the strong of heart
Kine - Meditations in april green
Kinky Boots - Original Broadway cast recording
Aarison Kirby - Aries
Lee Koch - Whole heart
Zack Kouns - The Deacon family tree
Gerald Krampl - Wonder way
Levi Kreis - Imagine paradise
KuKu - Dumma kawwa muh kookoo
L
Shannon Labrie - Just be honest
Lady Antebellum - Own the night world tour
Lady Antebooboo - Own the day tiny tour
Dave Lalama Big Band - The Hofstra project
Daniel Lantz Trio - Plays Bond
Lapland - Lapland
Juan Sebastian Lach Lau - Islas
Kait Lawson - Until we drown
Lead Mule - Lead Mule
Aaron Lebos - Reality
Lee Boys - Testify
Jim Libby - Made in USA
Life of Pi - Original motion picture soundtrack
Lift - Lift
Frances Livings - The world i am livings in
Elisa Lovelie & The Device - Undertow
Loveskills - Multiplicity
John LT - Suburban superstar
M
M1, Brian Jackson, & The New Midnight Band - Evolutionary minded
Doug MacDonald Band - Mr. bones
Andy Macintyre - Ruby
Brad Mackeson - 1945
Madlife - 21st century megalomaniac
Madonna & Rose - Bank cormorants
Magic City - Songs and score from the series: Score by Daniele Luppi
Tim Mahoney Band - Shine through
Mike Mangione & The Union - Red-winged blackbird man
Marbin - Last chapter of dreaming
Marina - Believe in love
Adam Marsland - The owl and the full moon
Bex Marshall - House of mercy
Michael Mauldin - The last musician of UR
Alison May - Earnest keep
Ian McFeron - Time will take you
Memoryy - Electric city
Michael and the Lonesome Cowboys - Bottle cap sky
Midas Fall - Wilderness
Gabriel Minnikin - Parakeets with parasols
Mission Dorado - Yannash nahollo
Mood Indigo - Symphonic music of Erik Lotichius
Tom Morgan - Orange syringe
Morningbell - Boa noite
Moto Perpetuo -Moving works for cello
Moxi - In my dreams
Muy Cansado - Let it go
Myopic - We were here
Myrasky - License II love
N
John Nagle's Distractions - John Nagle's Distractions
Ned Van Go - Lost in the trouble
Neighbours - Prime numbers
New Day Dawn - Rise above this
New Standards - Sunday morning coming down
Karen Nielsen - Woman
Ninners are for Ninners - Something for dinner
NocturnalSol - In this together
No Escape For The King - 13 fjords
Nova - Socikety of composers, Inc.
Nowherenauts - Warned you
O
Robin O'Brien - Dive into the end of the world
Ocean Floor - Falling star castle
October Gold - Bridge of the sun
Kanji Ohta & The Jazz Family - Kanji Ohta & The Jazz Family
Onoono - Yokoyoke
Oops - See daisy
Orflop - Bannie toe wishes
P
Paper Beat Scissors - Tendrils live at St. Matthew's Church
Paper Bird - Rooms
Paperhaus - Lo hi lo
Para Vista Social Club - Scott & charlene's wedding
Charlie Parr - Barnswallow
Matthew Patrick - Blue sun
Rodney Patterson - Love > fear
Nick Peay - Feathers & fables
Perceptions - Points of oview for small ensemble
Dan Phillips BKK Trio - Bangkok edge
Chris Picco - The beach
Garrett Pierce - City of sand
Paul Pierce Project - Pierce my heart
Pine Barons - Pine Barons
Pint of Pint - How to quart the quart
PLS PLS - EP EP
Kevin Presbrey - Dust unto dust
President Lincoln - The sinking of the President Lincoln
Pretty Little Demons - Flowers
Mark Andrew Pudas - Mark Andrew Pudas
Q
Quick & Easy Boys - Make it easy
Quiet Parade - Old haunts
Q utt - Bras for no one
R
R.A. The Rugged Man - Legends never die
Red Dawn - Original motion picture soundtrack
Red Sammy - These poems with kerosene
Dulcinea Renee - Smoke and mirror
Edward Ricart / Tim Daisy - Yiu ja ley
Marga Richter - Poetic images beyond poetry
Troy Roberts - Nuu-jive 5
Rob Roper - The other side of nowhere
Rockabye Baby - Lullaby renditions of Blur
Rockabye Baby - Lullaby renditions of Muse
Rockabye Baby - Lullaby renditions of Rush
Peter Rodocker & So It Is - We're still here
Arrica Rose & The . . . 's - Lucky
Rose Phantom - Abandon
Rumper Rump - How to dump the rump
Run 8 Rider - Tenderfoot
S
Arian Saleh - Undone
Sasha's Bloc - Melancholy
Micky Saunders / Dan Susnara - Known & better tomorrows
Save The Date - Original motion picture soundtrack
Garrett Sawyer - Chronicles and vanity
Marcus Schwartz & Monvelyno Alexis - Vo-duo nou la
Scott & Charlene's Wedding - Two weeks EP
Andy Scott - The solo singles
Second Wind - Eudora
Secret City - Secret City
Seven Psychopaths - Original motion picture soundtrack
Shakespeare's Memory - Shakespeare's Memory
Sideman Sez - A Rob Loyot project
Silver Linings Playbook - Original motion picture soundtrack
Keaton Simons - Beautiful pain
Skiggy Rapz - Satellites
Sky Thing - Virgin Journalist
Smith III - Diamond in a rock
Smoking Flowers - 2 guns
Snitch - Original motion picture soundtrack
Alex Snydman - Fortunate action
Spellbound - Captivating works for orchestra and large ensemble
Spiral System - Be
Andrew St. James - Doldrums
Jeffrey Stadelman - Messenger and other works of Jeremy Stadelman
Stand Up Guys - Original motion picture soundtrack
Star & Dagger - Tomorrowland blues
Steel Cranes - Ouroboros
Stomacher - Clara
Stone Foxes - Small fires
Straw Dogs - No dividing line
Nora Jane Struthers & The Party Line - Carnival
Sugarman - After the blackout
Summarily Dismissed - To each!
Summer Hours - Closer still
Sunshine - Sunshine
Super Zeroes: Get Awesome - Soundtrack and movie
Swallows - Witching & divining
Phil Swann - Age of opportunity
Patrick Sweany - CLose to the floor
Amber Sweeney - The starting line
Sweet - Live at the marquee 1986
Sweet Honey in the Rock - A tribute
Sweet Knievel - Collapsible
T
20 Something - 20 Something
2 The Nines - Oblivion
Aly Tadros - The fits
Tapestry Ensemble - New York moments
These Animals - Pages
This Is Thunder - 10" Vinyl EP
Thornwill - Requiem for a fool
Thought Transfer - Light my way
Tomfun Orchestra - Earthworm heart
Jay Trainer Band - Jay Trainer Band
Chandler Travis Three-O - This is what bears look like underwater
Joe Treewater - The ice cream social
Nicholas Tremulis Orchestra - For the baby doll
Tune Into My Mind Radio - A tribute to multi-talented vocalist Kelly Keeling
Two Hours Traffic - Foolish blood
U
UFU - Mozie
Ugly Guys - Lost in the badlands
Unscratchable Itch - A tribute to little fyodor
Universe - Chances
Up The Up - Down down down
Urp - Slop it up with a mop
V
Bobby Jo Valentine - Home
Various artists - Made IN Iceland VI
Various Curelties - Various Cruelties
Jacob Varmus - Terminal stillness
Ray Vaughn - Way down low
Thisbe Vos - Under your spell
Vulnerable - We're not
VYIE - Nightingale
W
Tim Warfield - Jazzy christmas
Way Back - Way Back
Weaver At The Loom - Before now was then
Hope Wechkin - Leaning toward the fiddler
Whitewater Ramble- Roots & groove
Widowmaker - Widowmaker
Wig Party - Glass girls
Ira Wiggins - When freedom swings
Wiggy's Popo - Flowers for Wiggy's Popo
Wiseguys - Scallywags
Sterling Witt - Sterling loves U
Words In Flight - Words In Flight
Rustsy Wright Band - This, that and the other thing
X
XXX Means Dull - Pornography stinks
Y
Yacht Rock Revue - Yacht Rock Revue
Young Sinclairs - You know where to find me
Your Future Lovers - Eat. play. leave.
Yup - Nope
Z
Zamora Rose Project - Stand true
Zeezee - Weewee
Zzinn - Wullywoo