February 2017 Comics, Poetry, and Reviews by

Stream "Not A Pretty Picture"

*Top Picks =

If you can't think things you want to think, think things you don't want to think.
* * * * * * * * * * * * * * * * * * * * *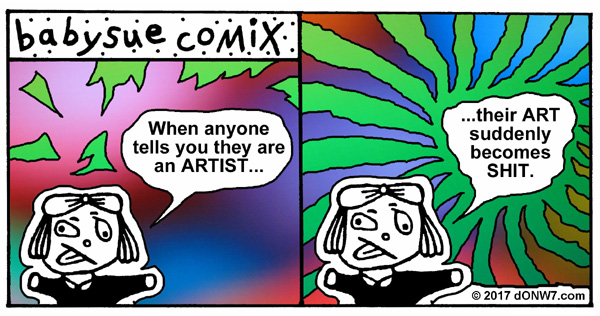 Bee
Not good for
Anything.
Blair Witch - Original Motion Picture Soundtrack: Adam Wingard (CD, Lakeshore, Soundtrack)
We have to admit we weren't impressed with the hugely popular 1999 film The Blair Witch Project. It wasn't scary or frightening...or even interesting. Though we haven't yet seen it, most folks are reporting that Blair Witch (the 2016 follow up) offers pretty much the same ingredients, although even less interesting than the original. That's the bad news. The good news is that you don't have to like either film to appreciate the soundtrack. Actually, this really sounds more like atmospheric experimentation than a soundtrack...and that is a very good thing. Adam Wingard has created some cool, creepy sounds here. And spinning this can create rather bizarre and intriguing vibrations in your mind. So while you might want to skip the viewing experience, we sure would recommend this to fans of experimental electronics and sound presented as music. Strangely chilling cuts include "Black Hills Forest," "Campfire," "Lane and Talia," and "The House in the Woods."
Dewa Budjana - Zentuary (Double CD, Favored Nations Entertainment, Progressive)
The tenth solo album from Indonesia's Dewa Budjana. This talented guitarist is already well-known in other parts of the world. And with the release of slick, mind-expanding albums like Zentuary...that fame is now quickly spreading to the United States and beyond. This hefty double disc package features a wealth of perfectly executed intelligent music. Backing Budjana on these tracks are Jack DeJohnette, Tony Levin, and Gary Husband. Other folks lending their talents include Guthrie Govan, Tim Garland, and Danny Markovich (Marbin). These musicians are all extraordinary. You won't hear any noisy experimental art here. These folks are all accomplished musicians who really know how to play. These discs are housed in a cool triple foldout cardboard sleeve (the front cover artwork is wonderful). All of the songs were authored by Budjana except for one track composed by Reuter and Levin. Zentuary was recorded at Dreamland Recording Studio by Matthew Cullen. As such, the sound quality is exceptional from start to finish. Heady, inventive, and ultimately very fluid. Mighty cool stuff.
Brent Cash - The New High (CD, Marina, Pure pop)
Athens, Georgia-based singer/songwriter/multi-instrumentalist Brent Cash has found an appropriate home on Germany's Marina label. Appropriate because his superbly arranged pure pop is right in line with other artists on Marina. This is Brent's third full-length release, and it's a total keeper. This fellow's music recalls a whole host of classic pop artists from the past like Burt Bacharach, The Beach Boys, The Carpenters, The Beatles, Todd Rundgren, Van Dyke Parks...and many, many more. If you've become burned out and bummed by throwaway pop in the twenty-first century, this guy's music just might give you hope for the future. The New High is an appropriate title because these songs are so good they will actually make you feel like you're experiencing some new kind of high. Cash played all the instruments and did all the voices himself. These tracks will probably remind folks of Rundgren masterpieces like Something/Anything? and The Ballad of Todd Rundgren...except the overall sound is much bigger and more orchestrated. Listening to these tracks, you can't help but be impressed by this guy's melodic sense and his ability to come up with fresh and imaginative arrangements. This album spins like a non-stop string of classic pop hits. Fans are bound to instantly fall in love with wonderfully effervescent tracks like "The New High," "Out For Blood," "Dim Light," "All in the Summer," and "Perfection Comes Near." Pure pop perfection delivered with true integrity and style. This one's bound to be a fan favorite for decades to come. Highly recommended. TOP PICK.


Clem Snide - You Were A Diamond (Vinyl LP, Tractor-Beam / Happy Happy Birthday To Me, Alt-country/pop)
Hard to believe the guys in Clem Snide have been around since 1991. Perhaps to honor the band's twenty-fifth anniversary (or thereabouts), the folks at Tractor-Beam and Happy Happy Birthday To Me have made the band's debut album available on vinyl for the first time ever. You Were A Diamond was recorded in 1997 and was originally released in 1998. The release of the album resulted in the band being signed to Sire Records by Seymour Stein, who was responsible for signing Madonna, The Ramones, Talking Heads, and more. This reissue might just develop an entirely new audience for this band. After all, the whole alt-country / Americana thing has taken off in a big way over the past few years. So it seems fitting that this music has now been reissued on vinyl. Sparse and pensive, these tracks are a far cry from the heavy overproduced sound of pop music in 2017. At the time this album was recorded, the band was comprised of Eef Barzelay, Jason Glasser, and Jeff Marshall with Eric Paul, Pete Fitzpatrick, Sue Weston, and Bill Grabek lending their talents as well. Eleven smart melodic tracks including "Better," "Nick Drake Tape," "I Can't Stay Here Tonight," "Fruit Salad Stains," and "Chinese Baby."
Dennis Coffey - Hot Coffey in the D (CD, Resonance, Jazz/instrumental/pop)
Dennis Coffey's sound and influence are probably far more familiar to people than his name. Even though the name might not be immediately familiar, you can be certain you've heard this man's guitar many, many times over the years. Coffey was (and is) a session guitar player. In the past his immediately recognizable guitar sound has appeared on well-known recordings by Del Shannon, The Temptations, George Clinton, Funkadelic, Edwin Starr, Freda Payne...the list goes on and on and on. Coffey was a member of the Funk Brothers, who were responsible for a whole slew of hits on the Motown label during their golden years. This album features seven lengthy tracks recorded live during the guitarist's 1968 residency at Morey Baker's Showplace Lounge in Detroit. Backing Dennis are Lyman Woodward on organ and Melvin Davis on drums. Woodward played with such notables as Martha Reeves & The Vandellas and Davis played drums for Smokey Robinson and Wayne Kramer. The folks who attended these 1968 shows were lucky music fans indeed. And now, thanks to the folks at Resonance Records, everyone can hear the groovy vibes created by this cosmic trio. This package also includes an incredible 56 page (!) booklet featuring all kinds of intriguing information and great vintage photographs. Recommended. Top pick.


Vivian Cook - The Long Shot (CD, Omnivore Recordings, Pop)
The debut album from Los Angeles, California's Vivian Cook. Ms. Cook is a newcomer to the world of music...but she might just be one of a chosen few who gets lucky and scores major hits right off the bat. If the songs on The Long Shot are any indication of what she's capable of, you can bet this lady's career is going to skyrocket. The first thing most folks will notice about Vivian is her voice. She has a crystal clear voice that absolutely cuts through the mix and she's remarkably focused. These songs have enough familiar elements to draw most listeners in. And yet at the same time they're original enough to prevent them from becoming generic tracks on the musical landscape. The key word here is...catchy. There's something about these melodies and lyrics that immediately makes you want to hear them again. And that's probably the single key facet that will move Cook's career forward quickly. Produced by R. Walt Vincent, these cuts have a nice thick slick sound that should appeal to those who prefer the sound of analog and vinyl (even though the album thus far is only being made available as a CD and download/stream). Instantly catchy tracks include "Know-It-All," "Whatever," "Train Conversations," and "Farewell L.A."
Brian Cullman - New Year's Eve (Independently released CD EP, Pop)
We were very impressed with the last album we heard from Brian Cullman. This interesting and unique fellow has done it again. If the title track on this EP doesn't become something of a standard in years to come, we will be surprised. The chorus line is unforgettable: "I'm just a New Year's Adam looking for a New Year's Eve." The phrase and melody are both guaranteed to immediately stick in your head like glue. Cullman's music reminds us in many ways of Magazine (Howard Devoto) and mid-period Talking Heads. That immediately puts him in musical terrain that is very much unlike the majority of bands and artists in the twenty-first century. Three cool originals here, plus one well-chosen cover tune ("Minor Love"). The more we hear this guy the more impressed we are. Can't wait to hear his next full-length.
Curse of Lono - Severed (CD, Submarine Cat, Progressive pop)
Curse of Lono is the new band created by Great Britain's Felix Bechtolsheimer who was previously in the critically acclaimed roots pioneer group Hey Negrita. Rounding out the band are Neil Findlay, Joe Hazell, Charis Anderson, and Dani Ruiz Hernandez. The band's debut EP was released in 2016, and it also served as the soundtrack to a short film entitled Saturday Night: A Film Of Four Songs. And now, much to the delight of many, comes the band's debut full-length album Severed. If we hadn't read the press release that accompanied this disc, we would've sworn this group is from either the United States or Canada. It's hard to describe these songs really, because they incorporate a variety of different subtle elements while never falling squarely into one single category. And that's probably the strongest aspect of this music. The songs on Severed have a classic sound in some ways. But looking at it from a different perspective, the music is anything but classic. Perhaps the best word to describe the proceedings would be...adventurous. If you're into cool vocal melodies and heartfelt lyrics, this may just be the ticket you've been searching for. Bechtolsheimer has a great voice that is immediately warm and inviting. So much to appreciate here, it's a cool trip into genuine creativity. Superbly crafted cuts include "Five Miles," "Pick Up The Pieces," "London Rain," and "Don't Look Down." Recommended. Top pick.


doubleVee - The Moonlit Fables of Jack the Rider (Independently released CD, Pop)
doubleVee is the new band/project created by Allan Vest (formerly in the band Starlight Mints) and Barb Hendrickson (Filmscapes host/producer). Together, the two present smart, upbeat, well-crafted modern pop with a heavy emphasis on lyrics and arrangements. The Moonlit Fables of Jack the Rider is a concept album that doesn't feel or sound like a concept album. The songs range from basic pop/rock to a sound that is more progressive and offbeat. If you liked Starlight Mints, you're almost certain to appreciate doubleVee. Allan and Barb's vocals merge together seamlessly and, just as was the case with the Mints, the melodies are wonderfully inventive and playful. The album is housed in a beautifully designed sleeve, complete with a handy dandy lyric booklet. This one's a totally cool experience from start to finish. Captivating tracks include "Jack the Rider," "Dangerous World," "Bumper Car Parade," and "Nocturnal Boy." Recommended. Top pick.


The Feelies - In Between (CD, Bar/None, Pop)
It's been about six years since the last album was released by The Feelies. Once again, they've hit the target dead center. The guys in this band have gained and held the respect of many over the years because they consistently stick to their guns and never ever sell out. If we hadn't read the press release that accompanied this disc, we might have guessed this was either a lost album from the 1980s or 1990s...or a collection of rarities and demos. But neither is the case, these are brand new recordings made by the band in their own home studio. We're pleased to report that the basic idea and sound remain the same on In Between. These songs have a wonderfully airy minimalist sound. And, like past recordings, in many cases the lead vocals almost seem secondary to the rhythms and instruments. A lot of folks may very well overlook the things that make this band unique, simply because those elements are so subtle. Guitar riffs that at first seem completely familiar seem strangely different after several spins. Taking the basic instruments everyone else is using and doing something different with them requires a lot of focus and skill. It's no wonder Feelies fans have become so devoted and focused over the past few decades. In a world where constant change seems to cause so many to lose their focus in the world of music, The Feelies continue to be one of those rare cases where the music always stays on track. This album ranks right up there with their best. Eleven expertly crafted cuts including "In Between," "Stay the Course," "Been Replaced," and "Make It Clear." Highly recommended. TOP PICK.


The Flashpot Moments - The Flashpot Moments (Independently released CD, Anthemic pop)
Although this band is mainly driven by the songwriting skills of drummer/vocalist Tim Cawley, the band also includes the talents of a whole slew of ultra-talented musicians. Appearing on this album are Andy Pinkham, Hal Cragin, Tom Polce, Mike Gent, Jamie Edwards, Peter Moore, Daniel Hartzheim, Phil Aiken, Steve Scully, Dave Trophy, Ben Ouelette, Conan Skyrme, and Mike Secher (whew!). The band's name is a reference to peak visual/audio moments at concerts where flashpots go off--flashpots are onstage pyro cannons. These tracks might best be described as anthemic pop or power pop. Cawley writes songs that are instantly catchy and familiar. No artsy or weird stuff here. The compositions on this album sound like a string of hits. These songs remind us of guitar pop bands from the 1990s who presented energized, powerful tunes with soaring melodies and uplifting qualities. Eleven instantly catchy tracks including "Places Unknown," "On Some Awful Night," "Satisfaction Isn't," and "The Last Stand." Good solid stuff that will stand up to many repeated spins.
Those who follow
Fall off the
Ship.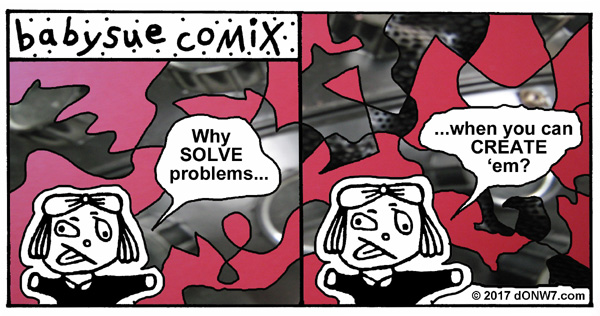 Gordon Giltrap & Paul Ward - The Last of England (CD, Angel Air, Instrumental)
This is a different sort of album than what we're used to hearing from Great Britain's Angel Air label. A few years ago this probably would have been categorized as new age or world music. But in 2017, folks would probably just describe this as instrumental. Guitarist Gordon Giltrap has been making music for decades. He came to the attention of most of his fans with his 1978 hit "Heartsong." Ever since, he has continued playing for his ever-growing fan base. For this album, Giltrap teamed up with keyboard player/producer Paul Ward. Together, the two present some very subtle instrumentals that feature excellent gliding melodies and articulate arrangements. If there's a single word we would use to describe this music that word would be...inspired. Fourteen immaculate tracks here including "The Last of England," "April Love," "Sadie In May," and "A Promise Fulfilled."
Go Time! - VI (CD, Sound Gypsy Recordings, Pop/rock)
The sixth full-length release from the guys in Chicago's Go Time! The thing that always stands out about this band is the fact that the songs are presented as totally stripped down bare bones recordings. As such, the finished takes in most cases sound very much like a real band playing live. VI presents eighteen tracks of the band's trademark power pop. These songs are built upon solid rhythms with electric guitars being the main driving force. The band is comprised of Scott Niekelski (guitar, keyboards, lead vocals), Steve Frzenia (percussion, vocals), Paul Schmidt (guitar, vocals), and Mark Marketti (bass, vocals). Over the past few years word has spread around the world about these guys and their music. This album is certain to help fan the flames. Solid melodies abound in well crafted cuts like "Human After Allo," "Way Out," and "Reading the Coordinates." The guys in Go Time! always deliver.
Matt Hannah - Dreamland (CD, Gamine, Folky Americana pop)
Nice, solid, hummable mid-tempo pop featuring strong melodies and pensive lyrics. Minneapolis-based singer/songwriter Matt Hannah has accomplished the near impossible. In a field that is littered with thousands upon thousands of artists who all pretty much the same, Hannah has managed to create his own unique sound and come across sounding not only original...but inspired. This talented fellow released his debut album Lonely Fade in 2014. That album drew a lot of positive praise. Dreamland is bound to please those who were already fans, and also bring in legions more. Matt has a super smooth warm voice that really makes his music come alive. Listening to this is a very calming experience, but you also truly get the feeling that you get to know this man through his music. The backup band is great, featuring the superb talents of JT Bates, Erik Koskinen, Ian Allison, Aaron Fabbrini, and Matt Patrick. Ten smart well-executed tracks here. Our initial favorites include "Dreamland," "Broken Hearts and Broken Bones," "Set Free," "Something in the Air," and "Morning Song."
Chester Hawkins - Natural Causes: Original Music for Pale Trees, a film by Tim Ashby (Vinyl LP, Intangible Arts, Experimental/electronic)
Peculiar abstract instrumentals created by Chester Hawkins that serve as the score for the feature film Pale Trees that was written and directed by Tim Ashby. The soundtrack is being offered as a limited edition vinyl album of only 500 copies. The music is presented as two lengthy segments, each of which take up an entire side. If you're familiar with Hawkins and his past endeavors (many know him as the man who created Blue Sausage Infant) then you already know this isn't standard fare in terms of sounds and composition. There are musical elements here...repeated rhythms and drones that help to push things along. But there's also plenty of spontaneous improvisation which means there are tons of unexpected sounds and segments that will puzzle and entertain. Chester has had a long and lengthy career, having hooked up with an astounding array of cool and credible labels and artists. The man has built his reputation around creating credible creative music...continually pushing the limits for himself and his listeners. Everything we hear from this ultra-cool fellow is a knockout and this one's no exception. This beautifully packaged vinyl LP is yet another striking addition to a lengthy and mind-boggling catalog of music. Recommended. Top pick.


I Am The Polish Army - My Old Man (Independently released CD, Pop/rock)
Strange name for a band, eh? I Am The Polish Army is the Brooklyn-based trio comprised of Emma DeCorsey, Turner Stough, and Eric Kuby. DeCorsey's songs are most likely influenced by her favorite bands Veruca Salt and The Breeders, which may explain why the cuts on My Old Man have more in common with bands from the 1990s than the present century. Fans of underground guitar bands from the 1990s are bound to get a blast out of this one. This short album (only just over half an hour) presents eight tracks featuring driving rhythms, cool bass lines, nifty overdriven guitars, and vocals that are a perfect fit. It seems as if there has been an increasing resurgence of underground guitar bands over the past couple of years. Groups like I Am The Polish Army are helping to put the punch back in modern music. Kickass tracks include "You Don't Know," "Throat," "The Woods," and "My Old Man."
The Jigsaw Seen - For the Discriminating Completist (CD, Burger, Pop)
Although the title is For the Discriminating Completist, this collection of rarities and singles from 1989 to 2015 will actually appeal to just about anyone who loves good solid classic pop. We've been very impressed by The Jigsaw Seen since we first heard their music years ago. Since that time, they've continued to impress us with their intelligent world class pop songs that feature cool gliding melodies and poignant lyrics. So many bands could only hope to achieve the kind of success these guys have attained thus far in their career. With each and every release, these fellows manage to outdo themselves. The songs combine some of the best elements of pop from the 1960s, 1970s, 1980s, 1990s...right on into and including the twenty-first century. Discriminating Completist features eight originals and four cover songs. Pure pop fans are sure to have their socks knocked off by tracks like "The Best Is Yet To Come," "Celebrity Interview," "Melody Fair" (our favorite), "Baby Elephant Walk," and "Another Predictable Song." The guys in this band always hit the target dead center. TOP PICK.


Kleenex Girl Wonder - The Comedy Album (Independently released Double Vinyl LP, Pop)
Talk about subtlety. You won't find an artist or album name on the cover of this one...only artwork (really cool artwork, by the way...). A quick glance at the back doesn't provide the artist or album name either. If we hadn't looked at the spine, we would've never known this nifty double album package is from the wonderfully inventive pop band Kleenex Girl Wonder. We've been big fans of singer/songwriter Graham Smith from the moment we first heard his music a while back. He's lost none of the spark and magic that first intrigued us. This hefty double disc package presents no less than twenty-six tracks. Smith is one of those guys whose pop music is so smart and inventive that it probably teeters over the heads of most listeners. But those who appreciate what he's doing seem to really appreciate it. This is the thirteenth album from this cool underground pop band. In addition to Smith, it features the talents of band members Matt LeMay and Thayer McClanahan as well as guest artists Max Tundra, Saskrotch, and The Hood Internet. These tracks feature so many things missing in modern pop. Things like creativity...inventiveness...an intelligent and acute sense of humor...and an overall fresh sound and approach. Although there are lots of differences, we can occasionally hear some slight similarities to babysue favorite Steve Harley (Cockney Rebel) at times (!?!). Both albums are pressed on beautiful deep blue vinyl. We've yet to hear anything from this totally groovy band that we didn't love. In addition to making killer music, there are also some totally cool Kleenex Girl Wonder videos on the internet. Another instant TOP PICK. Recommended.


Mark McKinney - World In Between (Independently released CD, Country pop)
The fifth full-length release from Mark McKinney. This talented fellow has already had major success in his home state of Texas where he has had three major hits. And now, with the release of World In Between, he seems perfectly poised to transfer that success to the rest of the world. Listening to this, one might be inclined to think that Mark is a Nashville-based artist. But while his songs may best be categorized as country pop, his overall sound is much more organic than what we normally hear from Nashville. Instead of perfectly tweaked perfection, the tracks on World In Between have a nice warm sound and feel. You almost get the impression that McKinney and his band are in the room playing live. This guy has a lot going for him. He writes genuinely friendly, cool songs that immediately stick in your mind like glue. And he has a voice that could easily catapult him into superstardom. Eleven listener-friendly tracks here including "90 Miles," "Rainy Day Money," "Close," and "Revolution."

Curtis McMurtry - The Hornet's Nest (Independently released CD, Progressive pop)
Austin's Curtis McMurtry is an artist whose music can't easily be categorized and/or described. Probably the best word to describe the overall sound and feel here would be...timeless. This is the follow up to McMurtry's 2014 debut album Respectable Enemy. While listening to these well-realized tracks, we can hear traces of pop, folk, blues, bluegrass, jazz, and more. Upon reading the press release, we weren't too surprised to read that Curtis mainly listens to music recorded before 1950. This has obviously had a profound impact on his own sound. We were pleasantly surprised at the sparse, simple arrangements for most of these tracks. At a point in time when just about everyone seems to overdo everything, these cuts sound remarkably organic and real. Even after spinning this one several times, we're hard pressed to come up with any obvious comparisons. McMurtry's voice is immediately friendly and effective. Instead of a person singing songs, he comes across more like someone speaking to you with his lyrics. Thirteen cool reflective cuts including "Hard Blue Stones," "Smooth as Thorns," "Can't Be Better," and "Shot at the Title." Smart, melodic, and genuine.
There is nothing what
Can complete competition for with
Mighty crunchy.
Mod Hippie - Big Wow (CD, Karma Frog, Pop)
The last album from Mod Hippie (Tomorrow Then, 2015) garnered a lot of critical acclaim. Now comes the follow up, Big Wow. This band is driven by the songwriter skills of Doug McGuire and Mike Schnee. In addition to McGuire and Schnee, the band features the talents and skills of a whole slew of some of California's best: Adam Marsland, Teresa Cowles, Connor Claxton, Matt Zook, D.J. Bonebrake, David Marks, and Jason Berk. Take a bunch of well crafted songs and incorporate the skills of some super talented folks and what do you get? An album that you can spin and spin and spin and spin again. These tracks feature instantly memorable melodies, intelligent lyrics, and an overall cool vibe that will appeal to pop fans and those wanting something a bit more alternative in nature. In addition to originals, this album also includes a cover of the Elvis Costello track "Night Rally." Housed in a cool digipak sleeve complete with nifty l'il lyric booklet, Big Wow is a knockout from start to finish. Killer cuts include "Big Wow," "Psycho Romeo," "It Ain't Like That No More," and "Eyes To Heaven." Groovy stuff.
R. Stevie Moore / Jason Falkner - Make It Be (CD, Bar/None, Pop)
This is an interesting pairing...and the results are refreshingly genuine and thoroughly entertaining. Both of these guys should be instantly familiar to diehard music fans. R. Stevie Moore is one of the pioneering home recording musicians whose longevity and talent are known around the world. Jason Falkner is a power popster whose connections and credits are so lengthy and varied that just summing up his contributions becomes somewhat overwhelming. This album is a real gem. Our guess is that the humorously-titled Make It Be will forever be considered a high point in both of these men's careers. The album blasts out of the gates with the oughta-be-a-hit sounds of "I H8 Ppl." The track features a chorus so infectious that it will remain stuck in your head forever. Next up is the XTC-ish "Another Day Slips Away." At this point, most listeners will realize that Moore and Falkner are somewhat of a match made in heaven. Most of the songs are penned by R. Stevie but Jason is the co-composer on four tracks and presents one original that is solely his own (the ultra cool semi-psychedelic "Horror Show"). Make It Be is a creative and artistic success on many different levels. Truly inspired and inventive. Top pick.


Conan Neutron & The Secret Friends - The Art of Murder (Vinyl LP, Seismic Wave Entertainment, Rock/pop), (CD, Seismic Wave Entertainment, Rock/pop)
The new album from Conan Neutron & The Secret Friends is available on both vinyl LP and CD. We received both. The first thing we noticed here...is that Conan's gotten a lot heavier of late. The guitars are way up in the mix...and the rhythms are hard and furious. The songs on The Art of Murder effectively combine grunge and sludge with power pop. In effect, you have songs that are catchy and hummable. But instead of safe pop, these tracks have a serious bite. The friends lending their talents and support are particularly notable. Playing and/or singing on this album are Tony Ash, Dale Crover, Buzz Osborne, Dana Poblete, and Toshi Kasai (whew!). Over the past few years more and more bands seem to be taking their cue from the 1990s...turning up instead of down...and offering pessimism as opposed to optimism. There's just far too much safe and samey music in 2017. We're hoping that artists like Conan Neutron are part of a new wave of artists and bands wanting to push things to the next level...rather than stay on the same dull monotonous path. Eleven hard-hitting groovy tracks here including "Chesapeake Ripper," "Avid Fan," "Quid Pro Quo," and "Chair of Antlers." Includes a nifty foldout sheet with lyrics. Good solid stuff with balls.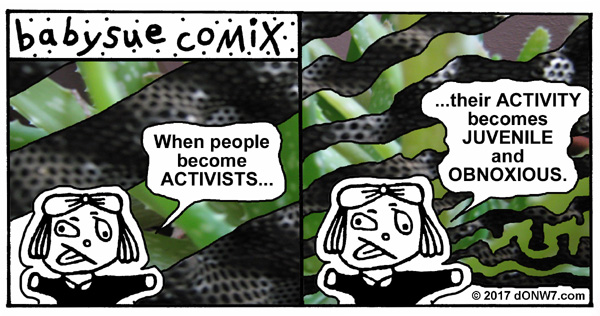 Matt North - Above Ground Fools (Independently released CD, Pop)
Matt North is a multi-faceted entertainer whose talents aren't confined to one specific area. North has been a session drummer, a fact-checker (for the magazine Mother Jones), an actor, and a standup comic. Above Ground Fools is his first solo album, so he can now add singer/songwriter to the list. Matt's first album features the talents of some mind-boggling folks. Playing on this album are Chris Donohue, Stuart Mathis, Michael Webb, Michael McAdam, Billy Livesy, Christopher Wild, and The Nashville Horns. The songs on this album have a familiar, accessible sound. North isn't trying to create artsy difficult music. These songs have an overall friendly vibe and sound, and several sound like potential hits. These tracks would already be impressive, but they're even more so when you consider the fact that this is North's debut. Ten instantly hummable, feelgood tracks here including "A Good Day in Nashville," "Seventeen Days," "Murder Shows," and "Badgering the Witness."
Buck Owens and the Buckaroos - The Complete Capitol Singles: 1957-1966 (Double CD, Omnivore Recordings, Country/pop)
This is a bit different from releases we normally hear on the Omnivore label...but it's just as great, even though coming from a different vein. Up to this point, the only reference point we really had for Buck Owens was his appearance on Hee Haw. Probably because of his connection with the show, we didn't have much an opinion about Owens...except for the fact that he appeared on a show we did not enjoy. As a result, this double disc collection opens up our eyes completely to an entirely different side of this talented man and his career. In our ignorant little world, we never had any idea how much music Buck made prior to Hee Haw...probably because we were too obsessed with The Beatles, Herman's Hermits, and Ohio Express to realize that anything else existed. The Complete Capitol Singles quickly corrected our deficient perception. With his band The Buckaroos, Owens scored no less than twenty-one (!!!) number one hits on the Billboard country music charts. Hearing these songs now is like catching up on lost pieces of musical history that originally escaped us. Buck had an amazing voice...and his songs were refreshingly simple and effective. No wonder folks went crazy over these tracks when they were originally released. Unlike so much of the processed country pop in the twenty-first century, these tracks have a nice genuine overall vibe that is immediately friendly and inviting. Something we also never knew is that Owens took a break from his career in 1974 when his guitarist Don Rich passed, only choosing to step back into the limelight by performing with Dwight Yokum in 1988. There's a huge amount of material here...twenty-eight tracks on each disc, offering a total of fifty-six cuts (yow!). There's really not a bad track to be found. But some of our initial favorites include "Come Back," "Everlasting Love," "King of Fools," "My Heart Skips A Beat," and "The Way That I Love You." We love it when something comes along to change our opinions and perceptions. And this one did just that. Recommended. TOP PICK.


Josh Preston - Josh Preston (CD, Me and the Machine , Pop/soul)
The new self-titled album from up-and-coming singer/songwriter Josh Preston. Although we haven't heard Preston's previous albums, with this one he's apparently taken a different approach...focusing on soul/pop rather than folk. Preston has a warm and inviting sound and his songs are the type that could easily appeal to a very large segment of the listening population. These easygoing tracks tread on that thin line that separates pop from soul. The playing is tight and focused, and the arrangements kept to a minimum which allows the listener to focus on the melodies and lyrics. Listening to these tracks, we could imagine a whole host of well-known celebrities covering Josh's tunes. This is a short album that clocks in a just under twenty-seven minutes. But in that amount of time this talented fellow makes his point. Cool bluesy pop cuts include "I'll Be Around," "The Human Condition," "Luckiest of Losers," and "White Trash Wedding Vows."
Don Rich and the Buckaroos - Guitar Pickin' Man (CD, Omnivore Recordings, Country/pop)
Wow. Talk about shedding some new light on an individual who really deserves it. Don Rich was the guitarist and songwriter who was the right hand man for Buck Owens during the peak of his career. But while most folks know Buck's name and face, fewer are as familiar with this talented fellow who was obviously one of the critical elements in Owens' sound...and a talented singer/songwriter in his own right. Sadly, Don was killed in a motorcycle accident in 1974. Even sadder is the fact that the tragedy ended not one but two careers (at least temporarily). Owens dropped out of the spotlight for over a decade following the event. Thankfully Rich's music will always live on thanks to the world of music and technology. Guitar Pickin' Man is a wonderfully entertaining album. Don wrote or co-wrote most of these cool and catchy tracks. If you dig classic country music that comes from a genuinely real personal space, you will love this album. Too bad this man didn't have tremendous success as a singer cuz his voice is simply amazing. He's just as good...if not better...than most of the well-known country singers we've heard from the 1960s and 1970s. Rich did release one album with his friend Buddy Allen in 1971 entitled We're Real Good Friends. Now his legacy continues to live on thanks to the folks at Omnivore. This ultra-cool package features some notes from Don's sons Vance and Vic Ulrich and some great photos that really make you wish you'd known the man. Eighteen tracks that will ensure Rich will always have a solid place in the world of music. Recommended. TOP PICK.


Jake Shimabukuro - Nashville Sessions (Vinyl LP, JS Records, Jazz)
Totally cool vinyl LP pressed on red vinyl. The first thing that just about everyone probably notices first about Jake Shimabukuro is that the man plays...ukulele (!). Sounds goofy, huh? But what they probably notice soon afterward is that his jazz music is anything but a joke. Shimabukuro is probably one (or nearly the only one) who is a serious jazz musician whose main instrument is the ukulele. Even more interesting is that upon listening to Nashville Sessions...most folks would probably not even realize that they're listening to ukulele jazz. And that's because Jake has probably pushed the limits of ukulele playing to an entirely new level. The guy is so talented, proficient, and focused...that the instrument transcends its normal limitations. Jake's backing musicians are impeccable. These recordings feature Nolan Verner on bass and Evan Hutchings on drums. Eleven free-flowing tracks recorded with precision and style. Our favorite compositions include "Man of Mud," "Motown," "Blue Haiku," and "F Minor."
Shoot - On The Frontier (CD, Angel Air, Pop)
This is the first time that this album has ever been made available on CD. Shoot was a short lived band. During the time they were together, this is the only album they released in 1973. The band was comprised of Jim McCarty (lead vocals, keyboards, percussion), Dave Greene (vocals, guitars, banjo), Bill Russell (bass), and Craig Collinge (drums, percussion). Principle songwriter McCarty is best known as the drummer in The Yardbirds and Renaissance. But he has also released solo albums and played in Together, Illusion, Box of Frogs, Stairway, The British Invasion All-Stars, and Pilgrim (whew!). This is one of those cases in which this album will probably find an entirely new listening audience in 2017. It seems sad that these tracks have been unavailable for such a long time. Although recorded decades ago, these recordings have lost none of their magic over the years. The playing is precise and inspired, and the vocals are simply amazing. Recorded at Abbey Road studios, these cuts still sound amazing. In addition to the original ten tracks on the original album, this reissue also includes the bonus tracks "Storms As Sorrows (radio session)" and "The Neon Life (radio session)." Listening to this, one can't help but wish these guys had kept things together longer to record more music. Another true gem unearthed by the folks at Great Britain's Angel Air label.
Skinny Girl Diet - Heavyflow (Vinyl LP, Happy Happy Birthday To Me, Rock)
We instantly fell in love with this band when we saw the cover of Heavyflow. In a world where everything has become way too safe and tame, this album cover is certain to bother thin skinned retards. Three beautiful young girls in white dresses and high heels. So...what's wrong with this picture? Just three specifically well-placed blood splatters in just the right private places. Hilarious. Although the cover is sure to get folks talking, we found that the music is even more interesting. The ladies in Skinny Girl Diet play heavy rock that has a lot more in common with underground bands from the 1980s and 1990s than bands in the twenty-first century. If you like heavy bands, there's a good chance you'll get some major thrills out of the tunes on Heavyflow. No cutesy pop here and no traditional girl group sounds. These ladies play with a furious intensity that competes with or outdoes what the boys are capable of. Plenty of crazy fun tracks. Our initial favorites include "Comedown Intro," "Yeti," "Bored," "Fix Me," and "Wasted Smile." The band is comprised of Delilah Holliday on guitar and vocals, Amelia Cutler on bass and backing vocals, and Ursula Holliday on drums and backing vocals. These girls are helping to make rock music exciting again. A hard and heavy experience. Recommended. TOP PICK.


Spirits Burning & Clearlight - The Roadmap In Your Head (CD, Gonzo Multimedia, Progressive)
The thirteenth full-length release from Great Britain's space rock collective Spirits Burning. This album initially caught our attention because it also features the talents of Cyrille Verdeaux who was in the psychedelic/progressive band Clearlight Symphony (the band's first album remains one of our favorite trippy albums from the 1970s). We've always felt that Verdeaux deserves way, way, way more attention than he has thus far received in the world of music. It's no wonder the folks in this band hooked up with him. The compositions on The Roadmap In Your Head remind us very much of Clearlight albums. The music is fluid, heady, slightly psychedelic, intricate, and very beautiful. A whole slew of musicians were involved in the creation of this album. The thirty-five members include members of Gong, Camper Van Beethoven, and Hawkwind...plus a whole slew of like-minded individuals. You'd think with so many people involved the sound would be thick and cluttered. But in fact, the opposite is true. These peculiar tracks have a nice open sound and feature plenty of superbly inventive spontaneity. Fantastic stuff. Fourteen tracks that are certain to inspire, puzzle, and entertain. Highly recommended for all diehard progressive music fans. Recommended. TOP PICK.


The tail of Prinnith
Is only presented
As head of tail
Resumes in
Prinnith.
Tohpati Ethnomission - Mata Hati (CD, Moonjune, Progressive)
A lot of folks were impressed with Tohpati's guitar skills as featured on his debut album (Save the Planet) that was released in 2010. Although it took a few years, Tohpati has now released his follow up, entitled Mata Hati. Backing musicians this time around are Indro Hadjodikoro (bass guitar), Diki Suwarjiki (suling bamboo flute, tarompet), Endang Ramdan (kendang percussion), Demas Narawangsa (drums) and the Czech Symphony Orchestra (!). As you might guess, these tracks have a big polished sound. You can hear Tohpati's Indonesian roots here. Combined with the progressive overall sound, it's kinda like a world where things collide...but then merge perfectly. These nine lengthy tracks go all over the place in terms of sounds and styles. The dexterity of the players is probably what will impress folks the most. These cuts are purely fluid and they are executed to pure perfection. Cool complex compositions include "Tanah Emas," "Mata Hati," "Reog," and "Amarah."
Toma - Aroma (Independently released CD-R, Pop)
Smart classic pop played with true focus and style. Listening to these tracks, we couldn't help but be reminded of 10CC. The basics of the songs are similar, the fuzzed out lead guitars are similar, and the vocals even have eerie similarities at times. All of this said, these guys are not a copycat band. The songs are purely their own. True to the claim of the press release, the music also recalls artists like Todd Rundgren, Squeeze, The Olivia Tremor Control, and Neutral Milk Hotel. Produced by James Petralli, Aroma spins like a collection of oughta be hits. Fans of classic pop will probably have the exact same reaction we had. On the very first spin, the songs on this album were putting us into a purely effervescent mental state. This is one of those rare albums where we wouldn't change a thing because the band and producer simply got everything right. Yup, all the pieces just fall right into place as they should on all eight tracks. And there's not a bad track here...they're all exceptional. Killer cuts include "Going Nowhere," "Estranged," "A Certain Kind," "One Thousand Times," and "Open Minded." HIGHLY RECOMMENDED. Top pick.


Chandler Travis Philharmonic - Waving Kissyhead Vol. 2 & 1 (CD, Sonic Trout, pop)
We knew we were going to like this guy when we noticed that he reversed the numbers on the album title (putting "2" before "1"). A subtle thing certainly, but it immediately makes it clear that this guy has a sense of humor about what he's doing. When you open up the tri-fold sleeve and see the goofy photographs on the wall...well then, you'll probably be sold on this cool, creative fellow and his feelgood upbeat pop. If we hadn't read the press release that accompanied this album, we would never have guessed that Chandler Travis has been making music since the 1970s (!). Back in the day, he and Steve Shook formed Travis Shook and the Club Wow. In the 1980s his band was the Incredible Casuals. And now in the twenty-first century, he has three bands/projects: the Chandler Travis Three-o (a quartet, dontcha know...haw haw), the Catbirds, and the Chandler Travis Philharmonic. Talk about prolific. Listening to this, we couldn't help but think that Chandler's music sounds kinda like an American version of The Kinks in the 1970s. Several different elements present in these tracks remind us of Muswell Hillbillies. There's so much creativity here that a lot of folks probably won't "get it." This is an album that is truly entertaining. Over an hour's worth of tunes. No techno pop fluff here, this is real music played by real people. And it has a real soul and conscience. Cool thought-provoking tracks include "You Got Me Started," "By the Way," "Bobby Brown" (hilarious), "Break the Chains," "When the Moon Shines," and "Make Yourself Happy." Great stuff played with integrity and style. Recommended. TOP PICK.


Tumbledown House - Sum and Substance (CD, Silent Coyote Music, Progressive pop)
Nice subdued bluesy pop with smokey undertones. We were impressed with the last release we heard from these folks (Fables and Falsehoods). This album presents more moody, intricate songs that will have definite appeal for unconventional music fans. These days the band is comprised of Gillian Howe, Tyler Ryan Miller, Zac Johnson, Ryan Lukas, Adam Starkpof, Brandon Cockburn, Chris Cundy, Darren Johnston, and Danny Lubin-Laden. With so many musicians involved, you might think the sound would be cluttered and overproduced. But instead, these tracks have a cool direct sound. And we're really impressed with the New Orleans-ish horns that provide some really cool threads here. Howe's vocals are warm and inviting, and the arrangements are a perfect fit for each song. Tracked at the always impressive Tiny Telephone Studio in San Francisco by Bob Shelton. Nine pensive smart cuts including "Shaky Little Thing," "The Buttons In Me," "Sullied Acres," and "Set You Down." The more we hear these folks the more impressed we are.
Your hair is
Very hip and dumpy.
Your pad is
Very hip and dumpy.
Your band is
Very hip and dumpy.
Your mind is
Very hip and dumpy.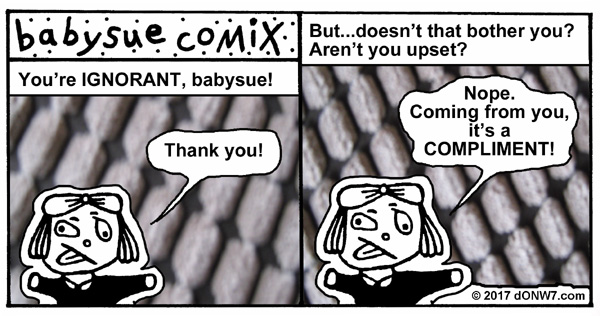 The Wedding Present - Going, Going (Double Vinyl LP, Scopitones / Happy Happy Birthday To Me, Pop/rock)
The ninth studio album from the legendary British band The Wedding Present. Time has fortunately stood still for David Gedge and associates in many ways. Fortunate because when you have something great...why change it? Actually, things have evolved and changed somewhat...but the basic idea and sound of the band is remarkably similar to the early days. What is most different about Going, Going is the way it is presented. This time around, Gedge opted to record twenty compositions and then create videos for each (along with assistance from photographer Jessica McMillan). Thus, the British Scopitones label is offering this album in three different editions...as a standard CD + DVD, a deluxe CD + DVD with bonus tracks and book, and as a double vinyl LP + DVD with a bonus 7" single. The American version we received (co-released by Athens' Happy Happy Birthday To Me label) included two vinyl LPs and the DVD. The videos are an interesting addition to the Wedding Present offering. Instead of traditional videos, these are more like minimalist visuals...with lots and lots of shots of water. Water seems appropriate as music itself is often reminiscent of flowing liquid. Of course, songs are always the main ingredient. And on Going, Going you'll get more than your money's worth. David creates a neverending flow of credible, memorable, substantial songs for those who are fortunate enough to follow his career. We've loved every album and every project this man has been involved in. This is yet another winner. Highly recommended for Wedding Present fans and anyone else who loves great guitar pop. TOP PICK.


Austin Wintory - Abzu (CD, Varese Sarabande, Video game score)
The evolution of music for games is intriguing and rather mindblowing. Whereas video game music was originally just some simple blips and bloops...the genre has now evolved to the point where it often rivals or sometimes exceeds music created for major motion pictures. Abzu, the latest score created by Austin Wintory, is an excellent example of just how far game scores have come in the twenty-first century. Abzu is the new game created by thegamecompany Art Director Matt Nava. This is not the first time Wintory and Nava have collaborated on a project. The two were involved in the incredibly inventive and popular game Journey that was released in 2012. Abzu is a fantasy game that takes place underwater. As such, it should appeal to a wide range of folks who would love to travel into the depths of the oceans...but could never afford the luxury. The music for the game is ultimately soothing, intriguing, and sometimes peculiar. Listening to this, many would probably think it is the score to a movie rather than a game. Eighteen perfectly executed compositions from the man who has been dubbed "Gaming's Eclectic Outspoken Maestro." Cool heady cuts include "To Know, Water," "No Field Was Formed," "Chaos, The Mother," and "Then Were Created the Gods in the Midst of Heaven."


Hans Zimmer - The Classics (CD, Sony Classical, Soundtrack)
Twelve tracks featuring some of the best and most well-known creations of iconic composer Hans Zimmer. This talented fellow has created scores for more than 120 films (!), the most successful being his score for The Lion King. This 'best of' collection features the talents of The Czech Philharmonic Orchestra (conducted by Gavin Greenaway). In addition, these recordings feature a dazzling array of well-known and cutting edge modern artists: Lindsey Stirling, The Piano Guys, Lang Lang, Till Bronner, Tina Guo, Amy Dickson, Leona Lewis, Maxim Vengerov, Khatia Buniatishvili, 2Cellos, and Roger Sayer. For those already familiar with Zimmer's compositions, these tracks will serve as exciting new versions that allow the listener to appreciate the music all over again. For those not so familiar with the man and his music, this will serve as the ultimate brief introduction. This release has been made available by the fine folks at Sony Classical, so you know the sound quality is top notch. Breathtakingly beautiful compositions include "The Dark Knight Rises: Main Theme," "Crimson Tide: Main Theme," "The Thin Red Line: Light," and "Interstellar: The Docking Scene."
A
Ryan Adams - Heartbreaker (deluxe edition)
Ryan Adams - Dustjacket (relaxed edition)
Additional Items Composed - Reversal of radishes
Additional Items Reversed - Back to the additional items
Adele - My frisky rat puppy done ate my head off
Alice Copper - Lob it to Seth
Allman Brothers - Crackdown concert 1986
Shirlette Ammons - Language barrier
Am Not - Am too
Anohni - Hopelessness
Anthrax - For all kings
Antlers for Booboo - Oh no not that tired old runt again
Apples Got Smushy - Train smush
Athens Is Not A City - Trauma for the bush animals
Augusta Is Not A City - Wilma for the plush panels
B
Bad Bump - Banana tread
Badfigure - Crooked down
Bambi Dambi - Lambi
Ballerina Pumps - Blackass
Barge - Limpy
Beadulls - Desmocker
Beatles - Medium rare
Bee Numb - Numb bee
Beyonce - Sorry
Beyonce - I can dance even if I can't do anything else very well
Beyonce - If all you want is an ugly body and face, I've got both
Beyonce - Don't you get tired of hearing my stupid name all the time
Beyonce - I'm really a boring old hag who looks terrible without thick layers of make-up
Beyond the Beyonder - Blander and blander
Bjork - Vulnicura live
Black Tabitha - Pastor of senility
Blankets for Blankets - Laps
Blender in a Blinder - Fizzle
Breezer the Flew - Like dazzlers in fume
Butler Pudding - Lippity gris gris
Buzz's Lamp Cord - Tawny frink
C
Car Mump - Dazed and refused
Casket of Corformity - Laser dog
Cast of Cast - Lastly
Cat Grave - Mickey's laboratory
Cesula - Maid in martians
Chance The Rapper - Coloring book
Chicago - Love songs
Chump - Malaria
Chunks of Paisley Pumps - Lordy the snore is a plaza burn
Eric Clapton - I still do
Phil Collins - No jacket required
Come To Lulu's Nurse - Romp and the bumpy tum tum
Confederate Railroad - Happy to be alive
Conscious Or Not - Grumpy lazy
Crap You Like - Tape measure
Crosby, Stills & Nash - Survival Sunday
Crunchy Links - Switches and prawns
Czerchnkii - Dim
D
Dadfinger - Where's dad's finger when you need it?
Dae Dae - Mae Mae
Daisy Days - Freezing
Damn People - Damn People
Damn Tumblers - Damn Tumblers
Damn Warp - Damn Warp
Damn Zoo - Damn Zoo
Deftones - Gore
Diets Are For Dimwits - Lassie's lost pudding cup
Dimmer than Dim - Inputs
Dion - New York is my home
Dirty Pennies - Flocks and pimps
Doves That Die Today - Lassie
Drippy Dennis - Directional
Dry Potato - Sync
Ducks for Ducks - Nine hundred ponies
Dumb Sounds - Like Nanny and the poodle
E
Each and Each - Teach
Eachy - Preachy
Eat The Bounty Feathers - Naptime
Elephant Muff - Beneath the blurry knob
Elves and Bumpy Thumpers - Original motion picture soundtrack
Emergency Flakes - Phasers
Empty - Flow
Empty Flower - 1 2 3 4
Enter the Entrance With Lockets - Glasses on the puddle
Eventually We'll All Die With Nothing - Pom poms
Everyone But - But Everyone
Ewe - Ranch funk
EZ - Not so
F
FA - La la
Famous Famous - Converter
Far Out Far In - Farin
Faxes Forever - Limp little pixies
Ferz - Lizzy
Fifty Million - Zero lads
Finks Forever - Live at the dead
Five Times Fifty-Five - Live
Four Times Four Is Four - Five times
Foxes - All I need
Fume - Lumps
Funky Laminate - Parking
Fur For Francis - Pouches
G
Gas Pumps - Last primper
Gauge Rage - Now cow
Germany's Burp - Lamp drill
Get Your Begging Done - Tower bitch
Vince Gill - Down to my last bad habit
Goo Goo Dolls - Boxes
Graham Slackers - Naturally grabby
Ariana Grande - Into you
Grass Patches - Dolby
Josh Groban - Stages live
David Guetta - This one's for you
Guns N Roses - Acoustic session: Radio broadcast 1987
H
Hay - Hay
Hazle - Measurements
Hell for Humans - Happiness is a dumb puppy
Help Me Help Me - Liver
Help the Hopeless - Bloody hearts get you nowhere
Hissy - Laserbon
Hitt - Dawn for the loud birds
Hizzers - Stuck
Ian Hunted - Punts and nuttters
Husperate - ADN
Hut for Henry - Universe of sandy
I
Ian - Jackknife
Icky - Picky, picky, picky
If It Dies Don't Touch It - I offered more than they wanted and they took it
If You Knew Nothing You Would Be Nothing - Drips
Inky Doll - Dampness and dryness
In The End The Beginning - Ridgefield
It Stays Warm - Square butter
IX Lamb Sweater - To each his each
IZZ - Each his to his
J
Michael Jackson - Off the wall
Michael Jackson - Towers of nothing
Michael Jackson - Nosey dopes
Jerry's Apple - Towers
Jerry's Crud - Narry a buster
Jersey is Swervy - Translustre
Jethro Toil - Sick as a tick
Jethro Wump - Aquatong
Elton John - Wonderful crazy night
Elton John - Where did my voice go?
Jones Is A Donkey - Drammamine
Jones Is An Elephant - Mine ain't mine
Judas Priest - Battle cry
Junk Is Just Junk - Lady trunk
K
Kaas - Lacey
Kalesh - Kaos
Kandy and the Ks - Lassie's drool
Kows - Land of the Kows
Krap - Krap
Krazy Cow - Lots of tips
Krunchy Krunch - Captain's caps and tons
Kudzu's Lamp - Drastic
Kunks - The Late Glossy Kunks Album
KWKWERA - Lists
L
Ladies For Pretzels - Louder than the other thing that we had discussed earlier
Lamb Peppers - Smuppy
Cindi Lauper - Detour
Laxative Preamble - Naps and snappers
Let There Be Let - Now there be meow
Lisa Said - First time, long time
Lists - Stop the Lists
Loretta Lynn - Full circle
Loud and Loud - Dull and dull
Lumineers - Cleopatra
Lumps - Lousy mouses
Lung Disease - Trowel
M
Manners and Nanners - Tablets for pokey
Masta Ace - The falling season
Matchbox - Going down there
Math for Math's Sake - Plazas
Maze Lops - Trazzler
Mazer's Big Torch Bucket - Lipsy
Millie's Pork Bucket - Boxes won't go away
Monkey Chuck - Arlene
Monkey Davis - Nervous
Monkey Pauline - Damnable
Moo Moo the Bow Wow - Trouser's ain't fresh no more
Motorhead - Clean your clock
Mrowl - Prowling for mrowl
Murphy and Nop - Dammy and slop
Murphy's Paw - Plaid and dumb
N
David Nail - Fighter
Nasal and Tonsil - Lasers and urchers
Ned and the Headrumpers - Trowels
Aaron Neville - Apache
Newsboys - God's not dead
No More Blouses - Farmy
More More Cactus - Deal or no no
Now Cows - Blouses and thermometers
Numb's Fumbler - Town and mouth
O
Octorub - Norbie
Oh No That Old Shithead Is Here Again - Rotten old schmucks with no manners
Oooh - Uuuuuh
Oooh Oooh - Uuuuuh uhhh
Opposite of Opposite - Lopposite
Orange Floyd - Sharp glide of the goon
Osmosis - USB #7
Other Muzzles - Howdy Pops
Oz and the Schnoz - Pow wows and monkeys
P
Painted Fuss - Nope
Pants and Pantless - Rainy press
Part Blub - Fran is ugly
Paws With Fingers - Ink bus
Pet Shop Boys - Super
Poodle Powder - Dust of the dawgie
Mike Posner - At night, alone
The Puddles - Nappy load
Punk Biscuits - Sap
Punk Noodles - Take this noodle and cook it
Puny - Runny infection
Pusfergradison - Nay, the basket sayeth
Q
Quacks - Trippy truck
Quails and Trucks - Lamb power
Queen For A Tray - Lower the pork
Query - Stop the questions
Quest for Dope - Smoking snuff
Quails Got Drunk - Beer and tissue paper
Quicker Than Daffy - Cords that don't work
Quiet Little Worm Thing - Never thought about it and never want to now
Quiz Germs - Links that don't work
Quurtie - Lousy bench
R
Radiohead - Daydreaming
Debbie Rafter - Lemme after
Raws - Raws and raws
Red Hot Chili Peppers - Dark necessities
Reel to Raoul - Mouthpiece
Reform Club - Never yesterday
Rely On Relish - Candy dash
Mick Rhodes & The Hard Eight - Paradise city
Rihanna - Anti
Rolling Bones - Get your mama's kraut
Rumpy - USBs and RTDs
Runny - Tippy's revenge
Rush - Beneath, between and behind
Ruzzer - Bow to the Ruzzer
S
Larry Samual - Barney doesn't have hugs for me
Santa Died Last Night - Presenting...
Santana - Santana IV
Blake Shelton - If I'm honest
Blake Shelton - If you're into what I do you're obviously on the wrong web site
Blake Shelton - If people think I'm handsome they must really be confused and retarded
Blake Shelton - If I'm dishonest
Shotgun Louise - Rampy dim
Shotgun Tina - Lousy lamps
Shotgun Zappa - Mouses and mouses
Smashing Drumsticks - Pass the pepper
Smuppy - The tatters that ground pepper
Snoop Dogg - Coolaid
Sparse - Kim's Ono spy mouse
Rick Springfield - Rocket science
Bruce Springsteen - Roxy night
Mavis Staples - Livin' on a high note
Steely Dan - Doing it in California
Barbra Streisand - Encore
Styx - Suite madame blue: Radio broadcast 1977
Sultans of Swing - Subcontinental drift
Swap and Change - Loudness weird
Swenter - Flowers
Swy - Rent
T
Tai Tai - Lists
Talking Sheds - Lambs forking up tonsils
Tea For Lunch - Massachusetts isn't a country
Teepee Tupperware - Laura's butter pand
Telltale - Taller toll
Thuds - Ready for emperors
Thunder - All you can eat
Justin Timberlake - Can't stop the feeling
Trunk Idiots - Laugh when it's all over
Try To Try - Stop and try
Tummy Bus - Lambs and prawns
Tunker - Lassie's paw
Twisted Sister - Rock 'N' Roll Saviours: The early years
Steven Tyler - We're all somebody from nowhere
TZ397 - Rowl the smunk
U
Ugly Banana - How do the hussy wink
Ugly Orange - Do the mouse
Ultraplucks - Eyebrow mania
Umbrella Vision - Church of tassle
Uncle Duck - Mushed
Uncle Pregnant - Does and rodents
Keith Urban - Ripchord
V
Various Artists - A collection of dull dribble that no one will ever notice
Various Artists - We stopped makin' em because they stopped buyin' em
Various Artists - No one buys these kinds of compilations anymore so that's why we keep producing 'em
Various Artists - Tribute to someone whose name we can't remember
Various Artists - Trying to get something heard never works
Various Artists - The most boring bands you never cared to hear
Various Artists - We've the last ones to know the last ones
Various Artists - Our albums are always the first to get thrown away
Various artists - Who gets to eat the trash

W
Wally Is Near - Stamp that thing goodbye
Wanda and the Wandas - Limp
We Don't Get It - Now is the now
Well I Guess This Is Just Another One - Lumps
Whether Or Not - Lousy weather
Lucinda Williams - Ghosts of Highway 20
Wind That Goes - Don't
X
Xie - La la the distance away
X-ray Pecs - Lookie away
Xzistance - Lift down
Y
Yanni - The dream concert
Yell All The Time For Whatever You Pay For It - Taxi service
Yellow Floyd - Park wide until noon
Yesterday's Potties - Damp portions
Yes We Will Be Bananas - Trap doors
You might - Yes you might
You never - Well I never
Yoyos for Panama - Sharp
Yuck This Tastes Awful - Don't eat it then
Z
Zappa and the Zappettes - Trown
Frank Zappa - How flowers got in the potty train
Zunk - How the leaves got patchy
Zupper - Towels for Blanche